Reviews

Usage example

Description

How To Edit
Slides
Description
Outline Business Icon Set for presentation infographics - over 750 PowerPoint vector symbols. You can use those symbols to illustrate fast your agenda or title slides, event plans and data charts. Icons are organized into eight areas:
People Management, HR and communication such as company roles and positions, message, collaboration, meeting symbols.
Finance and Sales budget, turnover, cost, savings, shop, credit card pictures, for example.
Icons for Strategy and Planning presentations – objective, vision, leadership and calendars
General Business Concept Symbols such as company growth, cooperation or comparison
Office Symbols such as various document, report, paperclip and mail contact signs
Data Analysis, Transformation Processes and IT systems
Images that represent Production, Logistics, Engineering and technical industries. You can those to illustrate product development from design , manufacturing, transport and end client delivery
Food, Health and Nature icon collection that can be applied for a medical or lifestyle presentation, as well as eco and sustainability related topics
Ecology – Climate Change, Global Warming and Plastic Waste Pollution icons /li>
We added 7 reusable examples showing you how you can use the icons in presentation agenda, meeting title slide, budget overview and pie chart with retail comparison and small business infographics.
All those are vector icons that allow you to do your own infographics using standard Microsoft PowerPoint editing tools.
The Outline Business Icons bundle contains a whole lot of compelling graphic elements. You can use them to design your own infographics for your presentation slides, content marketing, landing page, or process visualization. There are numerous templates illustrating concepts like data, human thinking, leadership, finance, and more. If you need a simple and professional infographic that centers on a visual concept, then this Outline Business Icons pack is a great choice.
The Outline Business Icons for infographics collection contains ready-to-use modern symbols dedicated to the following topics:
People management and Communication pics with symbols for illustrating team, professions, meetings, thinking process or planning board:
People, Team, Man, Woman icons
Customer Care, Teamwork, Meetings, Work Distribution, Round Table, Planning board, Structure hierarchy
People roles, Profession, Function, Specializations, IT Product Development, Reporting, Administration, Value or Treasury, Management
Human Head, Thinking Process, Emotions, Feelings, Creativity, Making, Question, Warning
Interpersonal Communication, Idea exchange, Persuasion, Understanding, Speech, Announce
Communication message, Discussion, Conversation, Chat Bubble, Citation, Quote
Finance and Selling icons with symbols for illustrating retail/pricing, finance, money, online or in-store shopping:
Finance, Money, Budget, Spending Distribution, Income, Expense, Costs, Revenue, Turnover
Savings, Give and Take Money/Value, Financial Insurance
Credit Card, Wallet, Payment, Cash register, Terminal, Customer Value
Banknote, Coin, Cash, Currency, USD, EUR
Price tag, Shopping Bill, Shopping Cart
Strategy and Planning icons with symbols for illustrating planning week/month, goal, innovation, leadership:
Strategy, Direction, Leadership, Plan, Milestone
Goal, Values, Idea, Vision
Innovation, Innovation Idea, Creativity, Business Growth
Planning week/month/quarter/year, Calendar, Date, Time, Hour, Glass, Clock
Business Concept Icons for illustrating sales, partnership, certificate, science, network, evaluation:
Company, Business, Sales, Partnership, Cooperation
Search, Magnifying Glass, Growth factors, Recruiting, CV screening, Detail Analysis
Certificate, Win, Cup, Award, New, Novelty, Reward
Security, Safety, Insurance, Key Lock, Protection Shield, Safety Umbrella, Caring Hands
Law, Justice, Court, Weighing Scale, Legal Document, Judge
Science, Research, Education, University Graduation, Physics, Nuclear, Atom, Rocket, Probe, Microscope, Handbooks, Academic hat
Networks, Organization Structures, Top-Down Hierarchy, Central Hub, Matrix, Link
Comparison, Evaluation, Good or Bad, Positive and Negative Trend, Thumbs Up and Down
Importance Status Signs, OK, Wrong, Warning, Danger, Question, Exclamation, Approval, Rejection
Moods Smileys, Happy, Satisfied, Indifferent, Sad, Disappointed Faces
Entrance, Exit, Open Door, In, Out, Enter, Leave, Step, Footprint, Welcome
Building, Office, Shop, Skyscraper, House
Office and Document vector with symbols for illustrating documents, reports, meeting presentation, contact:
Documents, Office Reports, Check List, To Do, Form, Notebook, Survey, Summary doc
Meeting presentation, Agenda, Slide, Flipchart, Board Report
Personal Identification Card, Paper Clip, Pencil Writing Playing Cards
Contact, Mail Envelope, E-mail, Mobile Phone, Paper Plane
Data, Reports, Systems, IT icons for showing data charts, trend data charts, process arrows, system process flow, personal IT devices:
Data Charts, Timeline Fluctuation, No Data, Bar Chart, Pie Chart
Trend Data Charts, Increase, Decrease Tendency, Plus Minus, Prediction Points
Measure Indicators, Meter, Adjusting Settings, Dashboard Gauge, Power Battery, Temperature Scale
Process Arrows, Inward, Outward, Against, Together, Opposite, Compose
System Process Flow, Input, Output Box, Serial Sequence, Upload, Download Arrow
Transformation Process Flows, Filter, Funnel, Feedback, Closed and Open Cycle Loop, Beckward Return
Personal IT Devices, Computer Monitor, Desktop, Mobile, Tablet, Al, Movie Media
Networking IT Devices, WI-FI, Router, DataBase, Server, LAN Network, Cloud Connection
Software Applications, Windows Screen, Webpage, E-commerce
Production and Logistics outline icons for illustrating manufacturing, automation, technical work tools, product handling:
Manufacturing, Automation, Production Factory, Engineering, Gears, Conveyor Belt
Technical work tools, Wrench, Hammer, Paint Brush, Repair Maintenance Team
Malfunction, Danger, Obstacle Wall, Firewall, Roadworks Sign
Boxes, Package, Product Handling
Transport, Logistics, Passenger Car, Cargo Truck, Train, Plane, Boat Shipping
Maps, Destination, Location Pin, World Globe
Health, Food, Nature icons for showing food, beverages, human body, ecology:
Food, Dairy, Vegetables, Fruits, Bread, Meat, Egg, Fish
Beverages, Milk, Coffee, Meal, Ice Cream, Sweets
Human Body Parts, Senses, See, Hear, Feeling, Smell, Touch, Touch, Taste, Eye, Ear, Heart, Foot, Nose, Mouth, Lips, Palms
Ecology, Sustainability, Recycling Trash
Green Energy, Eco House, Nature Friendly, Wind mill, Economic Light Bull
Nature Seasons, Spring, Summer, Fall, Winter, Water Drop
Food and drinks: Pizza, wrap, burrito, jam, jars with jam, cookie
Food and drinks: person eating, plate, knife, fort, meal break, soft cocktail drink, glass, wine, leftovers, fishbone
People roles, HR, management, communication
Person outline silhouette: user, man, HR organization structure tree, avatar, awarded stars, experts, group of people, team, cooperation, consensus
People groups, communication:giving/receiving information, speaking, active listening, delegating, teamwork, female, males mixed group, middleman, mediator, facilitator, intermediary
People groups, communication: two-way conversation, messaging, one way listening, conflict, misunderstanding, feedback, monologue, information transfer
Presentation meetings: workshop, presenting, presenter, flipchart agenda, meeting, speaker stand, microphone, group, specialists, expert, lecture, host
People roles: product business development, planner, controlling, manager, data security officer, accounting, accountant, engineer, repair service technician, salesman
People actions: study, learning, writing, creating, presenting, teaching, training, talking, communication, feeling, emotion, hear
IT profession people: computer science specialist, web developer, software engineer, coder, database system administrator
Leadership icons: strategy, CEO, director, manager, boss, supervisor, giving directions, compass, chess figure queen, female, male leader
Hand symbols - strategy, finance, care gears: implementation cost, financial value, investment, payer, profitability, personal care, hearth, HR
Personal development aspiration: challenge, mountain, aim, goal, objective, destination, climbing career ladder, motivate, reward stars
Motivation: rewarding, idea seed, plant, seedling, carrot, stick system, entertainment, theatre, reward, award, value, jewels, diamond
Data, IT, technology, industries
IT coding: artificial Intelligence, STEM, digital brain, machine learning, digitalization, program code, binary, HTML UI, interface development, calculus, document calculation
IT technology: big data, connected cloud, distributed storage, data silo
Data, trend line charts: increase, decrease, growth, data analysis, finance development, Sales, math, statistics, gauss distribution curve, 3D dimension axes
Data analysis: business, trends analytics, bar chart, increasing line, numbers zoom, detail search, magnifier glass
Status harvey balls: full, empty, half, quarter, 3, three fourth
Industry, new technology: 3d printing, drone, aerial surveillance, satellite, machine learning, robotic arm, smart connected Industry 4.0, industrial IoT internet of things
Life sciences, research: medical healthcare, biology, DNA helix, chemistry, R&D, pharmaceuticals, pill, medicine, structural formula
Plans, status reports, finance, office documents
Presentation visual, vocal: audio, podcast, microphone, verbal, listening, vision, visualization props, to illustrate, seeing
Status document: priority, written To-do, bullet points, task checkList, bullet point list, work assessment
Documentation, reports: file folders, business, documents, new project launch plan, financial reporting
Knowledge: learning, education, knowledge, book, documentation report, written information, wisdom, approved fact, new growth ideas study
Office building: business headquarters, premises, government Institution, regulator, regulation, skyscraper, high-rise
Money: banknotes, EUR Euro sign, USD dollar symbol, profitability, payment, currency exchange
Savings and financial risk: real estate, price tag, cost, sack of money, investment
Business concepts
Product development: plan, vision, distribution, production implementation, process, turning gears, move, cogs, engineering, manufacturing output measure, deliverable, evaluation
Problem solving: solution, idea, innovation, direction arrows, weakness, broken link/chain, obstacle, problem, goal, finish line, strength, dumbbell
Time: cycle, urgent, deadline, time limit, alarm clock buzz, hourglass
System flow: supply chain, distribution, multiple tiers, layers, process evaluation, modification, editing, cutting, scissors
Structures and patterns: regular material pattern, systemic, interconnection balance, peer to peer network overlap, geometry, common part/element
Media play: pause, stop, film, video, movie web player, mouse click cursor
Hardware, water, fire: water pipeline installation, metal screw, screwdriver, fire extinguisher, burning flame, protection, firefighting
Country flags: European Union, EU, United States, United Kingdom, Great Britain USA, Japan, China
How to edit outline, stroke icons slide
Format
Sharp and editable vector shapes you can change using built-in PowerPoint tools including
changing color of icon
resizing without loosing image quality - icon edges will remain sharp even if you zoom icon to full slide
rotating, flipping the icons
putting icons behind or on top of other shapes or text boxes. Icons are transparent.
See editing demonstration in
our HowTo Videos
.
Author
Content and design: Izabela Zvirinska
Slides included in this PowerPoint Presentation:
How To Edit
How to edit text & colors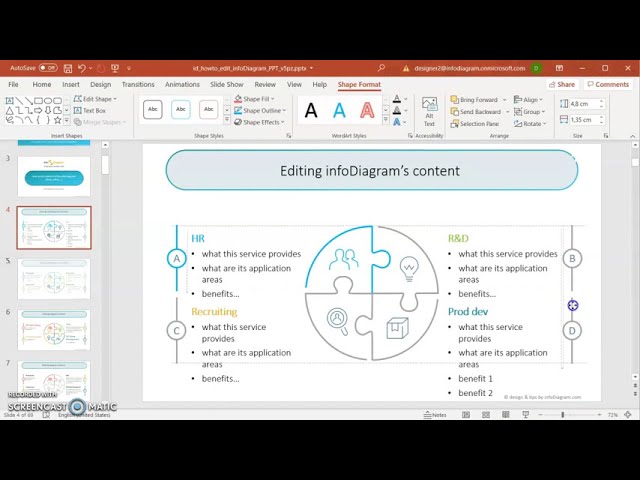 How to expand / shorten diagram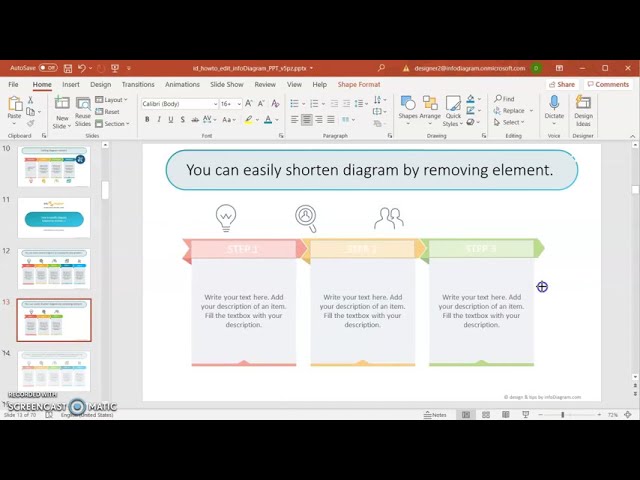 How to Replace Icons in infoDiagram PPT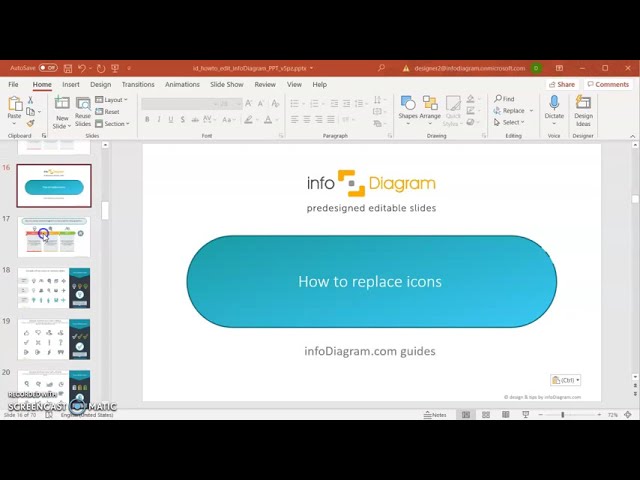 Outline Business Icons for infographics (PPT vector symbols)