Reviews

Usage example

Description

How To Edit
Slides
Description
Are you presenting a website analytics report, or showing digital marketing campaigns effects? Use this PowerPoint template with pre-designed graphics and Excel data charts you can fill with your numbers from Google Analytics. Present traffic sources, your webpage visitors sources and behavior. Display an executive summary of the main outcomes and make a recommendation based on successes and failures analysis.
The PowerPoint template we designed contains visual that helps you to quickly create a professional analytics report with:
14 web statistics charts (editable Office Excel charts) about your audience sources, devices, bounce rates, e-commerce conversion rates and more.
Templates for analyzing campaign Successes and Failures, Recommended Actions, Next projects and tasks timelines and calendar for Scheduling web development, SEO or Online Advertising Activities
41 icons to illustrate various web analytics topics such as browser devices, Sessions, Bounces, Conversions and Subscription, shopping carts, Revenue, Organic Search, Social Sharing, Newsletter or online advertisements.
Master Slide deck in two graphical styles - with a light background (more typical, better for printing) and another with dark slide background (more eye-catching)
Format: fully editable vector shapes (modify colors of diagrams and icons, resize without quality loss
What is web analytics about?
Web analytics is the way of measuring and analysing traffic on the website. Website owner can collect statistics how many people visited his webpage, where they came from, what pages they visited, how long they stayed and if they bought something, in case it's e-commerce site. There are tools such as Google Analytics, that collect these information and present various set of data reports. The goal of those website data analysis is to understand how visitors behave, if there are any technical or usability problems to improve.
Content description
Web Analytics Report diagram contains ready-to-use slides in two color variations: in a light and dark styles:
Web analytics report content;
Statistical figures and charts section slide;
Audience overview shown with colorful trend chart and values;
Bounce rate timeline chart with brief description of events and improvements;
User acquisition per traffic channel shown with colorful bar and circle charts;
Behavior flow per channel shown with colorful screenshot graphics and description;
Users by devices type chart shown with circle diagram and bar charts for each device: mobile, PC and tablet ;
Customer location and demographics map with values, colorful bar and circle charts;
E-commerce overview slide shown with colorful trend chart with values and text description;
Successful and failed actions section slide with flat icons;
Successful and failed actions, metrics and status graphics with description for each item illustrated with icons;
Successful actions summary shown with list description and flat icons;
Failed action summary shown with list description and vivid symbols;
Recommendations section slide;
Recommendations for digital marketing shown with colored flat icons;
Problem, solution, website metrics slide shown with list description, flat icons and screenshot;
Task timeline section slide;
Project timeline shown with colorful table with filling and flat icons;
Task timeline over a year with text description and icons;
Conclusion section slide on a blue background;
Summary of web analytics findings diagram with bullet points description for each item;
"Thanks for attention" section slide;
Fully editable in PowerPoint set of vector shapes fully editable by using built-in PowerPoint tools, including
changing color of the icon filling and its outline
adding shadows
changing shape and size, rotating, flipping the object
putting shapes behind or on top of text
See editing demonstration in
our HowTo Videos
.
Authors
infoDiagram's designer
Contact: here
Slides included in this PowerPoint Presentation:
How To Edit
How to edit text & colors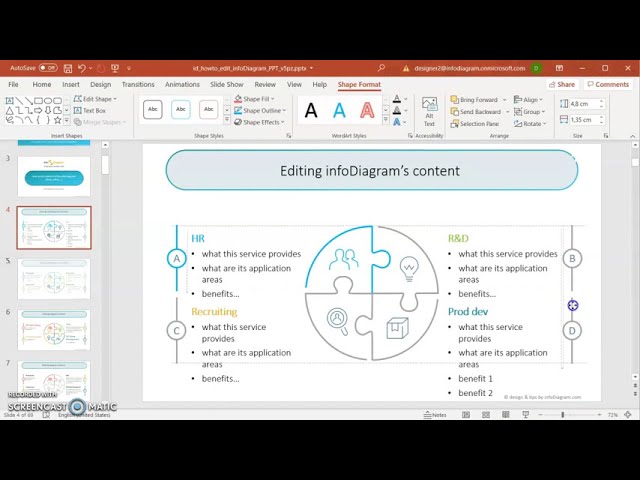 How to expand / shorten diagram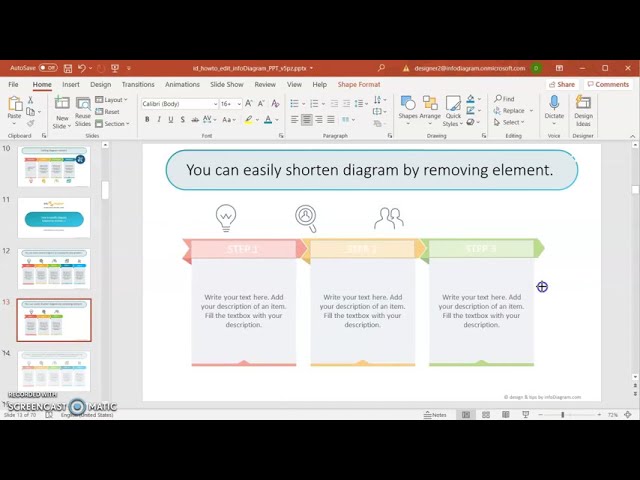 How to Replace Icons in infoDiagram PPT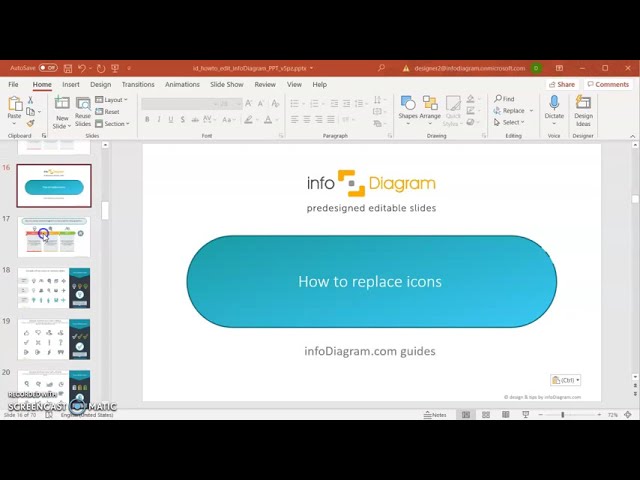 Web Analytics Report Charts (PPT Template)