Reviews

Usage example

Description

How To Edit
Slides
Description
Want to create an attractive e-book to share? To create a knowledge-rich lead magnet or whitepaper presentation?
Consider using PowerPoint for writing your e-book. PPT tool is probably familiar to you already, straightforward to use, and allows you to add graphics and MS Office objects such as Excel data charts or video content.
To help you create attractive marketing materials, we have designed this modern PowerPoint template for e-book writing. Your eBook will get an elegant gradient visual style.
This eBook PowerPoint template contains slides with the following:
22 layouts of ebook pages with various graphics, pictures, and content organization
30 vector icons and hand–drawn text markers to highlight paragraphs and keywords in the ebook
Instruction on modifying the template using standard PowerPoint editing tools.
This PowerPoint slide deck is designed in a modern gradient style. All graphic shapes can be recolored and resized without quality loss.
Authors of this Lead Magnet eBook template
What is an e-book format material?
The E-book format is a digital version of a book. It is a popular e-marketing material. E-books are used as lead magnets for e-commerce websites, or as information products or commercial reports to be sold over the Internet. The eBooks are usually not very long, typically from 3 to 20 pages, however, that depends on specific application and intention.
Why use PowerPoint for e-book writing?
Writing an eBook in PowerPoint has several benefits. It is easy - you are probably already familiar with using PowerPoint. PowerPoint template gives you structure and flexibility in adding graphical elements. You can easily add their MS Office elements such ad Excel data charts, pictures, icons, and shapes. You can also use your branded Office template and consistently use the same colors as in other Office documents. Placeholders for pictures and texts allow you to add content with one click. With basic MS Office skills, you can create a stunning e-book to export to PDF and distribute or sell it.
Make your ideas easy to understand using graphs and infographic elements, and tailor them to your needs to upgrade your presentation slides. We include detailed instructions on how to alter the content, values, colors, and look and feel of the charts applied.
Where can you use the eBook template?
There are plenty applications of in eBook format. Whenever you need to share information this brief written format:
We have designed a PPT template with predefined slides for various parts of town hall presentations. Here are a few case studies of using townhall presentations:
sharing Case Studies and whitepapers with your clients or leads
creating educational materials as a teacher or trainer
as a handout after the meeting, a document to be read on a screen
summary of e-course or training
convert your best blog content into an e-book and create a digital product you can sell
as lead magnet material for your webpage to attract visitors
as bonus material for your clients
Try using those PowerPoint graphics to present your data visually in an elegant way.
All graphics are editable to modify the size, colors, and text. Also, you can extend the collection further with more PPT symbols (see Related Diagrams section).
Try using this set of fully editable PowerPoint vector shapes to present your data visually in an elegant way. You can easily modify all elements:
Replace icons
Change the filling and outline color
Modify size and proportions
Rotate, flip, align, and change order
Slides included in this PowerPoint Presentation:
How To Edit
How to edit text & colors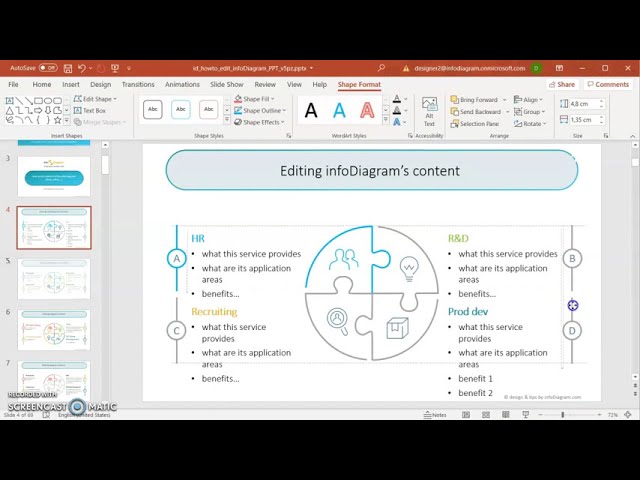 How to expand / shorten diagram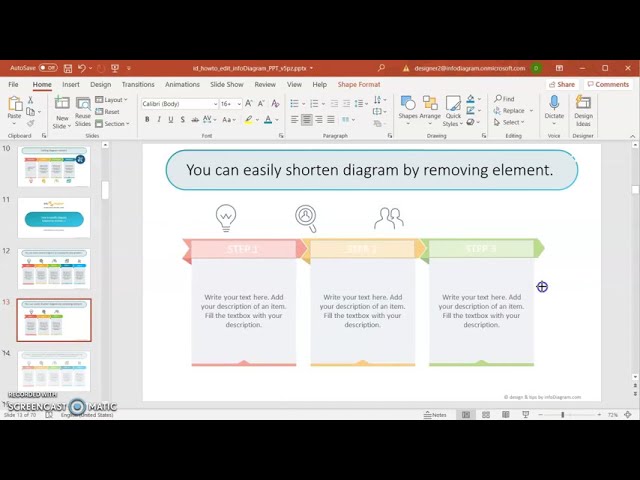 How to Replace Icons in infoDiagram PPT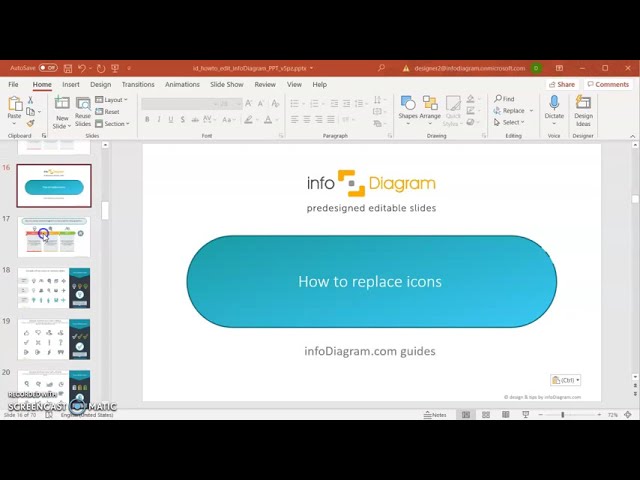 E-Book PowerPoint Template for Lead Magnet Presentation (PPT format)