Reviews

Usage example

Description

How To Edit
Slides
Description
Looking for an effective way to present the customer journey or user experience strategy? Use visual diagrams to show the customer experience roadmap, stages, and touchpoints.
This Customer Journey PowerPoint Template contains:
12 diagrams with customer journey illustrations for behavior mapping: definition template, quote template, line roadmap with touchpoints, pyramid diagram of user journey levels, B2B funnel example, goals table touchpoints central diagram.
Modern flat graphical style-contemporary customer experience diagrams and attractive elegant icons.
48 symbols designed in two styles - light line and simple flat, that are recognizable even if they are small to show various business concepts e.g. Care, Communication, Feedback, Endorsement, Observation, Talk, Online Shopping, Transaction, Cashback, Return, and Sharing.
Instruction on how to modify those diagrams using standard PowerPoint editing tools
Format: fully editable vector shapes (modify colors of diagrams and icons, resize without quality loss)
What is a customer journey and experience diagram?
A customer journey map is a visual illustration of the process a user goes through to achieve a goal with your company, a visualization of the customer's interaction stages with an organization or product. With its help, you can understand your customers' motivation, and pain and get ideas for improvement. The map illustrates the process of building a relationship between a brand and its clients. We designed a set of Customer Journey Diagrams that will help you visualize these concepts. You can easily create your own roadmap or funnel and evaluate the process.
Usually, the user journey contains five stages, also called touchpoints:
Awareness
Consideration
Decision
Retention
Advocacy
Where can you use the Customer Journey PowerPoint Template?
Using diagram visualizations for the customer experience analysis process is a way to reduce the number of slides by cutting the text and increasing the number of professional-looking infographics. Diagrams will give you the possibility to organize information in an easy-to-read way.
Start with a customer journey map definition, which will help your audience reach the point immediately.
Motivate listeners with a powerful customer experience quote.
Present customer journey line roadmap with touchpoints: illustrate each stage with a different color and add keywords. Use an elegant template with a dark background to keep people's attention.
Visualize the online user journey experience with a steps roadmap, including Awareness (brand, paid and organic traffic), Consideration (freebies), Conversion, Loyalty program, and Advocacy.
Create a pyramid diagram of customer journey levels.
Show B2B client journey funnel diagram example with notes aside and elegant outline symbols.
Explain the online customer journey with a diagram containing touchpoint examples, such as Referrals, Influencers, Ads, and roles of Marketing, Sales, and Support.
Express customer experience goals with a readable table template.
Compare the client's and company's goals in the customer journey with a creative helix chart.
This customer journey PowerPoint template collection contains ready-to-use modern diagrams illustrated with symbols dedicated to the following topics::
Content of customer journey presentation graphics
Customer journey map template
Customer experience quote slide
Customer journey line roadmap with touchpoints example
Customer experience roadmap diagram illustrated on dark background with advocacy, Retention, decision, consideration, and awareness stages
Online user journey experience stages roadmap graphics
Pyramid diagram of customer journey levels to advocacy via retention, decision, consideration, awareness building
B2B client journey funnel diagram
Online customer journey diagram with touchpoint
Customer experience and goals table template
Client's and company's goals comparison in the customer journey
Typical touchpoints for customer journey diagram
Try using those PowerPoint illustrations to present your content visually in an elegant way.
All graphics are editable so that you can modify the colors and text. We added also a general icon collection at the end of the presentation deck. Optionally you can also extend the collection by more PPT symbols (see Related Diagrams section). You can purchase the whole deck for $29, and download it in Google Slides or/and Keynote.
Fully editable in PowerPoint set of vector shapes fully editable by using built-in PowerPoint tools, including
change the color of all shapes filling and its outline, including icons
adding shadows
changing shape and size, rotating, flipping the object
putting shapes behind or on top of text
Authors
infoDiagram's designer
Contact: here
Slides included in this PowerPoint Presentation:
How To Edit
How to edit text & colors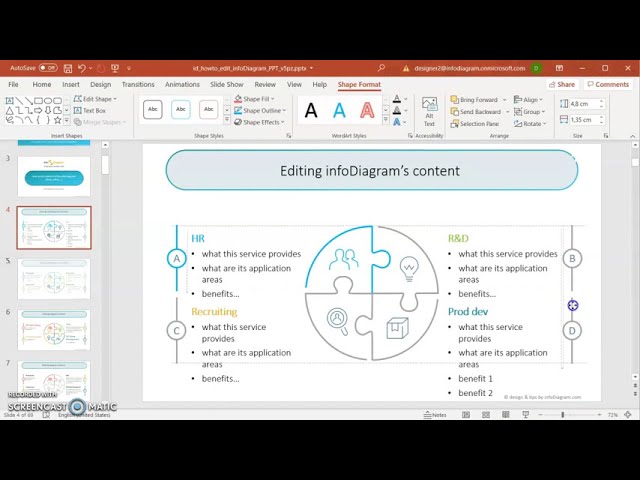 How to expand / shorten diagram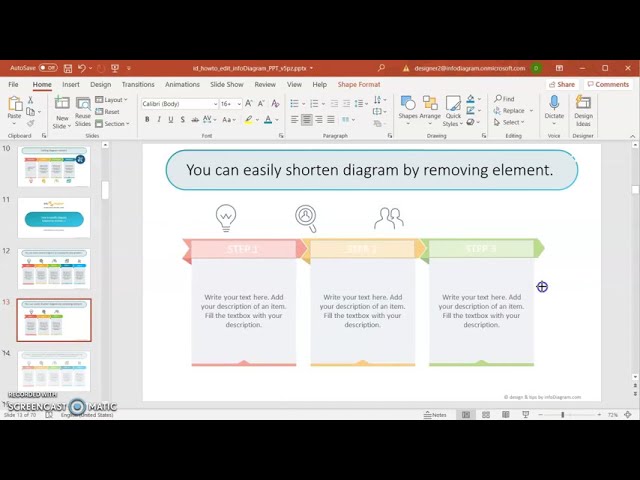 How to Replace Icons in infoDiagram PPT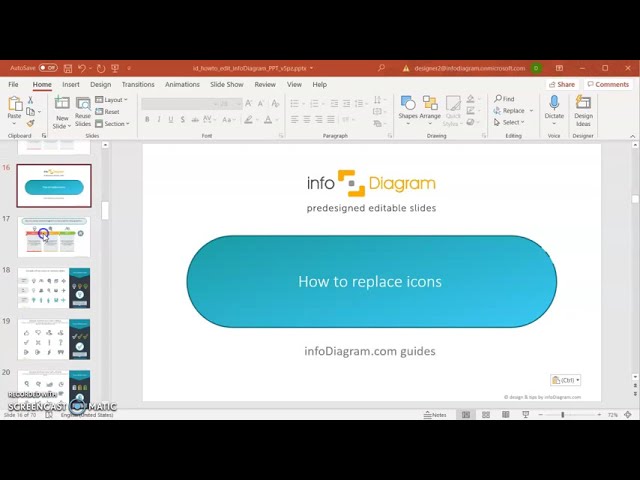 Customer Experience Journey Diagrams (PPT Template)