Reviews

Usage example

Description

How To Edit
Slides
Description
PowerPoint Editable infographics charts of Lean Management Principles and fundamental lean methodology. These diagrams can be used to visualize lean overview presentations or articles on Kaizen approach to manufacturing or services. We included visual representation of basic lean procedures and elements.
The lean management template deck includes:
16 modern diagrams of lean procedures, lean methodology structures and stakeholders, guiding principles of lean manufacturing approach. For example, we added a Kaizen 5s diagram and 5 Whys waterfall chart, as well as The House of Lean pillar diagram. We designed all flowcharts in an universal clean flat style that fits various presentations.
27 vector icons in light and elegant outline style. You can use these icons to illustrate lean artefacts such as Customers, Employees, Organizations Stakeholders, Sort, Straighten, Shine, Standardize, Sustain, Process, Productivity, Focus, Resources and Values, Eliminate Waste.
Predesigned example of editable target customer segmentation and credit ranking decision criteria.
Format: fully editable vector shapes (modify colors of diagrams and icons, resize without quality loss)
What is Lean Management?
Lean management is a way of managing a company or institution ensuring continuous improvement using small changes in processes in order to deliver value to customers.
Diagrams for lean management presentations cover those topics
Definition of lean management and quote slide on lean approach (editable text).
Guiding Principles of Lean Management Chart.
Tools of Lean management.
Stakeholders of Lean Management as Venn diagram with Customers, Employees and Organization symbols.
The 5 Basic Lean Principles cycle flowchart.
The Lean Methodology Idea diagram including delivering value, eliminating waste and continuous improvement.
The House of Lean Pillars infographics with customer focus on top, Just in Time management pillar and Jidoka - quality at the source pillar. All Lean house metaphor is based on Standardization and Stability fundations.
List template with Benefits of Lean Approach - Getting Focus, improving productivity, smarter process and better use of resources.
Methods and tools of lean management including Kanban (see separate Kanban Boards Template for Project Management), Kaizen 5S and 5 Whys diagrams, and other listed tools (Value Stream Mapping, SMED, Poka-yoke (error-proofing), Elimination of Time Batching, Total Productive Maintenance, Mixed Model Processing, Single Point Scheduling, Rank Order Clustering, Multi-process Handling, Redesigning Working Cells, Control Charts for checking Mura)
How to use lean template diagrams as your presentation visuals?
You can simply copy one of diagrams into your slide deck, to illustrate your presentation or other materials by vivid visuals. You can modify each shape color, add text descriptions or replace symbols.
Why to use diagrams as your presentation illustrations?
Using diagrams helps to express main principles of lean approach in clear and eye-catching way.
On last slides you have set of multiple icons you can use. You can also extend the icon collection by getting additional PPT icons (see Related Diagrams section).
Colors of these diagram shapes and icons are fully editable (all graphics is a vector format). So you can change them to colors of your template or company brand.
Content description
Lean Management Diagrams contains ready-to-use slides:
Lean management definition slide illustrated with text placeholder and outline icon.
Peter Drucker quote illustrated with picture and quotation mark.
Guide management principles illustrated with three elements cycle chart with outline icons.
Venn chart illustrating lean management stakeholders: customers, employees and organizations.
Five basic lean principles illustrated with cycle diagram in a few variations: a vivid chart with outline icons, cycle template with text placeholder for explaining each element.
Cycle diagram showing management methodology ideas: deliver value, eliminate waste, continuous improvement.
House of lean shown as two pillar diagram divided into the following segments: stability, standardization, collaboration, customer focus.
Lean Management list diagram with outline icons and description for each element.
Lean Management tools list presented in few versions: text box with an outline icon, SmartArt flowchart.
Kaizen 5S framework shown with circle diagram and text placeholder and five columns list diagram.
Five why's list in a two versions: multicolor step list diagram, waterfall chart with outline icons.
Fully editable in PowerPoint set of vector shapes fully editable by using built-in PowerPoint tools, including
changing color of the icon filling and its outline
changing shape and size, rotating, flipping the object
relocating and resizing diagrams, putting shapes behind or on top of text
See editing demonstration in
our HowTo Videos
.
Further resources on lean management
Authors
infoDiagram's designer
Contact: here
Slides included in this PowerPoint Presentation:
How To Edit
How to edit text & colors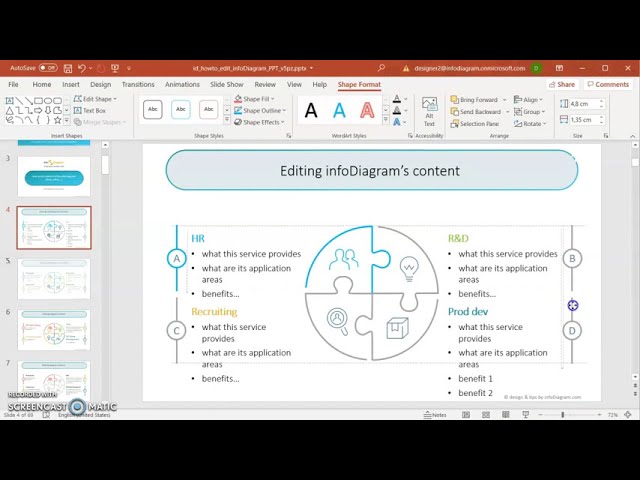 How to expand / shorten diagram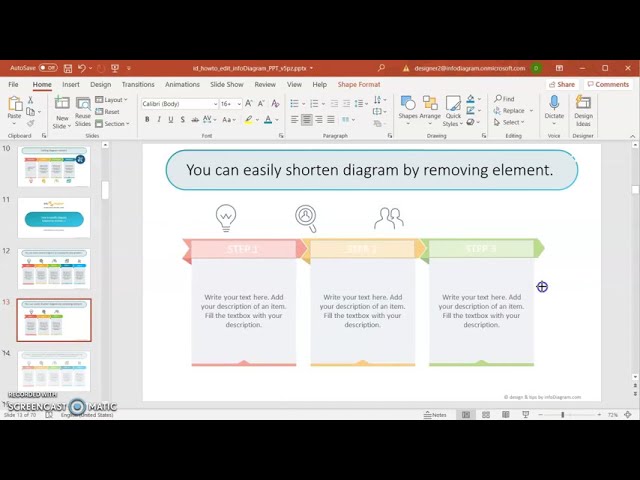 How to Replace Icons in infoDiagram PPT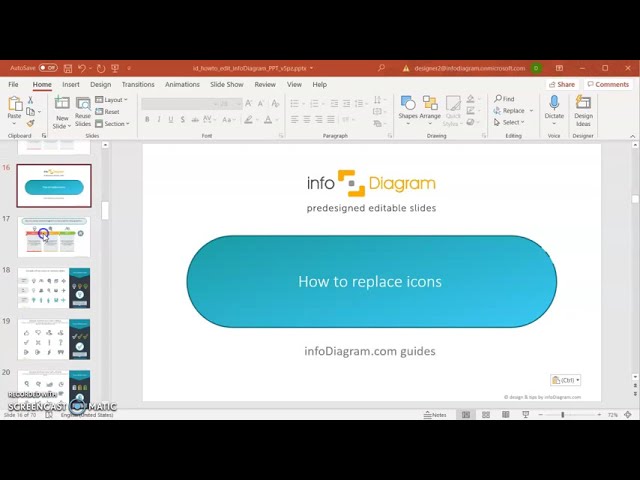 Lean Management Presentation Diagrams (PPT template)