Reviews

Usage example

Description

How To Edit
Slides
Description
When managing a project, having a clean and attractive visual presentation of a task execution time plan helps the team to get focused. Enrich your Gantt charts by creative graphics to show the duration of activities and their status. Use modern visual symbols and time table templates we have designed to help you create professional PowerPoint slides.
This Gantt Chart visuals deck includes editable calendar tables and project status symbols that you can apply in your presentation:
15 timesheet charts with monthly, weekly or daily fragmentation of time plan over various work activity categories. The activities duration is marked as editable bars you can extend. Tables can be also modified by adding or removing task rows or time unit columns
56 vector icons to illustrate task status, highlight certain activities or illustrate project categories, for example Research, HR, Forecast, Milestone, Operation Activity, Prototyping, Agreement, Product Release and Delivery, Sales and Support.
Format: fully editable vector shapes (modify colors of charts or icons, resize without quality loss
What are Gantt Charts in Project management?
A Gantt chart is a visual representation of task distribution over time. Project tasks are shown as rectangles in a timeline table. The position of the rectangle shows the start and end of the task activity. Additionally, a Gantt chart can show talk dependencies and the status of specific tasks. The name of this project management tool comes from its inventor Mr. Henry Gantt.
How to create Gantt Charts?
You can create a Gantt chart using special project planning tools such as Microsoft Project, or general charting tools such as MS Excel. To make your charts more outstanding you can consider enhancing them by additional functional graphics, that will make them eye-catching and will help you to visually focus attention to selected points.
Why to make Gantt charts visually interesting?
Having a clear project plan of main activities makes it easier to explain overall schedule
Show timing of critical steps and their dependencies on other tasks.
Present status of project activities over time.
Having editable form of Gantt chart graphics in PowerPoint, you can easily modify the tasks, adjust them over time, present or print them in form of slides sheets.
Your team members are incessantly sending you messages asking you to remind them of deadlines? Your customers emailing you, asking who's responsible for which part of the project? Stop the tasks madness and use the Gantt chart to set accurate estimates and manage your resources wisely.
Gantt chart diagrams collection contains pre-designed slides:
Product assumptions slide
Monthly gantt chart template
Annual timesheet table
Annual projects plan timesheet
Yearly projects schedule timesheet: months by days view
Construction renovation activity timeplan example slide
Weekly project plan, activities schedule and task timesheet showed with gantt chart table
Gantt chart with project status indicators on dark background
Project status quarter plan table on dark background
Monthly project management timesheet
Monthly project management timesheet illustrated with a daily view table
Project milestones pins and calendar table slide
In the last part of this deck, we added a set of icons you can use to illustrate specific project categories. The set can be extended further by getting more business symbols(see Related Diagrams section).
Colors of all text placeholders, text graphics, and icons are fully editable (all graphics is a vector format). So you can change them to colors of your template or company brand.
Fully editable in PowerPoint set of vector shapes fully editable by using built-in PowerPoint tools, including
changing the color of the icon filling and its outline
adding shadows
changing shape and size, rotating, flipping the object
putting shapes behind or on top of text
See editing demonstration in
our HowTo Videos
.
Authors
infoDiagram's designer
Contact: here
Slides included in this PowerPoint Presentation:
How To Edit
How to edit text & colors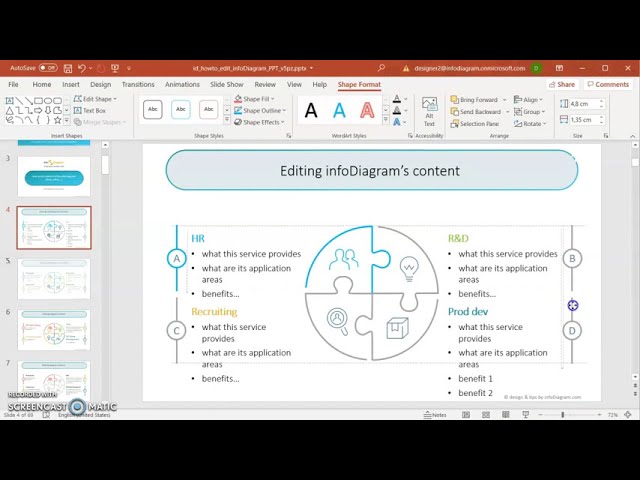 How to expand / shorten diagram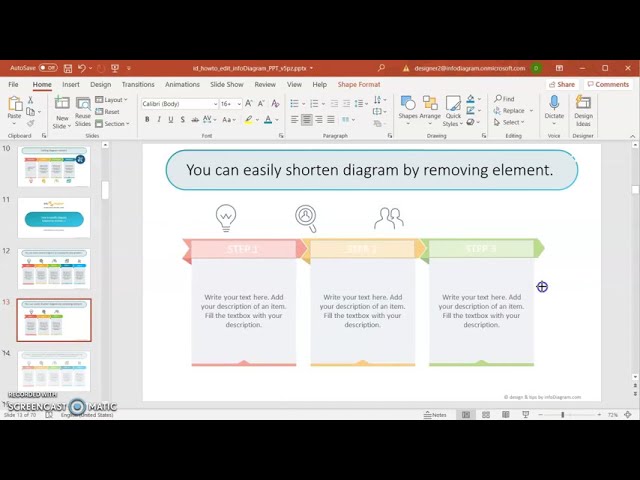 How to Replace Icons in infoDiagram PPT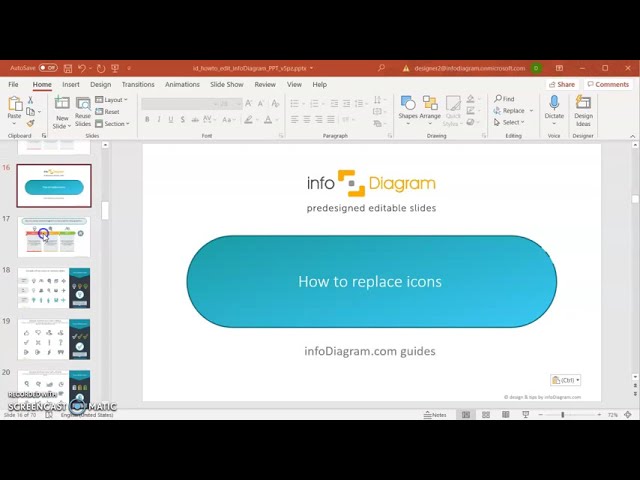 Gantt Chart Graphics for Project Planning (PPT Template)