Reviews

Usage example

Description

How To Edit
Slides
Description
Are you presenting the Design Thinking model? Take advantage of using visuals from the presentation deck we have designed for presenting this creative problem-solving method.
This Design Thinking process deck includes editable diagrams and artifact symbols you can use to explain this process. It includes:
14 flow charts of 3 Design Thinking Stages and 5 Action Steps of Design Thinking Process (Empathy, Define, Ideate, Prototype, Test the Product), each with a place for a detailed description. We added also Double Diamond diagram and non-linear design thinking loop.
38 icons on the light outline or simple flat style to illustrate specific artifacts of this process such as Research, Prototype Creation, Solution Delivery, Communication, Insight, Empathy Understanding, Ideation, Product Implementation or UI application interface design
Format: fully editable vector shapes (modify colors of diagrams and icons, resize without quality loss
What is the Design Thinking process?
It's an iterative approach for creative problem-solving. Design thinking methodology is based on understanding users in the first place, defining the user problem based on this understanding and then creatively generate ideas addressing user problems. The next step is to create a prototype and test it with the user, before the implementation of the final product.
Why to use present Designing thinking with visual diagrams?
Having a clear visual flow chart representation of design thinking process steps makes it easier to explain each step, show where iterations happen, when you need to step back.
Using one simple diagram capturing the overall design thinking process steps ensures better presentation and understanding of each of the 5 basic steps.
Having editable flow chart graphics, you can modify the process, adapting it to your own methodology - rename, add or remove steps as needed.
In the last part of this deck, we added a set of icons you can use instead of icons in slide examples. You can extend this symbol icon collection by getting more flat business icons (see Related Diagrams section).
Colors of all text placeholders, text graphics, and icons are fully editable (all graphics are a vector format). So you can change them to colors of your template or company brand.
Those Design Thinking diagrams can be used in various business contexts:
Teaching the design thinking approach
Explaining implementation of design thinking method in your company
Illustrating your documents or publication on design thinking
Showing new innovative way to product development
Coming up with an idea is easy. Coming up with the right one takes time and hard work. With design thinking, throwing out what you think you know and starting from scratch opens up all kinds of possibilities. Design thinking is an innovative process for creative problem-solving. Our design thinking diagrams lay out the six phases. With our five-step infographics, you can better understand the clients, perceive a problem, and take action. These practices are easily applicable, flexible, nonlinear, and iterative, drawing all focus on the end-user. Impress your audience with the professional design thinking slides. Transmit your message with graphics that appeals to professionals.
Design thinking graphics contain ready-to-use slides:
Template slide of content of design thinking flow charts deck
Definition slide: what's design thinking
Three stages of design thinking diagram
Five action phases showing the design thinking process
Five action phases of design thinking process on the dark background
Template list of phases activities: empathize, define, ideate, prototype, test
Double diamond diagram of design thinking
Double diamond diagram of design thinking on the dark background
Template design thinking canvas
Fully editable in PowerPoint set of vector shapes fully editable by using built-in PowerPoint tools, including
changing the color of the icon filling and its outline
adding shadows
changing shape and size, rotating, flipping the object
putting shapes behind or on top of text
See editing demonstration in
our HowTo Videos
.
Authors
infoDiagram's designer
Contact: here
Slides included in this PowerPoint Presentation:
How To Edit
How to edit text & colors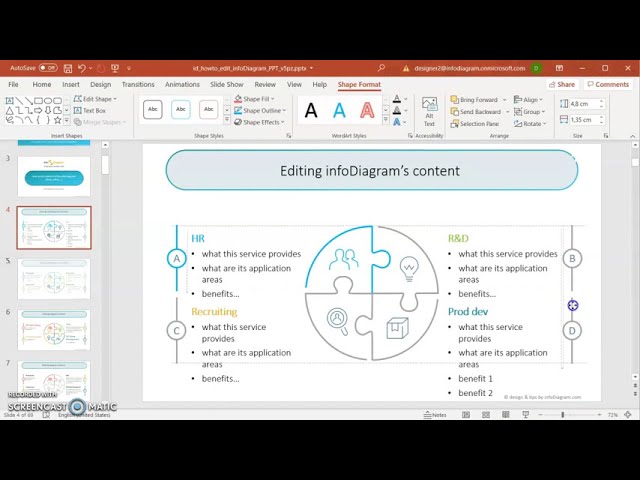 How to expand / shorten diagram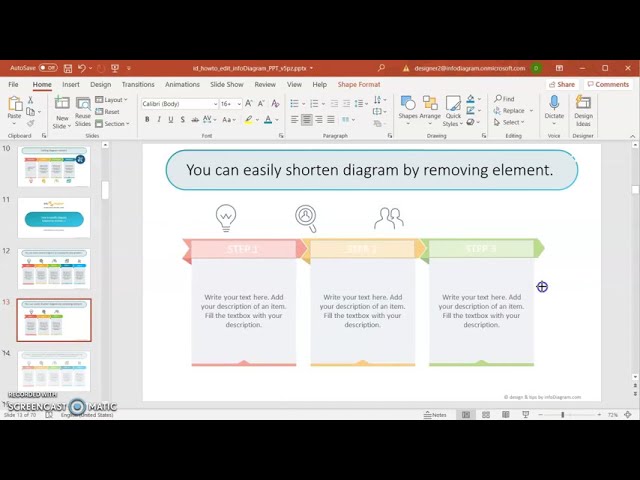 How to Replace Icons in infoDiagram PPT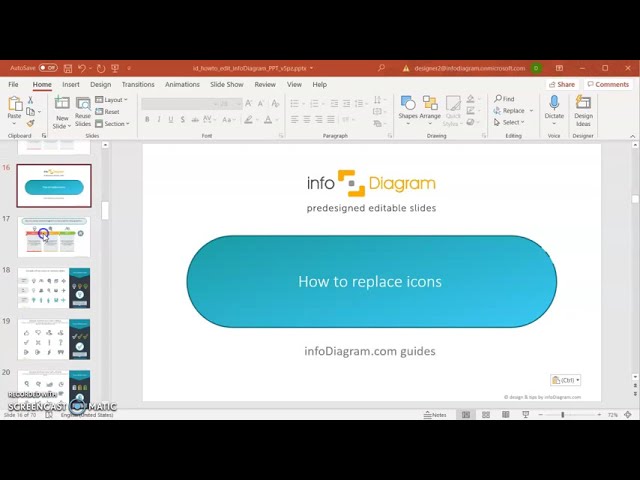 Design Thinking Process Diagrams (PPT Template)