Reviews

Usage example

Description

How To Edit
Slides
Description
Collection of presentation drawings of spiral and spring shapes for presenting development processes, growth or timelines by visual flow chart illustration.
Get inspired by those diagrams, reuse and adapt them to your needs. This template contains:
21 spiral diagram layouts with pre-designed points and text description fields. in horizontal and vertical orientation, 3 to 8 item lists
modern and simple flat graphical style that will attract attention without unnecessary decorations
31 business topics icons to illustrate points on spirals e.g. System Output or Input, Footprint Steps, Hierarchy, Clients, Payment, Data, Calendar, Notes Document, Office Pin, Law, Achievement, Creativity
instruction how to modify those level diagrams using PowerPoint editing tools
Format: fully editable vector shapes (modify colors of diagrams and icons, resize without quality loss
Spiral Flow Charts: When and why to use them in a presentation
This visual metaphor a graphical representation to present one-way procedures and development processes that are rolling out from one central point (in a case on outward spiral shapes) or attracting attention to one central point (inward spiral drawings). Examples where you can use those level diagram:
Business Launch Development stages illustrations from Researching, Creating Plan, Testing Ideas to Choosing Business Structure
Present process of company registration, history timeline or a legal procedure.
Software Development Methodology from Plan, Risk Analysis, Engineering to Evaluation
Content description
Spirals diagrams contains ready-to-use slides:
Vivid spiral timeline shown with text placeholders and icons for each month;
Monthly spiral timeline shown with toned colors and description;
Six steps development list illustrated with spiral diagram and bullet points description;
Seven steps to a successful business launch diagram example shown with spiral diagram and bullet point description;
Four steps process shown with spiral graphics and flat icons;
Five items spiral diagram shown with text placeholder for each stage;
Five items spiral diagram illustrated with toned colors with icons and brief description;
Five items vivid spiral chart with icons and description;
Four steps spring shape shown with spiral graphics and text placeholders;
Outline spiral timeline with icons and brief description for each month;
Software development diagram shown with colorful spiral and description;
Inputs to outputs process shown with spiral diagram and text placeholders;
Patent process shown with spiral graphics and description for each stage;
Three steps process of setting up a business shown with spiral chart;
Progress shown with outwards spiral template with text placeholder;
Four points inwards spiral diagram with description and colorful icons;
Five points inwards spiral diagram with colorful icons and description to each stage;
Six points spiral diagram with description and flat icons;
Four items spiral flow chart on a dark background;
Five items outline spiral chart on a dark background with icons;
Six items spiral flow chart on a dark background with flat icons.
Consider using such diagrams to replace text bullets in your slides.
All graphics are editable, so you can modify the number of layers, add or remove one. We added also a general icon collection at the end of the presentation deck. Optionally you can also extend the collection by more PPT symbols (see Related Diagrams section).
Photographs are included in the template. You can easily replace them as well by pictures of your own.
Fully editable in PowerPoint set of vector shapes fully editable by using built-in PowerPoint tools, including
change color of all shapes filling and its outline, including icons
adding shadows
changing shape and size, rotating, flipping the object
putting shapes behind or on top of text
See editing demonstration in
our HowTo Videos
.
Authors
infoDiagram's designer
Contact: here
Slides included in this PowerPoint Presentation:
How To Edit
How to edit text & colors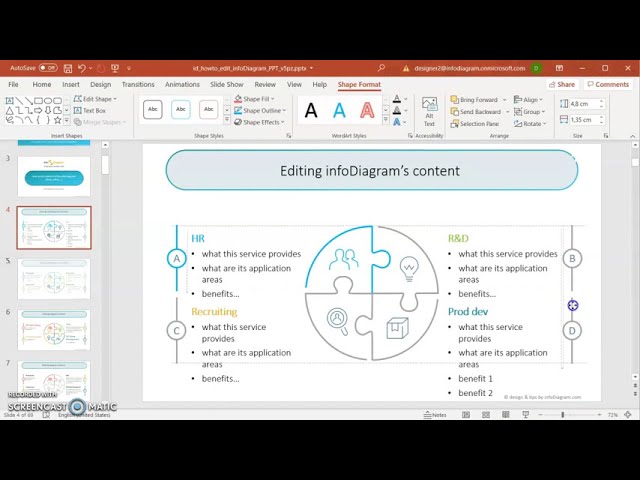 How to expand / shorten diagram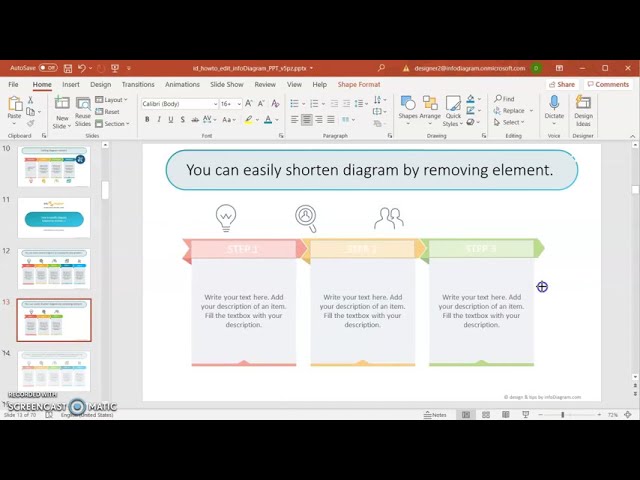 How to Replace Icons in infoDiagram PPT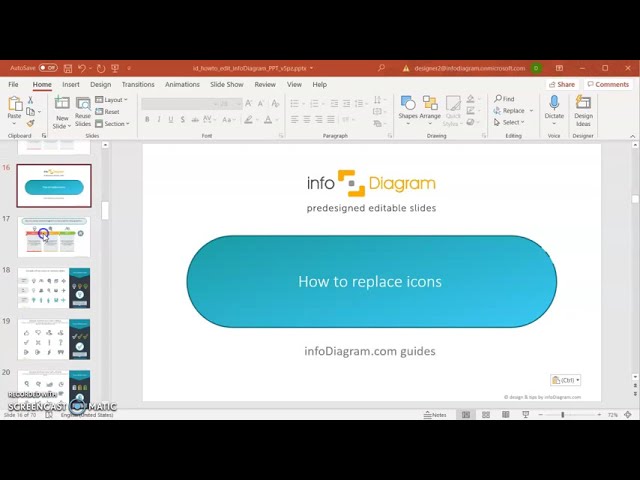 Spiral Flow Charts & Spring Diagrams (PPT template)