Reviews

Usage example

Description

How To Edit
Slides
Description
Need innovative graphics to illustrate your points? If you want to balance and support your words with pictures, check our latest chemical laboratory graphics. You can use such graphics to illustrate various concepts like filling status, progress, status indicators, experiments, research & development, precise dosing (e.g. while talking about percentage), reaction and test.
This Chemical Lab Test Tube Graphics set contains:
16 diagrams to illustrate processes, filling status, progress, research & development, test and reaction.
Two graphical styles - modern flat style and lighter slick outline style. Use them to add a professional touch to your slides and to deliver content in more infographic rather than wordy way.
24 flat and outline symbols to show various business concepts e.g.Tests, Fit, Match, Research, Magnifying Glass, Forecast, Milestone, Gears, Process, Product, Release, Teamwork, Meeting.
Instruction how to modify those diagrams using standard PowerPoint editing tools.
Format: fully editable vector shapes (modify colors of diagrams and icons, resize without quality loss)
What is a Chemical Lab Test Tube diagram?
The lab equipment usually refers to the various tools used by scientists. Laboratory equipment is generally used to either perform an experiment or to take measurements and gather data. Such test tubes and other glassware can be a unique metaphor for showing various processes, progress, you can use them for creating charts or even making simple lists look different from all default presentations.
Where can you use the Chemical Lab Test Tube graphics?
Using diagram visualizations will help you create beautiful slides to explain your thoughts better.
Create a list using chemical glass shapes and icons
Express the concept of increasing or decreasing value with test tubes diagram
Present 5 steps of building a business plan including with Purpose, Vision, Business Model, Target Market, Idea and Test with flask shapes
Visualize lists and create attractive infographics with lab flask, pipettes and beaker glassware shapes
Show statistics using the metaphor of exact dosing
Visualize process with 3 steps chemical experiment diagram template.
Illustrate solution with 2-ingredient chemical mixture infographics
Try using those PowerPoint illustrations to present your content visually in an elegant way.
Chemical lab test tube graphics contains pre-designed diagrams and graphics :
Chemical glass list diagram for 5 elements
Test tubes increasing value diagram for six editable levels
Six test tubes decreasing value in dark background
Five steps of building a business plan shapes with purpose, vision, business model, target market, idea test
Lab flask and beaker glassware infographic for four elements
Pipettes graphics list diagram showed for four, five elements
Exact dosing pipettes data chart
Beaker chemical glassware data chart
Laboratory test tube depicted for four and five elements list diagram
Laboratory test tube illustrated for five elements list diagram in dark background
Science laboratory theme diagram showed for three elements
Three steps chemical process experiment diagram
Two ingredient chemical mixture solution diagram
Two elements comparison: beaker graphics
All graphics are editable, so you can modify the colors and text. We added also a general icon collection at the end of the presentation deck. Optionally you can also extend the collection by more PPT symbols (see Related Diagrams section).
Fully editable in PowerPoint set of vector shapes fully editable by using built-in PowerPoint tools, including
change the color of all shapes filling and its outline, including icons
adding shadows
changing shape and size, rotating, flipping the object
putting shapes behind or on top of text
See editing demonstration in
our HowTo Videos
.
Authors
infoDiagram's designer
Contact: here
Slides included in this PowerPoint Presentation:
How To Edit
How to edit text & colors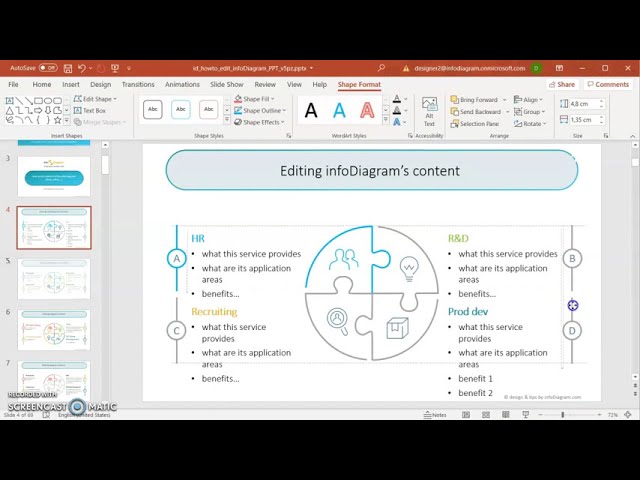 How to expand / shorten diagram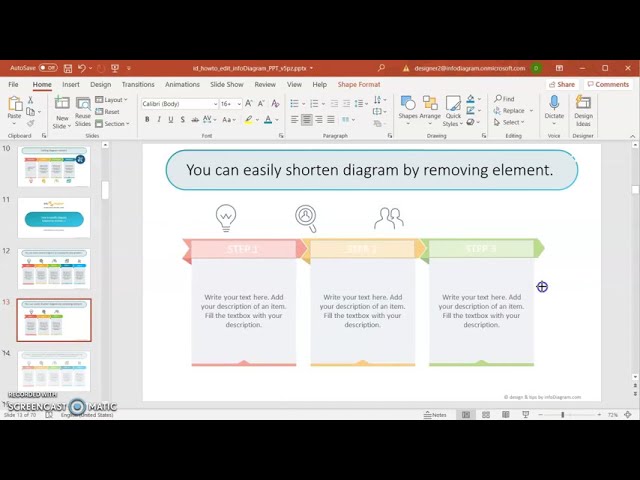 How to Replace Icons in infoDiagram PPT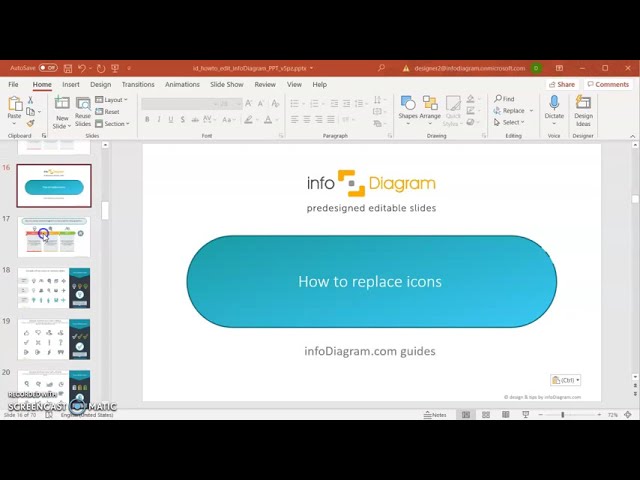 Chemical Lab Test Tube Graphics (PPT Template)