Reviews

Usage example

Description

How To Edit
Slides
Description
Do you need to present sustainable and consistent growth for your enterprise that includes key growth sources and the main drivers of an expected performance boost?
The Business Growth Strategies PPT can be used if you want to present sustainable and consistent growth for your enterprise that includes key growth sources and the main drivers of an expected performance boost.
Use our pre-designed, content-ready presentation models, modify them to your needs, add your comments and enjoy your presentation!
This Strategic Growth Plan contains:
29 diagrams illustrating the current state of business overview, growth strategy executive summary and development roadmap, Ansoff's matrix toolbox, market penetration strategies, new market analysis quadrant matrix, PESTLE analysis, growth sources evaluation tool, key growth drivers comparison, and more.
All topics are shown on ready-to-use tables, charts, diagrams, and matrixes for your or your company's benefit.
This presentation is designed in a modern flat graphics style enriched with outline icons.
71 icons illustrating topics related to the company growth plan: goal, challenge, leader, direction, control, cooperation, team, deal, transaction, sell, franchise, shops, world, region, circular, benchmark, research, niche, money, stage, demand, increase, offer, innovation, technology, customer, interests and more.
Instruction on how to modify those diagrams.
Format: fully editable vector shapes (modify colors of diagrams and icons, resize without quality loss).
What is a Growth Strategy?
A growth framework is a set of long-term actions and plans that make a company expand its current market share and tap into new territories to acquire new customers and increase sales. A growth strategy helps you align your teams so that everyone across sales, marketing, product, etc., works toward the same goals.
Why use a Growth Strategy template?
If you need to explain the ways to grow your business or introduce a new product line, use our highly creative growth strategy template that allows you to pinpoint the main growth drivers in an eye-catching and easy-to-understand format. Whether you are aiming for market penetration, product development, market development, or diversification, use this deck to communicate your strategy.
You can reuse our graphs and charts and tailor them to your needs to upgrade your presentation. Our slides are effortless to edit. We include detailed instruction on how to alter the content, values, colors, and look of charts, diagrams, or icons.
Where can you use the Growth Strategy diagram graphics?
Using infographics in your growth strategy presentation will help you organize information in a good-looking and attractive format and compellingly present your plans and comparisons, which will be easy to understand by your audience:
Illustrate the current stage of your company using a pre-designed overview of the business development path
Present your business overview using a summary with 6 highlighted performance areas impacting your bottom line
Visualize your growth sources using Ansoff's matrix toolbox
Take a deep dive into 4 possible sources of growth with additional notes and signify the importance of your strategy via key pointers
Show different organic and inorganic growth tactics, from mergers and acquisitions to product extensions
Present the market size you are targeting via a market size comparison diagram
Design your market penetration strategies or show your product or service development or differentiation, enhancing the message with matching icons and attractive mapping schemes or diagrams
Assess new markets that you intend to enter using quadrant matrix or PESTLE analysis framework
Use a pros and cons evaluation tool or rate matrix to analyze and compare your growth sources
List your internal and external key growth drivers, adding your comments when needed
Describe 7 key focus areas of your growth strategy in a creative pie chart graphic
Present your YOY organic and inorganic revenue increase in a data-driven stacked chart
Show the investment needed for growing your business both in value and shares
Try using these PowerPoint illustrations to present your content visually in a professional way.
All graphics are editable so that you can modify the colors and text. We also added a general icon collection at the end of the presentation deck. You can also extend the pack with more PPT symbols (see Related Diagrams section).
Fully editable in PowerPoint set of vector shapes fully editable with built-in PowerPoint tools, including
changing the filling and outline color of all shapes and icons
adding shadows
changing shape and size, rotating, flipping the object
putting shapes behind or on top of text
Authors
infoDiagram's designer
Contact: here
Slides included in this PowerPoint Presentation:
How To Edit
How to edit text & colors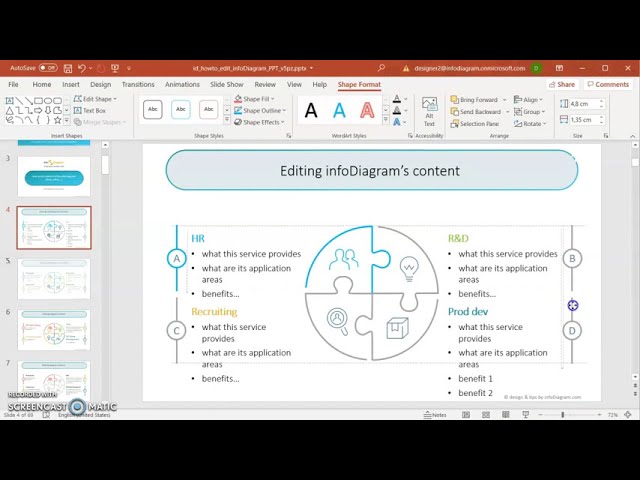 How to expand / shorten diagram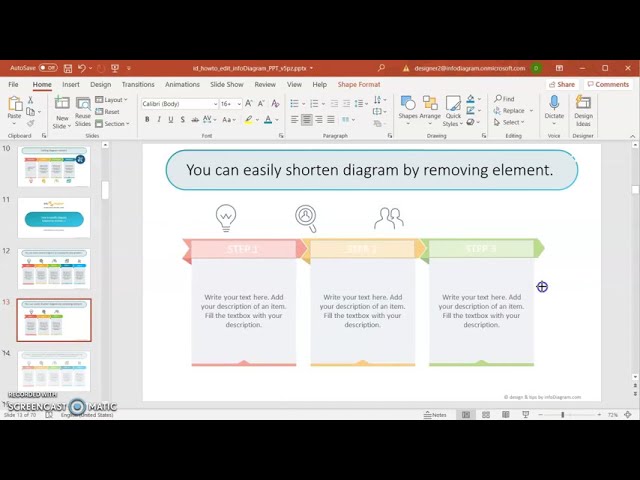 How to Replace Icons in infoDiagram PPT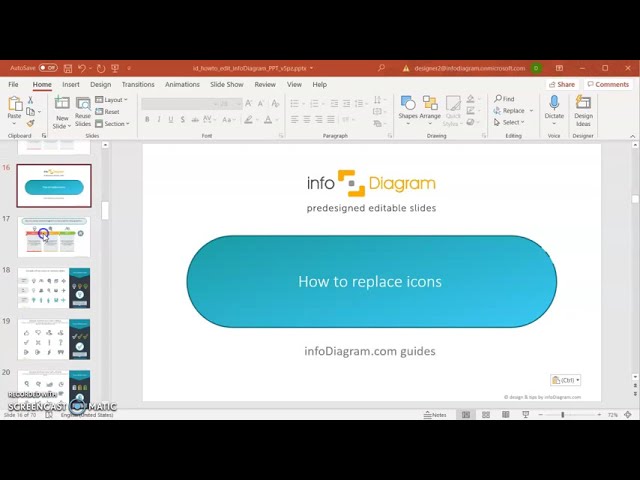 Business Growth Strategy Plan Presentation (PPT Template)