Reviews

Usage example

Description

How To Edit
Slides
Description
Starting a new job and looking for visuals to illustrate your 30-60-90 action plan? Onboarding new employees and want them to map out their personal goals? The job description requires you to present your work objectives? If you want your slides to look professional and interesting while focusing people's attention on important things at the same time, the graphics in this plan can help you visualize your ideas. To help you out we've designed a PowerPoint template containing diagrams and timelines so you can use a 30-60-90 plan in different versions: on one slide altogether or broken down into 3 slides.
This 30-60-90 Day Plan Template Collection Contains:
12 diagrams to illustrate the plans, development roadmaps, and timelines.
Slides are designed in an attractive, minimalist flat style. Such graphics will help you create unique creative designs and impress the employer at your new company.
12 flat symbols to show various business concepts e.g. Education, Knowledge, Team, HR, Income, Performance, Productivity, Research, Know-how, Deal, Growth, Status.
Instruction on how to modify those diagrams using standard PowerPoint editing tools.
Format: fully editable vector shapes (modify colors of diagrams and icons, resize without quality loss)
What is the 30 60 90 Day Plan?
A 30-60-90 plan is a presentation of work objectives for the first 90 days in a new role or new team. It is usually used by hiring managers for new hires, such as in the induction process of a new manager job role. Having such a plan for the first 90 days helps you to define a clear course of action by showing specific work goals and plans to achieve them.
You can also use these graphics while creating an actionable project template to divide big goals into manageable tasks, or show end goals during the performance review.
If you need to present such a plan when applying for a new job, using visual diagrams will help you show the informative part in a catchy way and will make you stand out.
How Can 30-60-90 Infographics be Used?
These diagrams will help you create appealing graphics to illustrate your thoughts and avoid wordy slides.
Present 30 60 90 Day Action Plans using 3-columns, a 3-rows template or a waterfall diagram.
Illustrate a development time plan which includes Learning, Team Feedback & Review, Procedures Correction & Improvement stages.
Show a detailed plan for every 30 days using minimalistic diagram graphics.
Visualize a development plan using growing plant graphics to show improvements.
Design a roadmap to show every milestone in your plan.
Show timing and budget plans with timing deadline and cost estimations.
Create an attractive timeline to show the main stages in your business strategy.
Try using these illustrations to present your content visually in an elegant way.
All graphics are editable, so you can modify the colors and text. We also added a general icon collection at the end of the presentation deck. Optionally, you can also extend the collection with more PPT symbols (see Related Diagrams section).
Fully Editable Templates - The set of vector shapes is fully editable using built-in PowerPoint tools, you can:
Change the color of all shape fills and outlines, including icons
Add shadows
Change shape and size, rotate, and flip the object
Put shapes behind or on top of the text
Authors
infoDiagram's designer
Contact: here
Slides included in this PowerPoint Presentation:
How To Edit
How to edit text & colors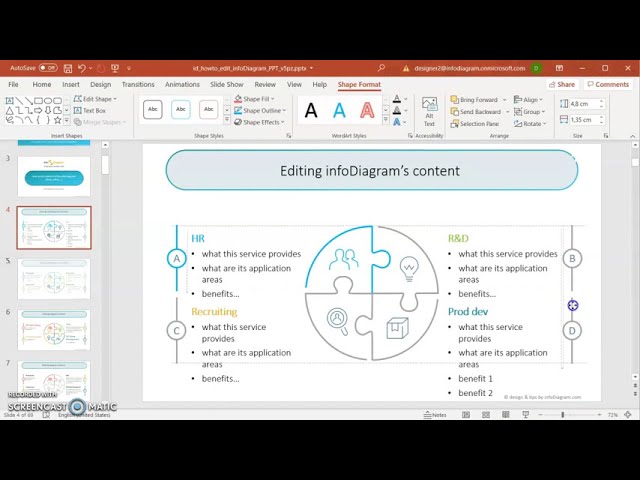 How to expand / shorten diagram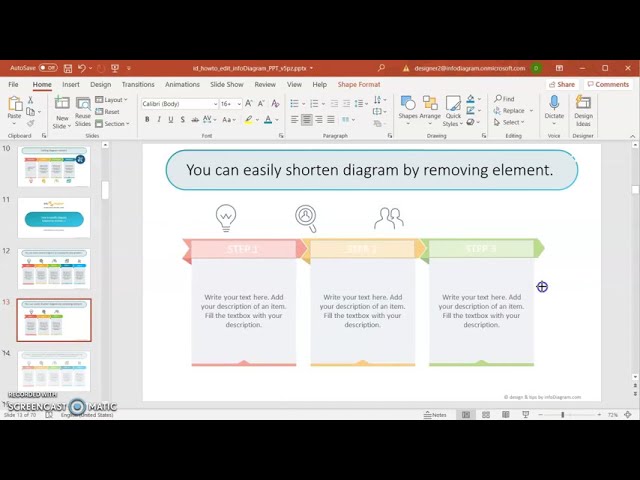 How to Replace Icons in infoDiagram PPT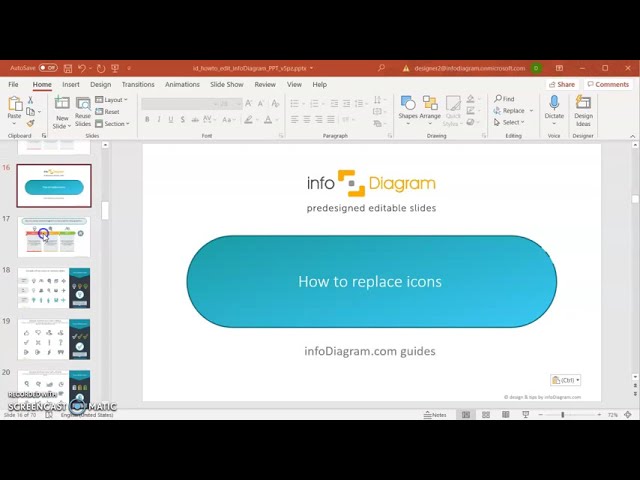 Visual 30-60-90 Days Action Plan (PPT Template)