Reviews

Usage example

Description

How To Edit
Slides
Description
Are you looking for visuals to present the remote work processes? If you create professional personalized graphics, it will be much easier to hold listeners' attention on topics. To help you out we've designed a remote work graphics PowerPoint template containing slides for illustrating all aspects of remote work.
This Remote Work Know-how Infographics collection contains:
12 diagrams and slide layouts to present definitions, remote work types, tools for the home office, telecommuting benefits and challenges, implementation plans, and tips for effective work.
Slides are designed in an elegant lightweight outline style. Such graphics will help you present complex ideas creatively and simply.
49 outline symbols to show various business concepts e.g. E-conference, Task Management, Kanban, Communication App, Time Zones, Work Planner, Calendar, Socialization, and Feedback.
Instruction on how to modify those diagrams using standard PowerPoint editing tools.
Format: fully editable vector shapes (modify colors of diagrams and icons, resize without quality loss).
What is remote work or telecommuting?
Remote work also known as telecommuting or home office is an arrangement between an organization and an employee allowing them to cooperate without organizing an office area or traveling to the workplace. Freelancing, another type of remote work, is becoming more popular each year. In addition to that in 2020, the coronavirus pandemic fundamentally changed the way many organizations operate. For those, who have never worked from home, it can be quite challenging to do tasks productively, manage virtual meetings, and lead teams.
If you need to create a presentation on this topic or improve the current performance of your remote team, you need to make sure everybody is on the same page, and nicely designed slides will help you achieve this goal.
PS. By the way, we're remote workers ourselves :) We've always been a remote company, so many slides in this deck are designed from personal experience. If there's anything you can add to this collection or you just want to share your thoughts, reach out to us. We'll gladly talk!
Where can Remote Work graphics be used?
Explain the definition of remote work or telecommuting.
Present remote work types: Full Time, Part Time, Regular, Occasional, Whole Team.
Talk about essential tools for home office and remote team management.
Compare remote work communication apps using an elegant table template.
Illustrate best practices on how to manage remote teams.
Show telecommuting benefits and challenges for organizations and employees.
Visualize the home office company program implementation plan including activities & outcomes.
Design an illustrative diagram to talk about online meeting guidelines and present tips for effective remote work.
Remote Work Infographics contains pre-designed slides:
Content of remote work Know-How presentation
Remote work or telecommuting definition
Remote work quote
Types of remote work slide
Essential tools for home office and remote slide
Remote work communication slide
How to manage the remote team template slide
Telecommuting benefits for organizations and employees picture
Remote work challenges for organizations and employees slide
Home office company program implementation plan
Online meeting guidelines slide
Tips infographics for effective remote work in home office slide
Try using those PowerPoint illustrations to present your content visually in an elegant way.
All graphics are editable, so you can modify the colors and text. We also added a general icon collection at the end of the presentation deck. Optionally you can also extend the collection by more PPT symbols (see Related Diagrams section).
Fully editable in PowerPoint set of vector shapes fully editable by using built-in PowerPoint tools, including
change the color of all shapes filling and their outline, including icons
adding shadows
changing shape and size, rotating, flipping the object
putting shapes behind or on top of text
See the editing demonstration in
our HowTo Videos
.
Authors
infoDiagram's designer
Contact: here
Slides included in this PowerPoint Presentation:
How To Edit
How to edit text & colors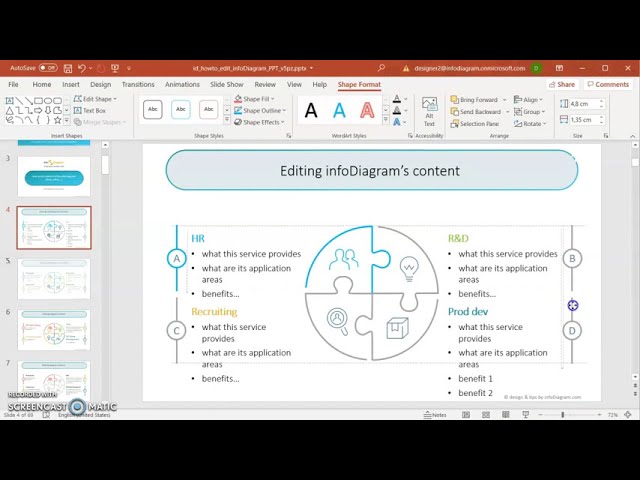 How to expand / shorten diagram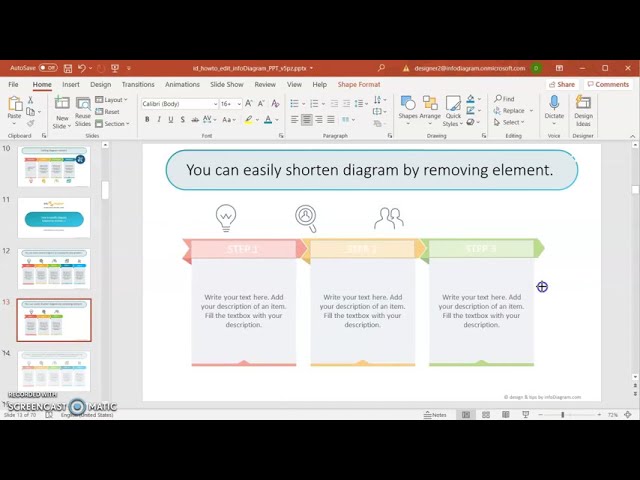 How to Replace Icons in infoDiagram PPT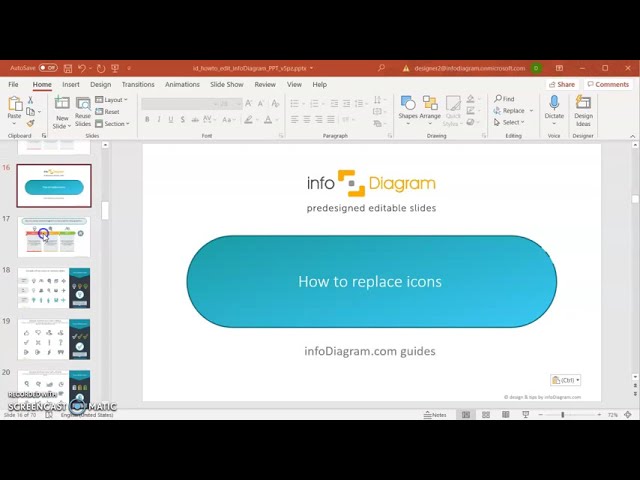 Remote Work Know-how Infographics (PPT Template)