Reviews

Usage example

Description

How To Edit
Slides
Description
Do you want to present various relations with one central element? We have designed a set of orbit graphics you can use to illustrate relationships in business, elements orbiting the main object.
This PowerPoint template with Orbit Diagram graphic contains:
21 various illustrations of solar system-like orbits, with elliptical and circle forms, moon-like relation diagram and satellites .
Three graphical styles - modern flat graphics, creative hand-drawn shapes of a chart markers and elegant light line graphic.
35 icons in those 3 styles (scribble, flat, outline) to present various business concepts e.g.Clients, Team, Communication, Marketing, Document, Process, Hierarchy, Deadline, Data Cloud, Budget, Satellite Dish, Antenna.
Instruction how to modify those diagrams using standard PowerPoint editing tools
Format: fully editable vector shapes (modify colors of diagrams and icons, resize without quality loss)
What is Orbit Diagram - as a presentation visual?
The concept graphics with central circles resembling the orbits and planets. Orbit diagrams are a great metaphor for solar system-like relationships.
You can use them to present a central element with sub-elements, underlining their common relationship. You can also use this concept to redesign a simple list into memorable visuals.
Having such graphics on a slide will attract attention to your presentation without the need to be wordy.
Where you can use this concept of orbiting elements?
Presenting the Company headquarters and sub offices, arranging them e.g. by distance.
Showing zones of transport means.
Showcasing topics related to concepts like "Company going global".
Explaining relations between company and subsidiary companies.
You have probably discovered orbit diagrams when you were learing maths at school. But did you learn that orbit circles are also a great visualization tool? You can use the orbit diagram to show the relationship to a central idea: it emphasizes both information in the center circle and how information in the outer ring of circles contributes to the central idea. With orbit shape circle graphics you can set out your vision for your work/company and decide on the key factors that allow you to attain this vision. Orbit diagram can help you to represent stages, tasks, or events in a circular flow, or interconnected ideas or concepts.
Orbit circle graphics contain ready-to-use modern diagrams illustrated with symbols dedicated to the following topics:
Orbit diagram shown with sun and three planet items
Half orbit diagram with longer text note space
Orbit diagram styled with planets and moon sub orbit
Elliptical orbit circles diagram illustrated with three planet items
Data-driven pie chart slide shown with orbit infographics
Five orbit circles slide presenting data values
Orbit shape centric circles example for five items
Challenges of going global template designed with Earth and satellites icons
Central orbit diagram for six elements
Company departments slide: IT, HR, Support, Sales, Marketing, CRM
Solar system illustrated with orbit infographics
Global communication orbiting satellites infographics
Orbit zones for four items infographics
Orbit zones with four hierarchy levels infographics
Quarter view orbit zones graphics for five elements
Quarter view orbit zones graphics for six elements
Transport means by distance as orbit relation diagram
Outlined central orbit diagram for four elements
Aggens' orbits of participation template: deciders, planners, advisors, reviewers, observers, unsurprised apathetics
Light line central orbit slide for four layers
All graphics are editable, so you can modify the colors and text. We added also a general icon collection at the end of the presentation deck. Optionally you can also extend the collection by more PPT symbols (see Related Diagrams section).
Fully editable in PowerPoint set of vector shapes fully editable by using built-in PowerPoint tools, including
change the color of all shapes filling and its outline, including icons
adding shadows
changing shape and size, rotating, flipping the object
putting shapes behind or on top of text
See editing demonstration in
our HowTo Videos
.
Authors
infoDiagram's designer
Contact: here
Slides included in this PowerPoint Presentation:
How To Edit
How to edit text & colors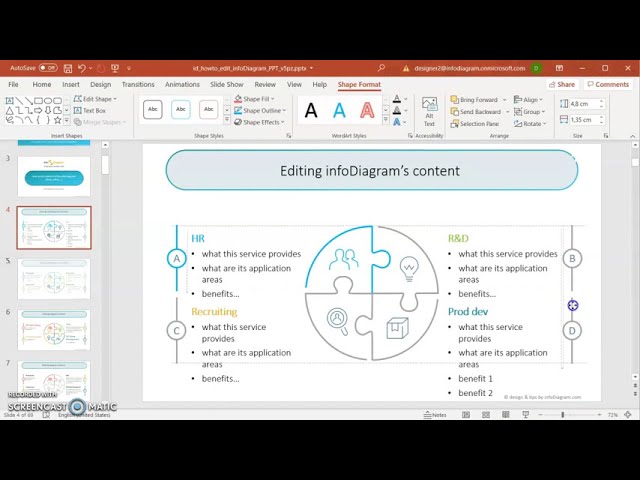 How to expand / shorten diagram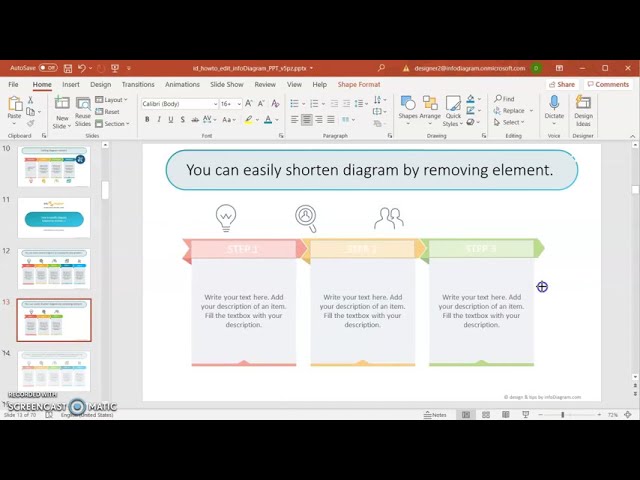 How to Replace Icons in infoDiagram PPT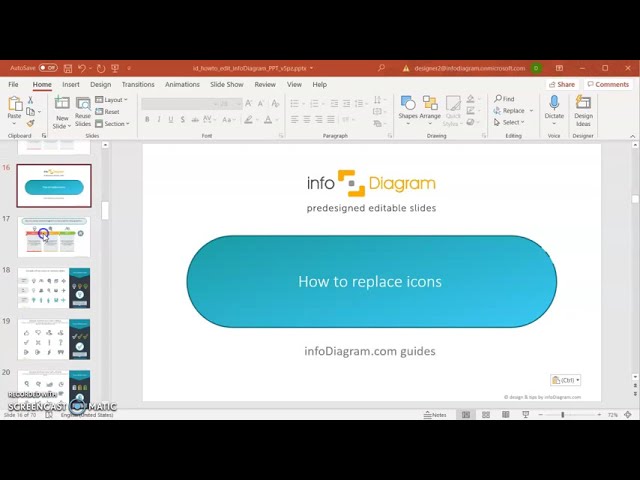 Orbit Diagram Infographics (PPT Template)