Reviews

Usage example

Description

How To Edit
Slides
Description
Do you want to explain and present global warming effects or analyze climate change risks? Persuade your company to take actions towards a more sustainable zero emission economy? Use graphics to convey your message.
We have designed this presentation visuals to support you in explaining the urgency of climate change actions, for businesses or other organizations.
If you are working in an NGO or educational institution, or you have a really good cause, let us know. We will gladly share this free of charge.
This Global Warming and Climate Actions template for PowerPoint contains:
24 diagrams showing impacts of global warming, facts, definitions and quotes on climate from recognized institutions (UN, IPCC, NASA). You can use templates for climate risk and opportunities analysis and action plans and calendars towards a greener economy.
Modern flat infographics style that is eye-catchy, readable and universal to add to any presentation style.
Extensive icon set of 81 symbols on global climate themes such as nature, CO2 emission pollutions, fossil fuels use, deforestation, extreme weather impacts and green solutions..
Instruction on how to modify those diagrams using standard PowerPoint editing tools
Format: fully editable vector shapes (modify colors of diagrams and icons, resize without quality loss)
All graphics are editable, so you can modify the colors and text. We added also a general icon collection at the end of the presentation deck. Optionally you can also extend the collection by more PPT symbols (see Related Diagrams section).
Further information sources on Climate Change
Climate change impacts and business actions slides collection contains pre-designed slides:
Content of the climate change slide deck
Introduction to climate change: definitions, facts, impacts
Global warming and climate change definition infographics
Climate change cause and evidence explanation infographics
Quotes on Global Warming graphics: urgency and importance
Perceiving the invisible of climate changeIceberg layers graphics
Quotes on climate change: impact on companies
Quotes on decarbonization: financial opportunity
Quotes on climate change slide: mitigation, adaptation, suffering
UN testimonial on Global Warming impacts slide
Global planet temperature infographics
Major impacts of climate crisis graphics
Financial impacts of global warming major drivers infographics
Climate change financial impact to global business slide
Solutions and approaches to climate change mitigation presentation graphics
Company solutions to climate change crisis slide
Business risks and opportunities icons
New regulations and opportunities illustration slide
Business risks and opportunities of Global Warming slide
Company risks caused by Global Warming graphics
Climate change and company opportunities diagram
Climate action plan templates for Global Warming mitigation
Country climate action goals template
Goals for climate action timeline
Climate themed action plan table: yearly calendar
Action plan stages towards sustainable future slide
Fully editable in PowerPoint set of vector shapes fully editable by using built-in PowerPoint tools, including
change the color of all shapes filling and its outline, including icons
adding shadows
changing shape and size, rotating, flipping the object
putting shapes behind or on top of text
See editing demonstration in
our HowTo Videos
.
Presentation Authors
Slides included in this PowerPoint Presentation:
How To Edit
How to edit text & colors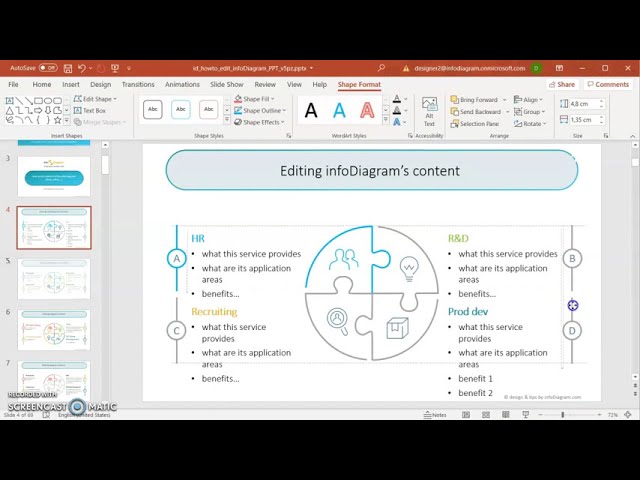 How to expand / shorten diagram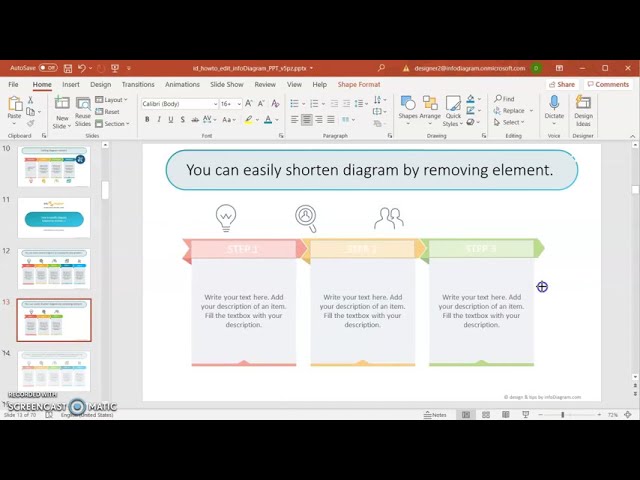 How to Replace Icons in infoDiagram PPT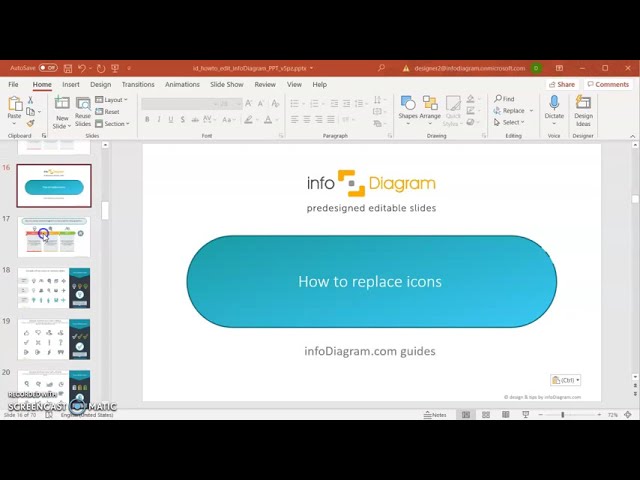 Climate Change Impacts & Business Actions (PPT Template)