Reviews

Usage example

Description

How To Edit
Slides
Description
Are you explaining the Value Chain model? Doing business analysis using this consulting approach? Use visuals from the presentation deck we've designed for presenting strategy management or business evaluation.
This Value Chain Analysis deck includes flow charts you can use to explain this consulting business model:
23 diagrams of Porter's Value Chain Model for business analysis, in various versions, highlighting specific elements, primary and support activities
16 icons to illustrate specific elements of this business flow chart such as Opportunity, Output Process, Service, Infrastructure, Support, Technology Development, Destination or Versatility logo symbol.
Format: fully editable vector shapes (modify colors of diagrams and icons, resize without quality loss
What is Value Chain Model?
This management model serves to evaluate company activities that deliver a product or a service to the end client. It's one of business decision support tool - helping company leaders or business consultants to understand how a firm creates value, analyze what activities contribute to this process directly (primary activities) and what is supporting the value creation.
Why to use the Value Chain visual template?
Having a clear visual representation value chain process makes it easier to explain dependencies between value creation elements.
Using one simple diagram capturing the big picture of the firm activities ensures a better understanding of how the company works by all stakeholders involved in the business analysis process.
Presenting details of company activities in the context of this model helps employees to see their work as part of a bigger whole, to have a big picture. And that contributes to overall employee engagement and improves motivation in the team.
Feel free to reuse and adapt these diagrams for your needs - whether it's any of these business cases:
Analyzing how your or someone else's company is working, how it creates value, evaluating business activities in order to identify the most crucial ones and be able to make well-informed business decisions.
Presenting how the company works to your employees or coworkers, to make them aware of company strategy and future business plans.
Explaining or teaching the concept of Porter's business model to students
Value chain management requires a complete picture of how value is added along the whole supply chain from production through distribution to processing. To help you show the complexity of the value chain process in an understandable and professional way, we designed a Value Chain presentation template collection. By using value chain symbols you can create informative and persuasive slides emphasizing companies activity. All these icons are intended to visualize your ideas, strategies and business analysis.
Value Chain collection contains ready-to-use modern symbols dedicated to the following topics:
Content and overview boxes explaining the process of value chain model
Definition box emphasizing what is value chain
Primary items of value chain model: inbound and outbound logistics, operations, marketing and sales, service
Support activities defining the value chain: firm infrastructure, HR management, technology development, procurement slides
Margin as an item of value chain model
Slide templates explaining the elements of value chain infographics: firm infrastructure, HR management, technology development, procurement, inbound and outbound logistics, operations, marketing and sales, service
Slide showing the of value chain model usage illustrated with steps diagram
Subactivities table: primary and support activities illustrated with flat icons
Value chain elements in reliance on procurement and operations, firm infrastructure and services
Activities table template showing the ways of value increasing with description column
Matrix diagram illustrating changes in comparison to generic strategies
Priority of changes table depicted in 5-leveled pyramid diagram
On the last part of this deck, we added a set of icons you can use instead of icons in slide examples. You can extend this symbols icon collection by getting more flat business icons (see Related Diagrams section).
Colors of all text placeholders, text graphics and icons are fully editable (all graphics is a vector format). So you can change them to colors of your template or company brand.
Fully editable in PowerPoint set of vector shapes fully editable by using built-in PowerPoint tools, including
changing the color of the icon filling and its outline
adding shadows
changing shape and size, rotating, flipping the object
putting shapes behind or on top of text
See editing demonstration in
our HowTo Videos
.
Authors
infoDiagram's designer
Contact: here
Slides included in this PowerPoint Presentation:
How To Edit
How to edit text & colors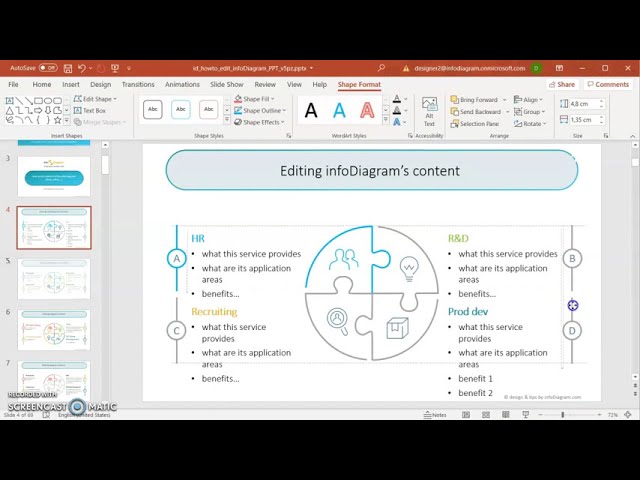 How to expand / shorten diagram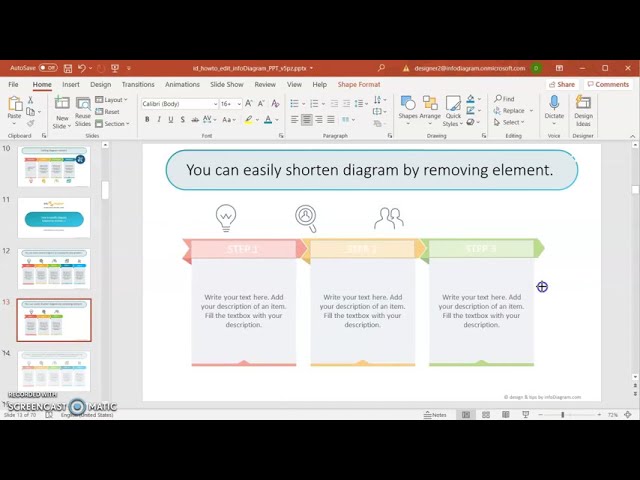 How to Replace Icons in infoDiagram PPT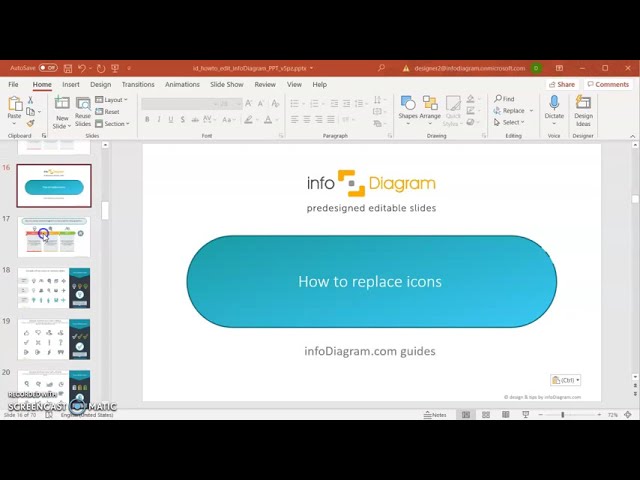 Value Chain Presentation Diagrams (PPT Template)