infoDiagram >
Internet of Things Presentation Diagrams (PPT Template)
Reviews

Usage example

Description

How To Edit
Slides
Description
Presentation visuals set for explaining the Internet of Things essentials - what is IoT, how it works, essential structures. We've designed those diagrams and infographics to help you present these new technology applications in Smart Homes, Smart Cities or so-called Industry 4.0.
This IoT PowerPoint template includes:
16 simple infographic diagrams of Internet of Things definition, industrial and consumer applications, benefits and concerns comparisons, technologies and IoT history timeline. All charts are designed in a universal flat graphical style that is well visible and fits various branding.
67 editable icons that you can use to illustrate connected home and buildings, Smart devices and the way they communicate - smart sensors, connected devices, industries using IoT and various people roles.
Format: fully editable vector shapes (modify colors of diagrams and icons, resize without quality loss
Our template for Internet of Things (IoT) presentation covers those topics
IoT Definition
Applications of Internet of Things with Connected Home, Smart Building.
IoT Benefits vs concerns comparison
Industries list using IoT (feel free to expand it)
Use cases of IoT applications including Smart Industry 4.0 Diagram with Suppliers, Production, Customized Smart Products and Smart City with Urban Infrastructure, Transport, Town Planning, Energy, Healthcare, Sanitation, Education as examples.
IoT Components, with Device, Gateway, Cloud, Data Analytics, UI items. Alternative four IoT components diagram Data – People – Process - Things
History timeline how Internet of Things developed, from 1st to 4th Industrial Revolution
Icons and graphics for AI presentations
What is Internet of Things - presenting IoT definition
The Internet of Things is the extension of Internet connectivity into physical devices (sensors, controls, home appliances). Such "smart connected" devices communicate over the Internet, they can be remotely monitored and controlled.
An example application of IoT can be put into four categories B2C consumers (Smart Home, Elderly care), Industry and Farming (Smart manufacturing, smart agriculture), Infrastructure (Smart Cities, Environment monitoring) and Commercial (Logistics, Healthcare, Construction) applications.
Content description:
Internet of Things Presentation contains ready-to-use slides:
Content of IoT presentation diagrams;
Iot definition on a dark picture background with text placeholder, illustrated with flat icons and circle diagram;
Applications of Internet of Things illustrated with flat scheme and icons in colorful circles;
Iot benefits and concerns comparison diagram with icons;
Industries using IoT colorful honeycomb diagram with flat icons;
IoT technology drivers and barries comparison diagram with flat icons;
Smart home interactions slide shown with a colorful scheme, icons and a brief description;
Benefits of connected home illustrated with list description and icons for each item;
Smart home remote control slide shown with smart devices diagram and list description;
Smart home applications slide shown scheme with house graphics, colorful icons and text placeholder;
IoT use causes colorful scheme with short description and flat icons: cloud, smart sensors and devices, suppliers, logistics, computer, server, digital production, physical production, customized products, virtual and smart production;
Smart city possibilities list diagram with circle graphics and icons in colorful circles;
Components of internet of things shown with flat icons and description to each item: device, gateway, cloud, data analytics, user interface;
Four Iot components shown with colorful cycle diagram with a short description;
IoT history timeline from first to fourth Industrial Revolution shown with flat arrow and description to each stage;
IoT focus timeline with colorful pentagon icons with description to each item: platforms, developers, education, protocols, security.
Editability of this Internet of Things diagrams PowerPoint Template
Fully editable in PowerPoint set of vector shapes fully editable by using built-in PowerPoint tools, including
changing colors of the icons filling and its outline
changing shape and size, rotating, flipping the object
relocating and resizing diagrams, putting shapes behind or on top of text
See editing demonstration in
our HowTo Videos
.
Authors
infoDiagram's designer
Contact: here
Slides included in this PowerPoint Presentation:
How To Edit
How to edit text & colors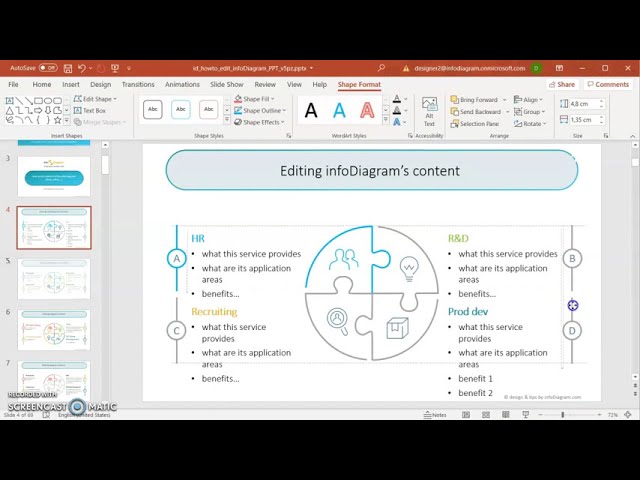 How to expand / shorten diagram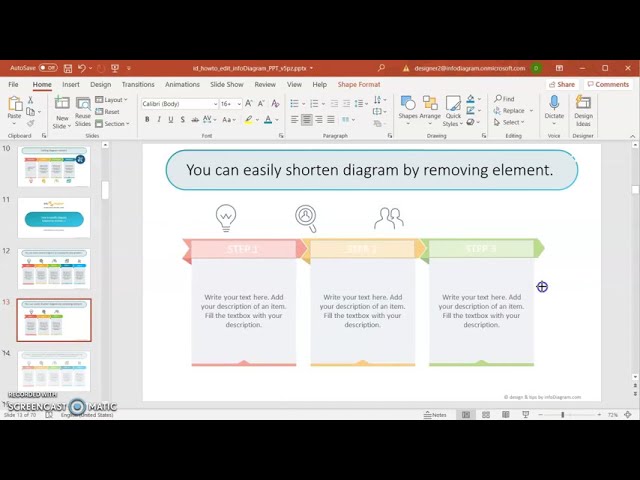 How to Replace Icons in infoDiagram PPT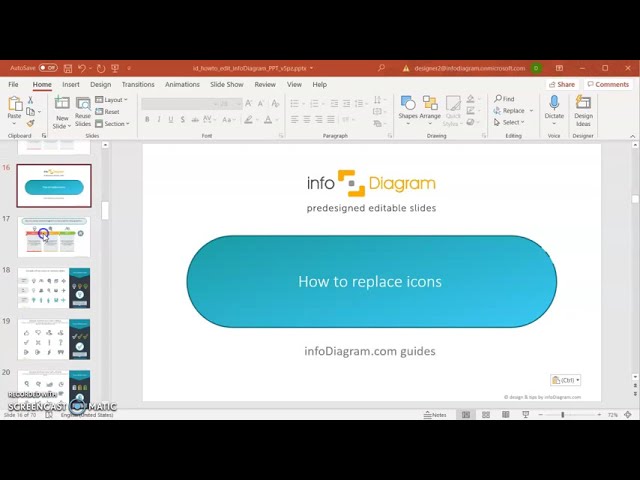 Internet of Things Presentation Diagrams (PPT Template)