Reviews

Usage example

Description

How To Edit
Slides
Description
Are you marketing a food or beverage product? Wish for a more dynamic way to show off your range? Need a method to present your food menu in a way that will make your customers or audience more responsive? Consider using our pre-designed one-pager templates to create a professional food product sell sheet. Here you can show key characteristics of your product.
The Food Product Sell Sheet One Page template for contains visual slides with:
6 layouts for presenting single or multiple products on one page, in leaflet format, including information such as product pictures, names, descriptions and more.
48 topic-specific icons, in outline style, to express related concepts visually e.g. Ingredients, Packaging, Shopping, Product Specifications, Benefits and much more.
Instructions on how to modify these diagrams using standard PPT editing tools.
Format: fully editable vector shapes (modify colors of diagrams and icons, resize without image quality loss)
Style: modern outline graphical style
Compatibility: MS PowerPoint and other Office 360 programs, plus Keynote and Google Slides.
What is a Product Sell Sheet format?
A one-pager document with a brief presentation of a product's look and key information such as size, ingredients, packaging, delivery, etc. It's a brief outline of your offering; describing your product features, values and benefits in a concise way.
Why use a Food Sell Sheet Template?
One-pagers help you to communicate the most relevant information regarding your food or product, to help you get more clicks. Key information is displayed in a visual format with icons and clear graphics, on just a single page.
Present your product data in a professional form by using our one-pager product templates. Just choose and adapt one of the layouts, and cater the contents to your needs. We also included instructions on how to alter the contents, colors, and look and feel of our templates.
Where can you use the One Pager Food Template?
Take an advantage of our ready to use templates to:
Show product to end client in a B2C leaflet
Present your food or drink product to distributors, retailers, or food restaurants; perhaps as part of a demo
Give instructions on how to serve your beverage or another gastronomic item
Add to a cafe or restaurant website
Create a flyer on the features of your food product
Use as part of a restaurant website template
Visualize your nutritional product and offer comparisons with other products in your range
Help with licensing products to restaurants, food websites, fast food franchises, cafes, food delivery companies, coffee shops, etc.
Design marketing material for food products, present nutrition value tables with calories, shelf life, storage, allergens, delivery, and pricing information
Try using those PowerPoint illustrations to present your content visually in an elegant and at the same time effective way.
All graphics are editable, so you can modify the colors and text. We also added a general icon collection at the end of the presentation deck. Optionally you can also extend the collection with more PPT graphics (see Related Diagrams section).
Fully editable in PowerPoint set of vector shapes fully editable by using built-in PowerPoint tools, including
change the color of all shapes filling and its outline, including icons
adding shadows
changing shape and size, rotating, flipping the object
putting shapes behind or on top of text
Authors of this One Pager Leaflet PPT Template
Design by infoDiagram designer.
Contact: here
Slides included in this PowerPoint Presentation:
How To Edit
How to edit text & colors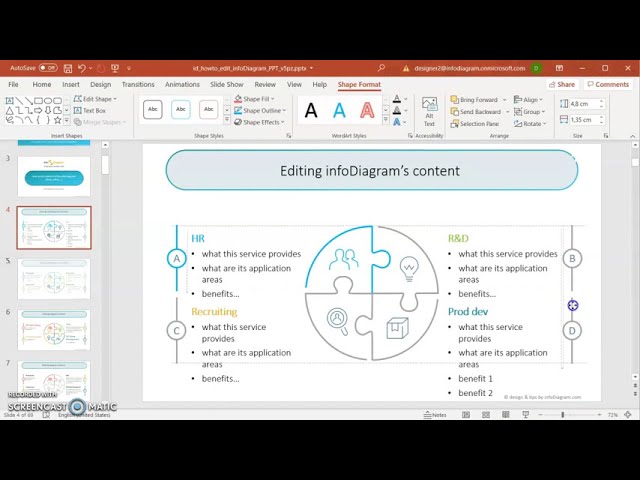 How to expand / shorten diagram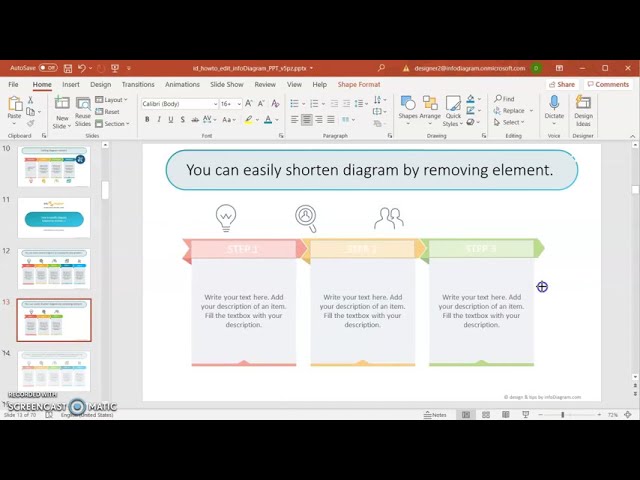 How to Replace Icons in infoDiagram PPT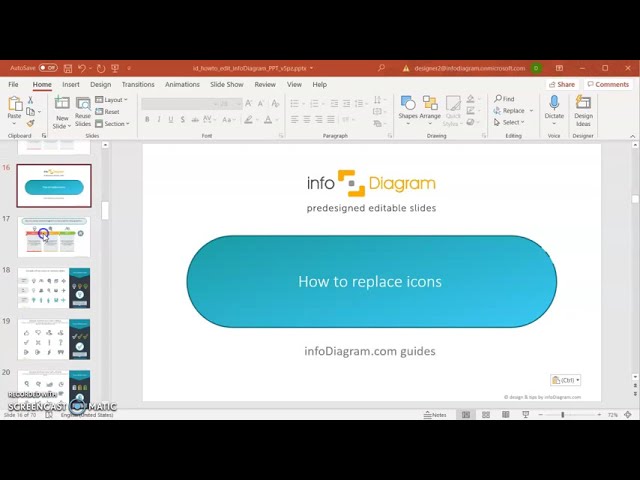 Food Product Sell Sheet Presentation One Pager (PPT Template)