Reviews

Usage example

Description

How To Edit
Slides
Description
PowerPoint infographics for illustrating steps, roadmaps, plans and journeys in form of a curvy highway road towards a goal. You can use this editable graphics to present history of software app release or draw a project milestones timeline. This visual metaphor of 3d like winding road is great way to show journey line to customer or personal success. If strategy and management context, present this roadmap as a path toward company vision or activities review timeline.
What's inside this road maps graphics slide deck:
12 modern flat infographics of various roads and highways in 3d perspective with pins and steps description text areas.
editable examples of software app release roadmap, project milestones history or strategy plan towards company vision chart
extendable set of 14 icons for roadmap presentations such as rocket symbol for product launch, direction arrows or objective bullseye sign
instruction how to modify the road infographics using PowerPoint editing tools
Format: fully editable vector shapes and native PowerPoint tables (you can modify colors, change size without quality loss)
What is a Road map infographics?
Graphical form illustrating various plans and steps using the metaphor of a road to visualize the process or a journey towards the goal.
How to use roadmap infographics in your PowerPoint slides?
Choose and copy the road map graphics to your presentation. Feel free to modify it as you need - changing texts, adding or removing roadmap pins or colors. Typical cases where roadmap visual slides can be handy:
Present strategy milestones toward the company vision
Draw a company history timeline
Present a software application release steps
Explain a project's milestones over a time
Show the process of the customer journey.
If you need another roadmap type, not curvy graphics but more detailed planning tables, check project planning Gantt chart
tables of PowerPoint Roadmap Template
Why it's worth using such road map infographics?
Full-picture slides grab the attention of the audience as they usually break the monotonous sequence of text-only slides. This will help you to engage your audience in your presentation.
You can add simple animations to uncover items on a journey map one by one. Each item can be illustrated by an icon specific to the roadmap milestone, so you will create a better association with the presented topics. If you are missing any symbols, see the Related Diagrams section for the PPT icons collection.
We added there a set of textboxes to explain each roadmap step. Feel free to extend those shapes if you need more space, or duplicate them to get create more roadmap steps.
The colors of all graphics here are editable. You can modify them to fit your or your client's visual identity.
Fully editable in PowerPoint set of vector shapes fully editable by using built-in PowerPoint tools, including
changing the color of the icon filling and its outline
adding shadows
changing shape and size, rotating, flipping the object
putting shapes behind or on top of text
See the editing demonstration in
our HowTo Videos
.
Authors
infoDiagram's designer
Contact: here
Slides included in this PowerPoint Presentation:
How To Edit
How to edit text & colors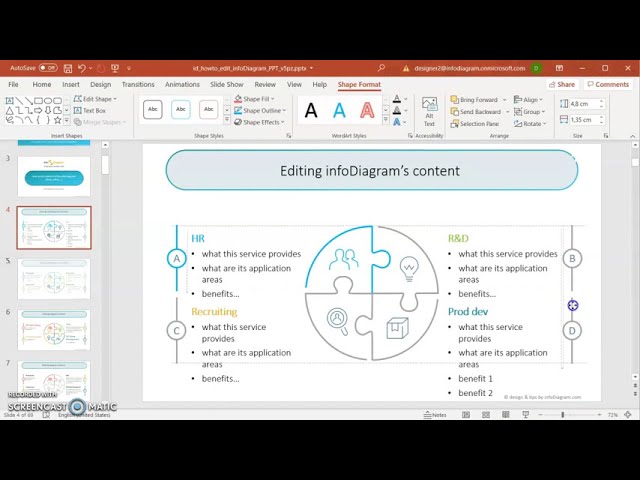 How to expand / shorten diagram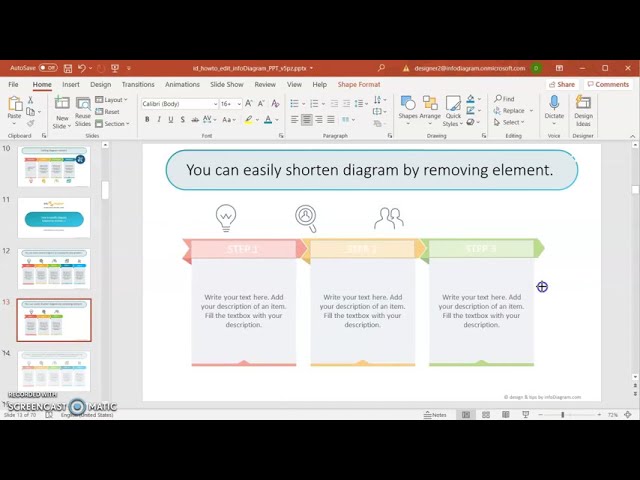 How to Replace Icons in infoDiagram PPT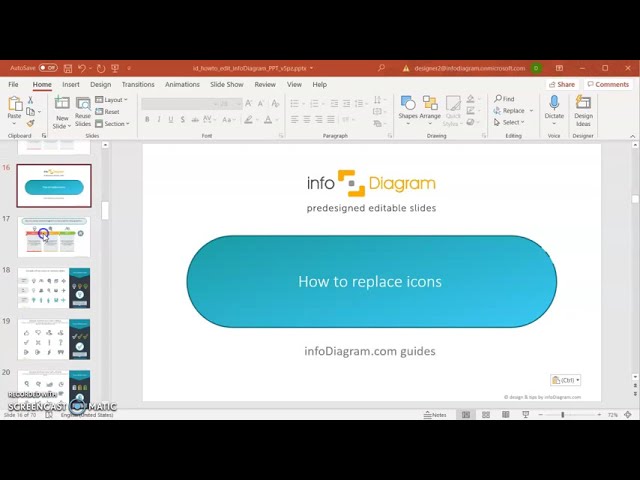 Curved Road Map Presentation Infographic (PPT Template)