Reviews

Usage example

Description

How To Edit
Slides
Description
Business Case presentation templates for presenting a business case - the story of a challenge and the proposal of solutions! Perhaps you need to describe solutions to a marketing challenge, showcase your solution to a delivery issue to key stakeholders or other relevant persons, or make a project proposal to senior management. This PowerPoint template deck includes components such as case background slides with honeycomb diagrams, presenting alternative solutions, and comparison of the benefits of the recommended solution. All to help you create an effective business case presentation.
This deck contains visual diagrams to help present your case in an organized and engaging way:
27 modern slide layouts with text placeholders and charts for presenting a business case study
36 symbols in simple flat style, that you can use to explain visually concepts such as objectives, status, measures, strategy, operations, finance, HR, and IT
Format: fully editable vector shapes (modify colors of diagrams and icons, resize without quality loss
What are the Components of a Business Case?
The structure of a simple business case presentation can look as follows:
Problem Statement - a brief overview of the business challenge you are going to address
Case Background - presenting research and business environment of the case, to give wider context.
Objectives - defining measurable goals that this case study tackle
Current Processes - analyze the current activities of your business case
Gap Analysis and Proposed Solution - show the differences between current and desired state and actions to reach it
Action Plan - define specific activities to perform, including what's needed to make it happen (financial, HR, IT resources, for example)
Alternatives comparison - present what else could solve the case by analyzing and comparing all options, including risks
Executive Summary - finish with brief one page case sum up of the main outcomes
Why use Visual Layouts for a Business Case PowerPoint Presentation?
You should make your presentation look more organized and consistent. This will help if you want to draw the attention of your audience and act professionally. Use light visual elements such as light grey text boxes and symbols. This can help to convey your key points in a more concise manner while improving their look and feel. Creating effective PowerPoints will help to impress your audience and improve your credibility as a presenter.
On the last slides you have a business icon set that can use at your discretion. You can also extend the set collection by getting additional PPT icon set bundles (see Related Diagrams section).
The colors of these diagram elements and symbols are fully customizable (they come in a vector format). You can change them to match the colors of the template or your corporate palette, for example.
Content description
The Business Case template contains the ready-to-use slides:
Business Case title slide in two versions: with picture background, with flat handshake symbol
Business case structure slide with bullet point agenda and flat symbols
Problem statement slide shown with placeholder text and symbols
Business case background template, illustrated with honeycomb graphics and list description
Setting objectives slide shown with flat symbols, honeycomb graphics, and placeholder text
Current process diagram shown with a bar chart with values and list description
Current process key data shown on a picture background, with an Excel bar chart and symbols
Current process diagram shown with list description and trade line chart
Gap analysis from current to desired status slide template with symbols
Gap examination diagram with description for each part (current status, action plan, and desired status)
3/4/5 element case requirements list diagram with symbols
Solution costs and return statistics slide shown with data-driven chart and placeholder text
Solution diagram shown with bullet point description and picture
Monthly schedule-timeline with text description for each month
Quarterly action calendar shown with colorful table and symbols
Colorful yearly calendar with space for description
Alternative solutions slide shown in three versions: four text boxes with the honeycomb design, list description with extra text placeholder, and description on a picture background
Alternative comparison diagram with symbols and picture background
Multiple alternatives comparison table in three versions: with symbols, text description, and compliance matrix
Executive summary shown with list description and symbols
Fully editable in PowerPoint set of vector shapes fully editable by using built-in PowerPoint tools, including
changing the color of the icon filling and its outline
adding shadows
changing shape and size, rotating, flipping the object
putting shapes behind or on top of text
Authors
infoDiagram's designer
Contact: here
Slides included in this PowerPoint Presentation:
How To Edit
How to edit text & colors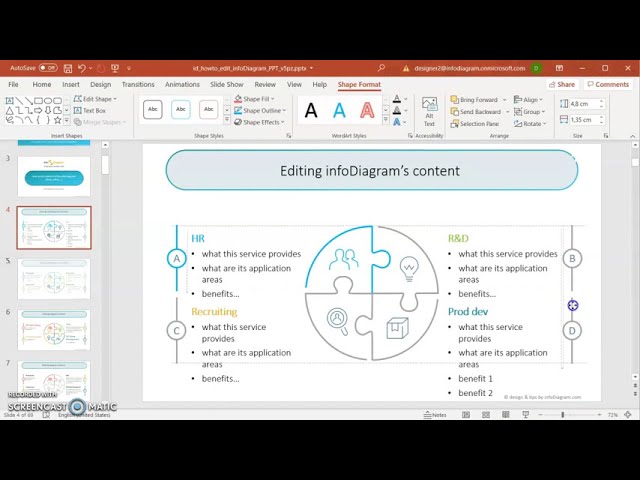 How to expand / shorten diagram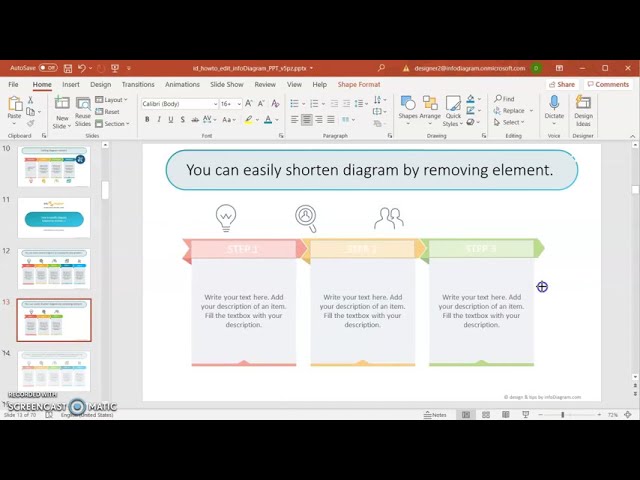 How to Replace Icons in infoDiagram PPT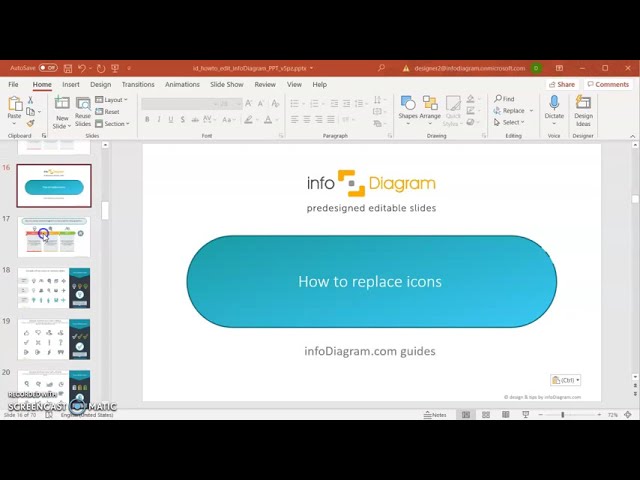 Business Case Presentation (PPT Template)