Reviews

Usage example

Description

How To Edit
Slides
Description
Do you need to present the essence of the circular economy and principles of the sustainable development model? Consider using a visual way of explaining circular concepts.
We have designed a circular economy PowerPoint template with editable diagrams to help you present those green economy frameworks.
If you are working in an NGO or educational institution, let us know. We will gladly share this free of charge.
This Circular economy and sustainability PowerPoint template contains:
14 slide layouts filled with quotes, linear timelines, loop diagrams, comparison graphics, listings, and processes illustrating the circular economy theme ready to use by a company or individual.
This presentation is designed in a modern flat infographics style enriched with outline icons and topic-related photos.
47 icons illustrating topics related to the environment and economy like Ecology, Renewable Energy, Pollution, Recycle Process, Economical Growth and Benefits, Supply Chain, and Product Lifecycle.
Instruction on how to modify those diagrams using standard PowerPoint editing tools.
Format: fully editable vector shapes (modify colors of diagrams and icons, resize without quality loss).
What is a Circular Economy and Sustainability?
The circular economy is a model of production and consumption involving sharing, reusing, repairing, and recycling materials and products for as long as possible. This model implies reducing waste to a minimum and extending the life cycle of products.
Unlike the linear economy, this circular system is more sustainable, restorative, or regenerative. Theoretically, nothing that is made in a circular economy becomes waste.
Why use a visual way to present Circular Economy and Sustainability?
You can clearly show the visual difference between circular versus linear economies using diagrams. In the linear economy, everything finishes in waste after product manufacturing and use.
In the circular economy flow of goods, the waste is minimal, as the system is focused on reusing and recycling materials as much as possible.
Flow chart diagrams can clearly present these two flows – linear timeline or cycle diagram loop.
Where can you use the Circular Economy and Sustainability Diagrams?
The circular economy and sustainability diagrams can be used in a broad spectrum of contexts, such as: Presenting circular economy benefits to the stakeholders
Introduce the circular business model with meaningful visuals
Teach the green economy framework in a memorable way
Compare circular and linear economic models
Illustrate a lifecycle of a sustainable product
Explain the 7R model principles with attractive graphics
Show circular economy benefits to convince the audience
Educate on alternatives to the product end-of-life concept
Create suggestive slides to emphasize the potential of a sustainable economy
Give real-life examples of running a sustainable business
Crown your conclusions and recommendations using topic-related icons
Influence the audience with inspiring quotes and symbolic photos
Try using these PowerPoint illustrations to present your content visually in a professional way.
All graphics are editable so that you can modify the colors and text. We also added a general icon collection at the end of the presentation deck. You can also extend the collection with more PPT symbols (see Related Diagrams section).
Fully editable in PowerPoint set of vector shapes fully editable with built-in PowerPoint tools, including
changing the filling and outline color of all shapes and icons
adding shadows
changing shape and size, rotating, flipping the object
putting shapes behind or on top of text
Authors of Climate Change Actions PowerPoint template
Design by infoDiagram designer.
Contact: here
Slides included in this PowerPoint Presentation:
How To Edit
How to edit text & colors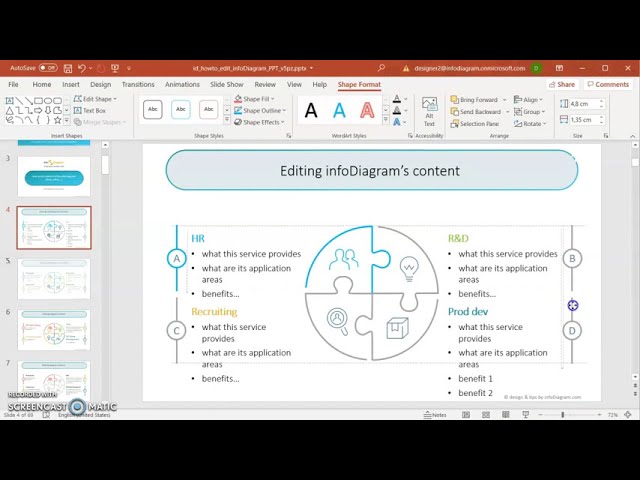 How to expand / shorten diagram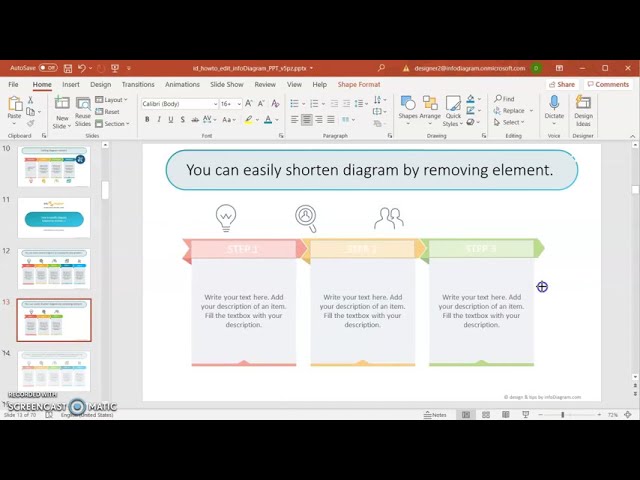 How to Replace Icons in infoDiagram PPT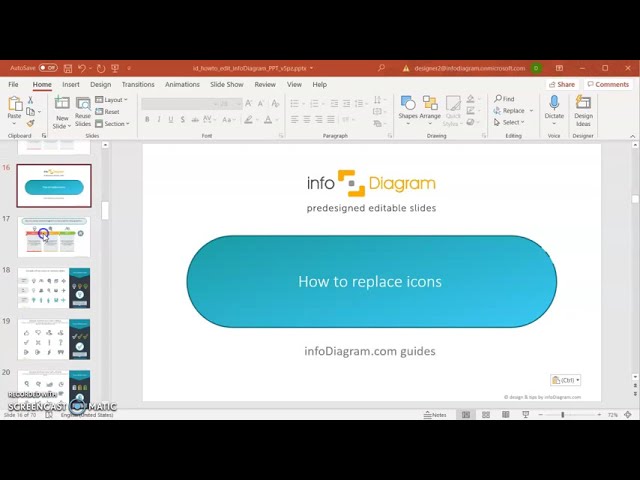 Circular Economy and Sustainability Diagrams (PPT Template)