infoDiagram >
Product Company Sales Presentation (PPT Template)
Reviews

Usage example

Description

How To Edit
Slides
Description
The Sales Presentation Template can be used for making a company sales pitch offering specific or several products. The PowerPoint deck contains Sales Template slides that cover essential sales strategy presentations - from market facts and challenges that your business addresses to exploring the benefits of your solution.
We have designed a set of modern predefined graphic business sales PowerPoint Presentation slides with visuals that help you create a professional PowerPoint Sales Presentation:
38 slide layouts with text placeholders and graphics for presenting a case study, features, and business background
36 icons in elegant outline style, that you can use to explain visually concepts e.g. business strategy objectives, values, product status, timing and schedule, data measures and trends, pricing, client testimonial, digital concepts
Format: fully editable vector shapes (modify colors of diagrams and icons, resize without quality loss)
What is the structure of the Product Sales PPT Presentation?
The outline of a good sales pitch presentation should:
Present problems your organization will tackle. This can include market facts and trends.
Show how your product or service will solve these challenges. You can bridge the gap between client needs and desired status. Case studies or testimonials are helpful to add.
Present the goods and services in terms of benefits, not plain technical features. If you have more services to offer, present a clear comparison.
Company background - demonstrate the people behind the product or service to provide proper sales or post-sales support. Show you have skilled employees, manufacturing facilities, and local representation offices.
Present a sales account or support team, and local representatives.
End the Sales PPT Presentation with a clear call to action. Add contact information in the PowerPoint Template so the lead knows what's the best way to reach you.
Why use this outline-style visual PPT Template
Your Sales PowerPoint Template is a unique chance to make a proper impression on your client. These templates include professionally designed Sales PowerPoint Slides with readable content. We propose to use beautiful PowerPoint shapes and iconic graphics that will nicely support your Sales Presentation PPT Template. We suggest using full slide photographs in several key slides to make an impression on new sections or key parts such as an introductory quote or customer testimonials.
If you need more specific icons to illustrate product benefits - check the last sales slides with the icons library. You can extend it by extended icon collection (see Related Diagrams section).
The colors of all text placeholders, text graphics, and icons are fully editable (all graphics in a vector format). So you can change them to the colors of your Sales Presentation Template or business brand.
Content description
Product Company Sales Presentation contains ready-to-use slides templates:
Product presentation agenda in outline placeholder with icons;
Company overview section slide on a picture background;
"What we do" slide on a picture background with text placeholder and icons;
Quotation slide on a night road background;
Benefits of working with a company illustrated with outline Venn chart and icons;
Company DNA shown with helix graphics and description of each item: vision, mission, strategy, values, purpose;
"Problems We Address" slide on a mountain picture background;
Market facts and customer statistics template shown with people icons;
Market facts infographics: product representation data shown with a colorful scheme;
Market trends slide shown with text placeholders and icons;
Bill Clinton quotation with outline banner on a night road background;
Company solutions slide shown with bridge graphics and list description for each item: current state, transition headline, desired state;
Solution and product benefits title slide on a mountain picture background;
Company challenge and success example outline chart with text placeholders;
Product testimonial template with outline frame on a picture background;
Six items product portfolio shown with list diagram and icons;
Six items products portfolio list template with outline icons;
"Why to use our product" slide shown with circle diagram and outline icons;
Comparing product features slide shown with three columns chart and description;
Main products slide shown with outline circle quarters diagram and description;
Key products advantages outline diagram with icons;
Software product features list diagram with outline symbols;
Product overview in three versions: with text placeholder and picture, description with the big picture, detailed description with product pricing.
Four products comparison table with pricing and outline icons;
Comparison table of three products with features and pricing;
Product implementation plan with stairs graphics and description;
"About company" section slide on a mountain picture background;
Company statistics slide shown with outline text placeholders and icons;
Key performance indicators slide shown outline graphics and a short description;
Company worldwide representation map with values;
Product account managers' profiles with pictures;
Sales team members PowerPoint Sales Presentation Template with text description and icons;
History milestones timeline with short text description;
Call to action section slide on a picture background;
Call to action outline banner template;
Contact information PPT Presentation Template: name, email, website.
Fully editable in PowerPoint set of vector shapes fully editable by using built-in PowerPoint tools, including
changing color of the icon filling and its outline
adding shadows
changing shape and size, rotating, flipping the object
putting shapes behind or on top of text
Authors
infoDiagram's designer
Contact: here
Slides included in this PowerPoint Presentation:
How To Edit
How to edit text & colors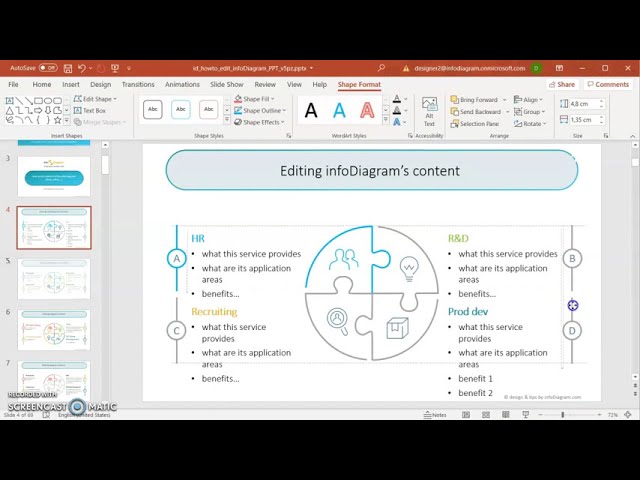 How to expand / shorten diagram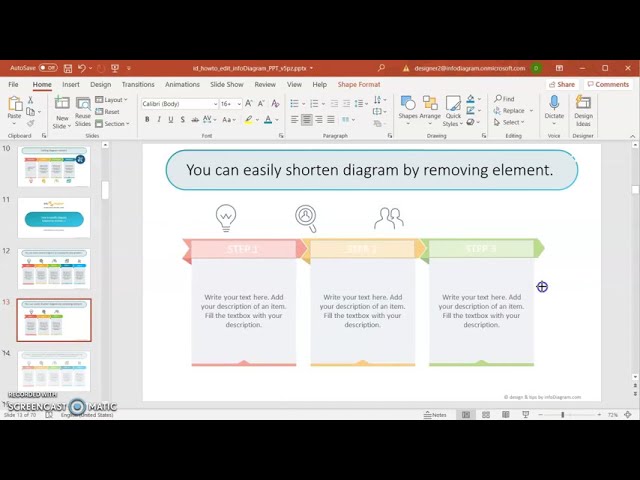 How to Replace Icons in infoDiagram PPT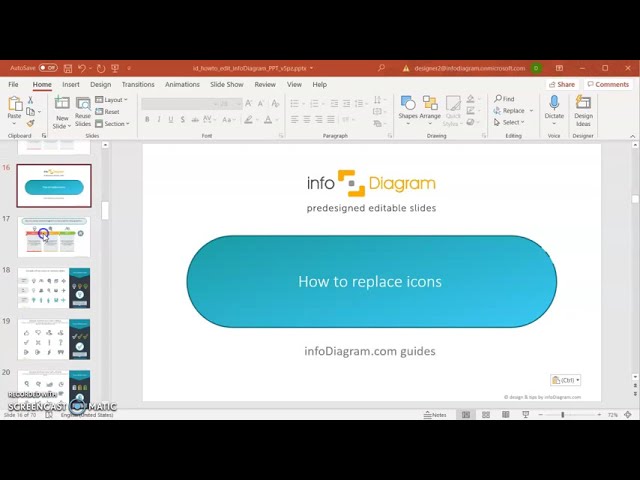 Product Company Sales Presentation (PPT Template)