Reviews

Usage example

Description

How To Edit
Slides
Description
Looking for a way to show opposition, correlation, or interdependence? Use Yin Yang energy balance diagrams to visualize such abstract concepts and support your ideas with eye-catchy graphics.
This Yin Yang Balance Diagrams collection contains:
15 diagrams for presenting dualism, co-depending elements, positives and negatives, opposing forces or pros/cons, danger and security balance correlation of factors, strengths and weaknesses co-dependence, quality vs quantity balance.
Modern flat graphical style - concise and direct stakeholder diagrams and professional elegant icons.
47 flat and outline symbols to show various business concepts e.g. Empathy, Cooperation, Documents, Attention, Danger, Income, Quantity, Positive, and Communication.
Instruction on how to modify those diagrams using standard PowerPoint editing tools.
Format: fully editable vector shapes (modify colors of diagrams and icons, resize without quality loss)
What is the Yin Yang balance diagram?
Yin and yang is a concept of dualism in ancient Chinese philosophy, describing how opposite forces may actually be complementary, interconnected, and interdependent. Yin Yang Balance diagram is a way to illustrate these interrelations and it can be used to show a variety of concepts visually, such as opposition, correlation, negative/positive factors, interdependence, and dualism.
Where you can use the Yin Yang balance graphics?
Using diagram visualizations for presenting ideas of opposition and interdependence is a way to make your presentation attractive and capture the attention of the readers or your audience.
Illustrate dualism using Yin Yang Shape.
Express co-depending elements with an elegant outline diagram.
Present two complementing items and put the description you need in the text boxes. Remember to focus on the keywords, not just overload your slide with texts.
Visualize opposing forces, pros vs cons comparison.
Create Financial Reliance Balance diagram with cost and income examples and illustrate with an outline or flat icons.
Show danger and security balance roadmap with professional infographics.
Explain the correlation of factors with a 3D diagram.
Visualize strengths and weaknesses co-dependence.
Illustrate Quality vs Quantity balance.
Compare up to six factors with Yin-Yang Template.
Try using those PowerPoint illustrations to present your content visually in an elegant way.
All graphics are editable, so you can modify the colors and text. We added also a general icon collection at the end of the presentation deck. Optionally you can also extend the collection by more PPT symbols (see Related Diagrams section).
Yin Yang Balance Diagrams collection contains pre-designed slides:
Dualism Yin Yang shape diagram template
Co-depending elements outline graphics example
Two complementing items showed with Yin Yang diagram
Opposing forces presenting pros and cons comparison diagram
Financial reliance balance slide with cost and income example
Positives and negatives Yin-Yang infographic
Danger and security balance roadmap slide
Correlation of factors 3D Yin Yang diagram template
Strengths and weaknesses co-dependence diagram
Factors comparison diagram for 6 items with Yin-Yang graphics
Female and male forces illustrated with Yin-Yang diagram
Quality vs quantity balance depicted with Yin Yang diagram
Black and white Yin-Yang energy diagram
Fully editable in PowerPoint
set of vector shapes fully editable by using built-in PowerPoint tools, including
change the color of all shapes filling and their outline, including icons
adding shadows
changing shape and size, rotating, flipping the object
putting shapes behind or on top of text
See the editing demonstration in
our HowTo Videos
.
Authors
infoDiagram's designer
Contact: here
Slides included in this PowerPoint Presentation:
How To Edit
How to edit text & colors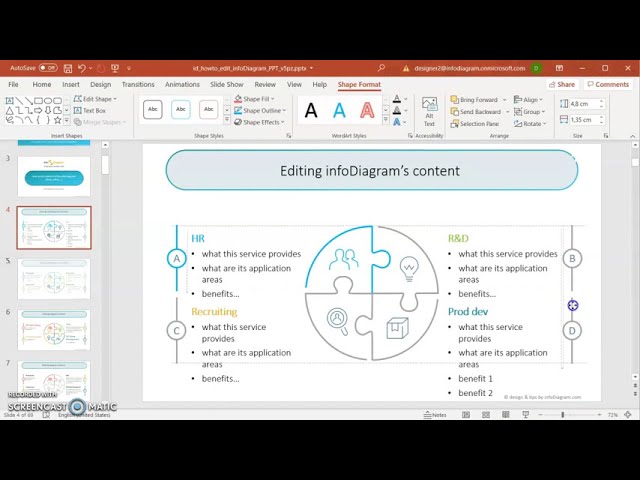 How to expand / shorten diagram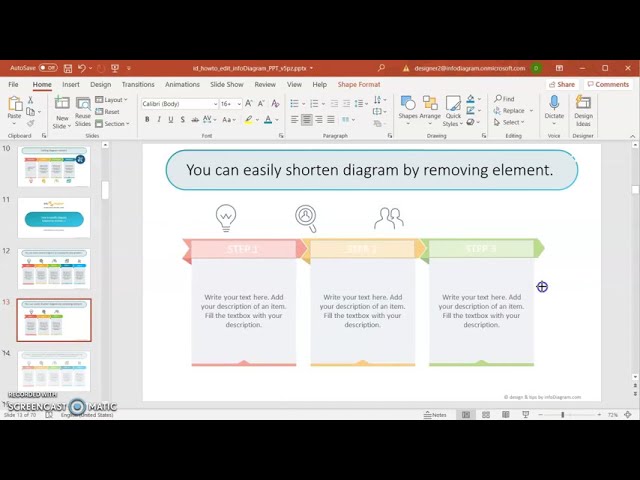 How to Replace Icons in infoDiagram PPT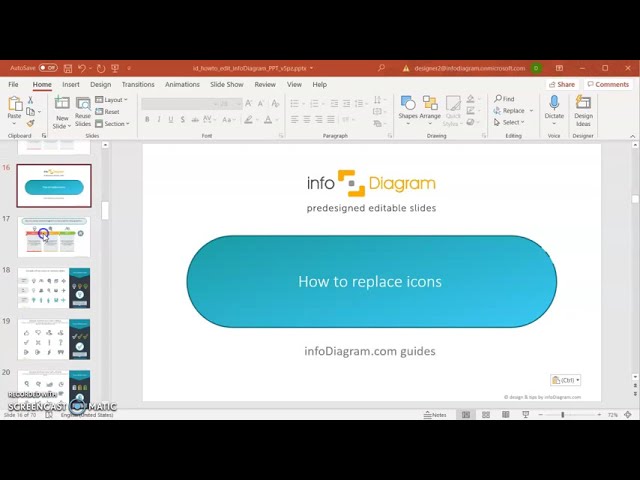 Yin Yang Balance Diagrams (PPT Template)