Reviews

Usage example

Description

How To Edit
Slides
Description
Presentation for Problem-Solution type of Webinar course
This PowerPoint Template contains predesigned webinar content examples, editable graphics and slide layouts for preparing professional webinar course. The slide deck contains:
30 diagrams and slide layouts for agenda, speaker bio, DIY poll infographics, challenge and solution presentation
33 symbols of various webinar topics: progress indicator, business goals, strategy, contact icons, handwritten arrows for screenshot marking
best webinar practices examples
Fully editable style. Size and colors easy to adjust using PowerPoint editor
Webinar presentation slide collection details:
The template can be used to prepare webinar presentation for any webconferencing software. Using PowerPoint is universal and allows also to export the slides for Youtube video or to other presentation formats e.g. for e-learning. The webinar presentation includes predesigned catchy titles, infographics lists to show online webinar agenda, posing question and presentation progress indications. We added a set of webinar examples on asking a survey question and presenting poll results by using simple do-it-yourself infographics.
The suggested structure of webinar that you can reuse from your own presentation
Unique title slide with catchy background image (mountain view here to represent a strategy vision idea)
Opening question slide asking about the main challenge of listeners
Agenda as graphical list or as two column placeholder text area that you can fill with your webinar topics
Slide for webinar housekeeping - technical information how to use webinar software, instruction how people can ask questions, how to use microphone, vote in polls, if webinar will be recorded. Add here also a twitter hashtag, if you want people to use Twitter for asking and commenting in real time online. Don't forget about stating what's duration of webinar so people can schedule their time
Slide for adding a screenshot of webcasting software and set of hand drawn arrows and comment boxes you can use to point to action areas in webinar application
Start with inspirational quote to set a mood of web-course. We added a template slide with image that you can use. Alter the citation text, as needed.
Place for information about speaker or speakers in case of interview webinar. Optionally add information about company, its logo and what it does, if this is a commercial webinar.
Start with quick survey among participants - let them vote. Present the poll question and answer options using included template slide. And them present the result using next slide layout.
Good idea is to present some interesting facts, data from the market that support point you want to make by presentation. Represent the data by simple infographics using appropriate icon symbols, underline the key numbers
Follow with section about challenges people can have. Add details - list possible problem and answers. Slowly build up foundation for introducing your solution
Continue with presenting the solution. Start with listing the main benefits - see the example of four circle diagrams or puzzle graphics. You can add a timeline illustrating how your solution works, what stages it has. Optionally use a table for comparing various solutions.
Finish with summary slide - state here the one main thing webinar participants should remember.
Don't forget to close the webinar talk with clear Call to Action. Ask people to contact you, to sign up for your service, try your solution. Make clear actionable follow up, that has time constraint, so people are motivated to act now. Maybe offer some discount voucher as incentive. We added a several actionable button designs you can edit and use.
Besides those example webinar structure slides, we added there over thirty
practical editable vector icons
that you can use to illustrate various points - to present business strategies and objectives, challenge and solution symbols, technology, HR, products. Show the pricing or other financial information, express approval / disapproval evaluation in comparisons. There are also arrow shapes for pointing to specific images, screenshots or table parts for example.
Further Resources about Making webinar presentations
The webinar template Presentation format
Fully editable vector shapes by using built-in PowerPoint tools (vector format), including
changing contour color of the icon
changing color of the scribble filling
adding shadows
changing shape and size, rotating, flipping the object
putting shapes behind or on top of text
See editing demonstration in
our HowTo Videos
.
Author
Content and design: infodiagram designers
Slides included in this PowerPoint Presentation:
How To Edit
How to edit text & colors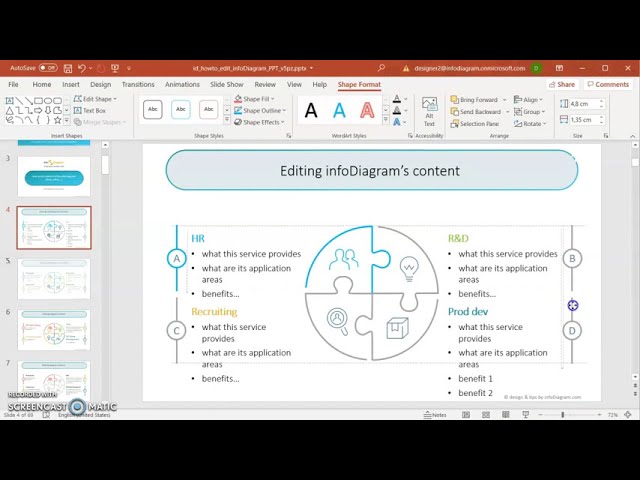 How to expand / shorten diagram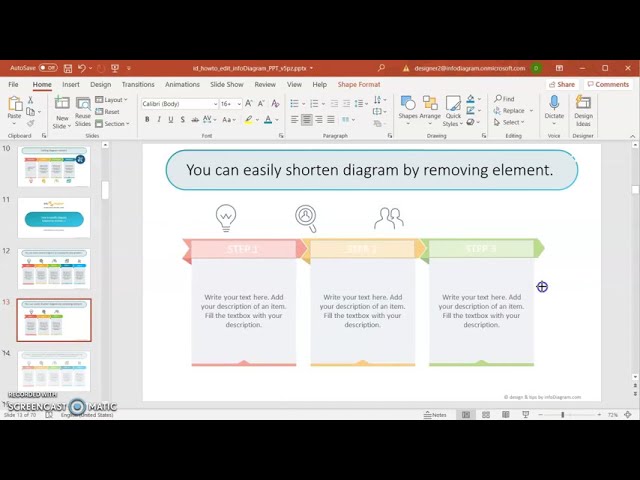 How to Replace Icons in infoDiagram PPT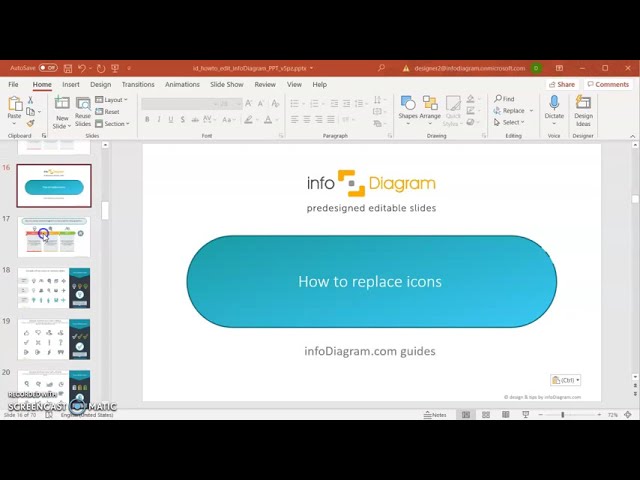 Webinar Presentation of Problem-Solution (PPT template)