Reviews

Usage example

Description

How To Edit
Slides
Description
Template slides for Timeline diagrams and Time infographics. Editable PowerPoint graphics for showing history, agenda, linear process flow charts, project timelines, planning phases and roadmaps by modern infographics.
34 various timeline diagrams for plan and linear sequence visualization (horizontal, vertical, calendars...)
text placeholders for numbering and description texts
set of 16 universal flat icon symbols for infographics: bull eye for goals and targets, data chart for analytics, binocular for vision, man for HR, product box, cogs for process, plus minus symbols
fully editable style, size and colors
Timeline chart diagrams in shape of steps and time arrow for creating modern style infographics presentation in Powerpoint. Graphics for showing processes and project stages with colorful or monocolor infographics shapes.
How you can use these timeline graphics:
Replace black and white simple timeline arrows by colorful teardrops, zigzag or chevron-style timelines
Use these timeline charts in various document: review reports in Word docs, project reviews and planning presentations or in Excel along calendar tables to show deadlines
Add teardrops, ribbons and outlined circles as an inspiration how to organise the information on the slide, in case of presenting procedures or set of events in time, planning phases and agendas
Replace default tables and ordered lists with more visual timeline arrows
Apply zigzag-shaped timeline if you want to present more than 5 key activities and illustrate them with icons
infographics templates for your strategy planning presentation - can be used as a roadmap
Why to use such timeline diagrams?
Make a strongly visual impact at the same time being expressive and compact within your slides
Connect information and icons in easy way
Make a unique eye-catching strategic slides to impress your audience
You don't have to use any special software, only PowerPoint and your creativity
All icons and lists are fully editable, so you can adapt colors to you brand identity
What's inside this timelines slide-deck?
34 editable diagram shapes
Various shape styles - teardrops, ribbons, outlined circles or zigzags
Universal timeline diagrams for 3,4 and more items with titles and explanation text boxes
Includes set of 16 universal flat icon symbols for infographics illustrations (extendable)
All shapes can be edited using PowerPoint
set of vector shapes fully editable by using built-in PPT tools, including
changing color of the icon filling and its outline
adding shadows
changing shape and size, rotating, flipping the object
putting shapes behind or on top of text
See editing demonstration in
our HowTo Videos
.
Authors
Slides included in this PowerPoint Presentation:
How To Edit
How to edit text & colors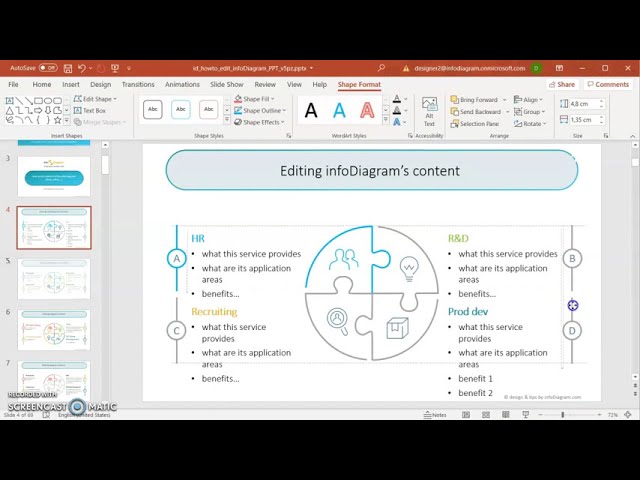 How to expand / shorten diagram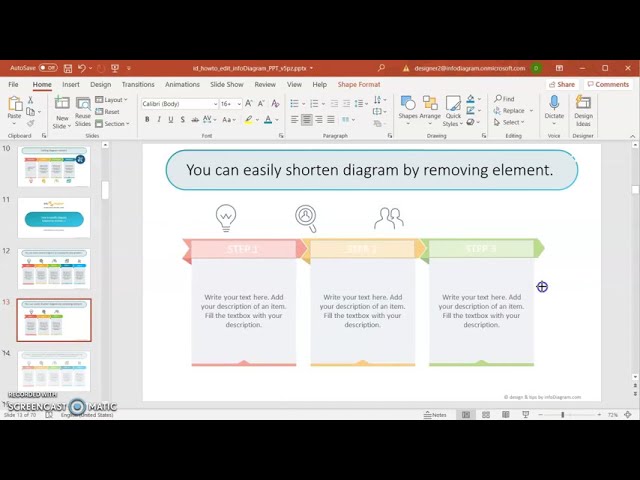 How to Replace Icons in infoDiagram PPT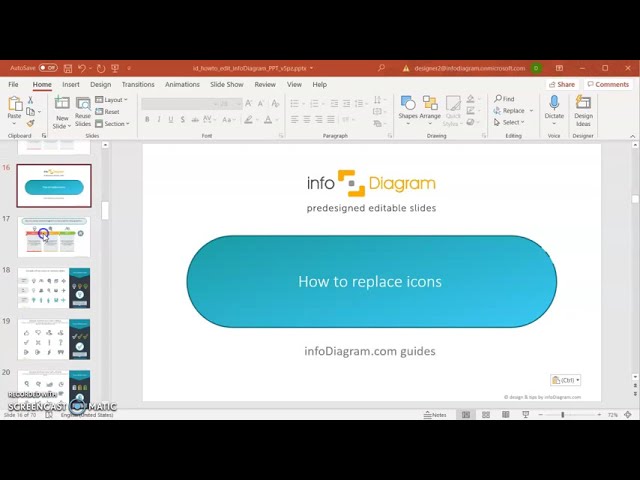 Timeline Diagram Infographics (flat PPT template)