Reviews

Usage example

Description

How To Edit
Slides
Description
Set of presentation diagrams in the shape of camera lens shutter graphics. This illustration is a creative metaphor to show various lists, synergy or completeness. Using fragmented wheel shape you can show a segment of one concept or list features of a product.
Get inspired by those diagrams, adapt them to your presentation needs. This PowerPoint template contains:
30 segmented circle diagrams in combination of 3 to 8 sections
modern flat graphical style that looks professional, readable and eye-catching
39 vector icons to illustrate business concepts e.g. Search, Idea, Memo, Chart, Check List, Money flow, Security, Strategy, Team, Dart Board for goals, Calendar Schedule for Planning and more.
instruction how to modify those level diagrams using PowerPoint editing tools
Format: fully editable vector shapes (modify colors of diagrams and icons, resize without quality loss
Shutter Shape Segmented Wheel Charts: When and why to use them in as a presentation visual?
Camera lens wheel shape is a familiar object that can be used as a base to show a circular list of items. The items are all equally distributed on a circle outline - representing balance and completeness. Adding an arrow or numbering you can express a repeating process or steps cycle, too. Examples where you can use those Segmented circle diagrams:
Decomposition of one whole product or abstract concept into sub-sections, that are all of the same importance.
Present cycle process sequence that is repetitive, e.g. customer care from start to returning of loyal clients.
Synergy of elements working together to create one thing, resembling the beauty of iris mechanism in camera
Collection of Shutter & Circle segment diagrams will serve you as a tool for presenting cyclic processes. You can use those wheel diagrams and spinning shutter illustrations to visualize closed sequences and repeating steps.
Content description:
Four-, six, eight phases circle fragments with flat icons and the place for description of each step
Three-, five-, seven elements circle fragments diagram depicted as a wheel graphics with a numbered list legend on the side
Example of Pentagon circle diagram illustrated in form of star with colourful flat icons
Spinning shutter circle infographics illustrated with a list of the three-, four-, five-, six-, seven-, eight stages shown with different colours
Three-, four-, five-, six-, seven-, eight items segmented template shown as a wheel
Camera lens three-, four-, five-, six-, seven-, eight sectors diagram with colourful flat icons and text description
Light circular list diagram with nine-, ten items. Presented minimalistic cycles will suit you if you don't need to put many descriptions around
Outline circle list diagram presented with eleve-, twelve phases for explaining complex projects
How to use Shutter infographics?
Shutter & Circle segment diagrams are useful for presenting flow, analysis process, decision flow or any series of events
Pentagon Star or spinning circle slides will help you to show the relationship to a central idea in a cycle in a visually appealing way
If you want to catch the attention of your audience then put several colors as a chart background and illustrate them with flat or outline symbols
Consider using those shutter illustrations to replace text bullets in your slides.
All graphics are editable, so you can modify the colors and text. We added also a general icon collection at the end of the presentation deck. Optionally you can also extend the collection by more PPT symbols (see Related Diagrams section).
Photographs are included in the template. You can easily replace them as well by pictures of your own.
Fully editable in PowerPoint set of vector shapes fully editable by using built-in PowerPoint tools, including
change color of all shapes filling and its outline, including icons
adding shadows
changing shape and size, rotating, flipping the object
putting shapes behind or on top of text
See editing demonstration in
our HowTo Videos
.
Authors
infoDiagram's designer
Contact: here
Slides included in this PowerPoint Presentation:
How To Edit
How to edit text & colors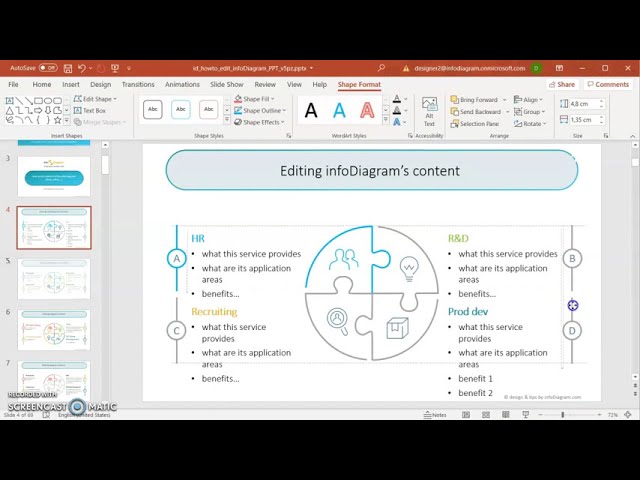 How to expand / shorten diagram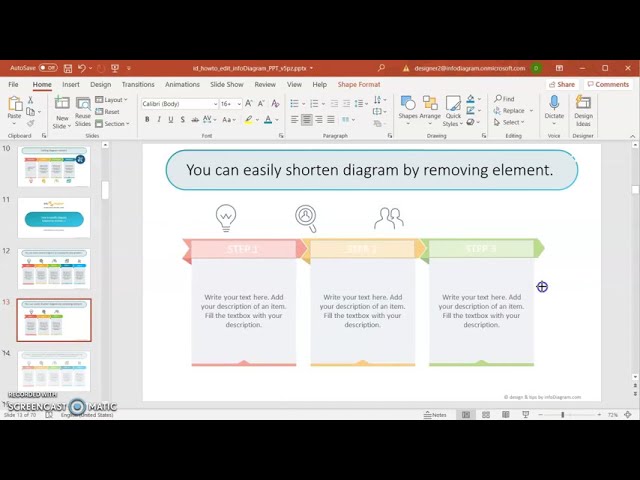 How to Replace Icons in infoDiagram PPT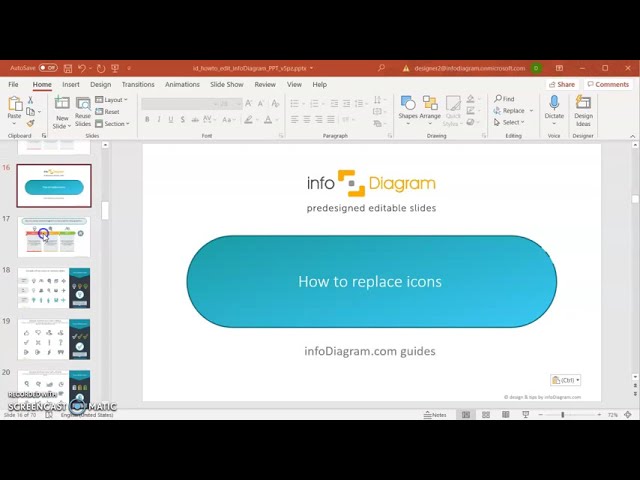 Shutter Graphic & Circle Segment Diagrams (PPT Template)