Reviews

Usage example

Description

How To Edit
Slides
Description
Presentation toolbox with diagrams of Scrum concepts. This visuals template contains charts, diagrams and icons editable in PowerPoint. Explain Scrum and create this Agile methodology tutorial guides using graphics to present overview and basic Scrum processes and artefacts:
Scrum basics: History of Agile and Scrum, How to start, Right pilot, Building teams
Advanced Scrum Knowledge
Tips for Scrum elements
Tools and Techniques
Fully editable style, text, size and colors
Content:
What is Scrum? Definition and basics of Scrum.
Scrum history on timeline diagram.
Scientific management / Taylorism. Current management: Working Class, Manufacturing, Manager Class.
Current projects: changing requirements, no production, not predictable, innovate, customer value.
What we need for facing project? Essential elements icons: teams, responsibility, Prototypes / Increments, see the whole, inspect & adept, time to market.
Agile definition and scrum methodology.
Scrum process and sprint planning with icons of: Vision, Stakeholder, Product Owner, Scrum Master, Developers, Daily Stand-Up, Sprint Review, Product Backlog.
Scrum Roles, Scrum Team and Stakeholders.
5 types of Scrum Meetings - graphical definition: Sprint Planning, Backlog Grooming, Retrospective, Sprint Review and Daily Scrum.
Agile Manifesto.
When to use Scrum - Stacey Matrix.
Advanced Scrum knowledge
Scrum guide - how to start with scrum? Slide icons: Transition Backlog, Transition Impediment List, Iterations, Culture impact, Inspect & adept.
Existing roles for Scrum management.
Learn how to combine Scrum roles. Create checklist before start: agreed roles, needed infrastructure, right pilot, common understanding, cross functional team.
Project managers role - Venn diagram.
Tips for Scrum elements
Sprint planning.
Backlog Grooming.
Daily Scrum.
Sprint Review.
Retrospective.
Build good teams: Trust, Environment, Support.
Organizational Change: Use pilots.
How to choose the right pilot?
Extend the piloting.
Distributed locations.
Principles vs. Practices.
Tools and Techniques
Information Radiator.
User Story.
Story Points.
Planning Poker.
Niko Niko Calendars.
Conclusion
Short conclusion and quick key points.
Resources about Scrum methodology
Books
Succeeding with agile, Mike Cohn
User Stories applied, Mike Cohn
Scrum Shortcuts, Ilan Goldstein
Software in 30 days, Ken Schwaber, Jeff Sutherland
People, Communities
Authors
Slides included in this PowerPoint Presentation:
How To Edit
How to edit text & colors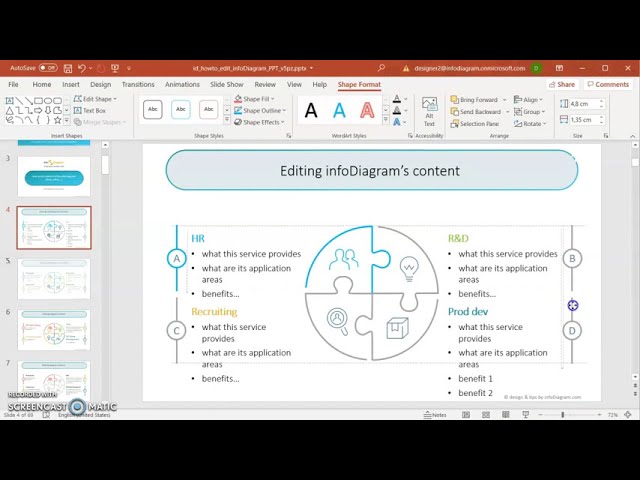 How to expand / shorten diagram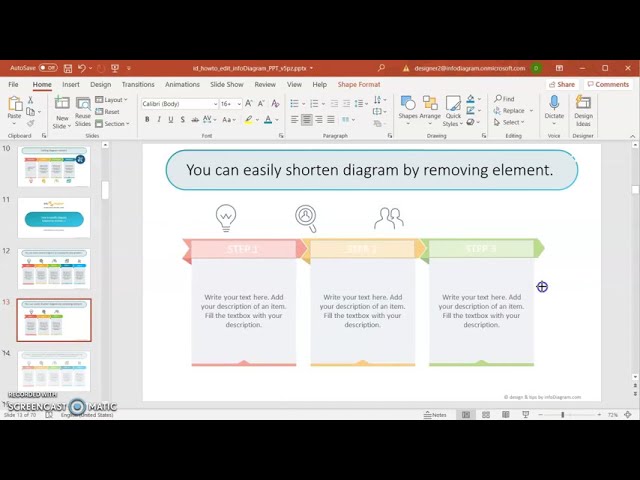 How to Replace Icons in infoDiagram PPT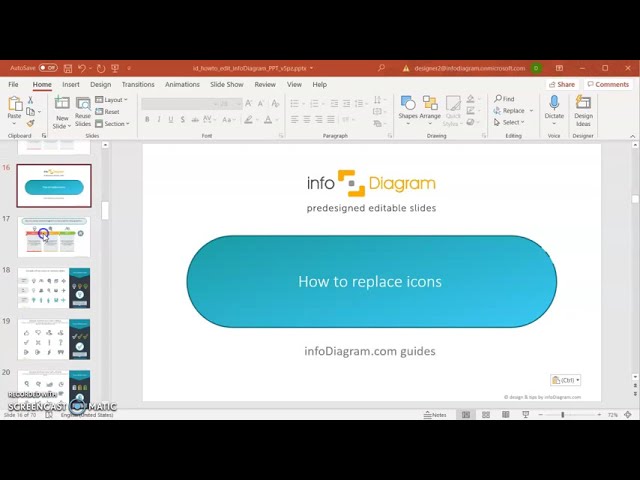 Scrum Know-How Presentation Visuals (PPT diagrams)