Reviews

Usage example

Description

How To Edit
Slides
Description
Are you presenting a history of a few years old company? It can be a scaleup, a successfully growing and expanding firm. Try using the Scale Up PowerPoint Template for illustrating milestones in a selected period of time. We've designed several visual timelines which you can use to show the company's growth history, scale up development, and outline key events over time. These visuals will help you organize information in an attractive and easy-to-follow way.
This ScaleUp Company History Infographics PPT deck contains:
9 timeline diagrams to present the scaleup company's variety of events and stages over the years.
Slides are designed in a modern flat style, complemented with light outline icons. Use them to depict your thoughts visually and present complex ideas in a clear attractive way.
39 outline icons to help you show various business concepts e.g. Launch, Kick-off, Investment, Subscription, Globalization, Business Extension, and Internationalization.
Instruction on how to modify those diagrams using standard PowerPoint editing tools.
Format: fully editable vector shapes (modify colors of diagrams and icons, resize without quality loss).
Where can you use the ScaleUp Company History Timelines?
These diagrams will help you convey a message in a simple yet visually impactful way, and save you time on design.
Illustrate company history with a vertical growth timeline, including 4 stages (you can adapt this number to your needs): Establishment, Funds, Prototype, and Launch.
Visualize the growth stages of a scaleup business for example a company foundation, Growth, Expansion, and Going Public stage.
Design a business development timeline
Determine key events and project milestones using a roadmap with landmarks.
Show the company forming key dates over several years.
Create a company key achievements timeline. We used the example of retail scaleup history, which includes the following stages: Flagship Store, Rebranding, E-commerce, Going Public, Internationalization, etc.
Try using those PowerPoint illustrations to present your content visually in an elegant way.
All graphics are editable, so you can modify the colors and text. We also added a general icon collection at the end of the presentation deck. Optionally you can also extend the collection by more PPT symbols (see Related Diagrams section).
Fully editable in PowerPoint set of vector shapes fully editable by using built-in PowerPoint tools, including
change the color of all shapes filling and their outline, including icons
adding shadows
changing shape and size, rotating, flipping the object
putting shapes behind or on top of text
See the editing demonstration in
our HowTo Videos
.
Authors
infoDiagram's designer
Contact: here
Slides included in this PowerPoint Presentation:
How To Edit
How to edit text & colors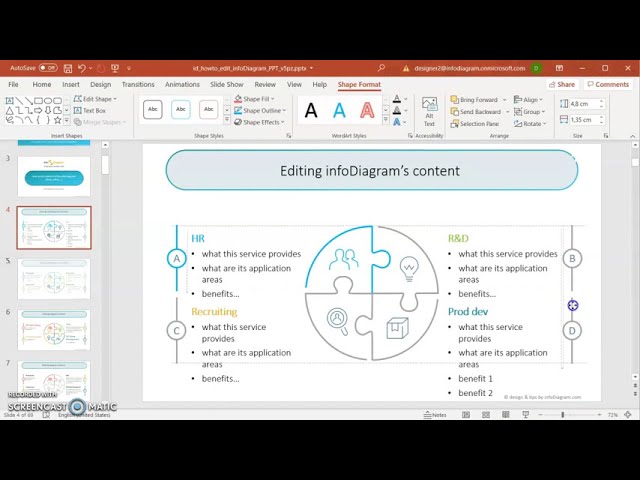 How to expand / shorten diagram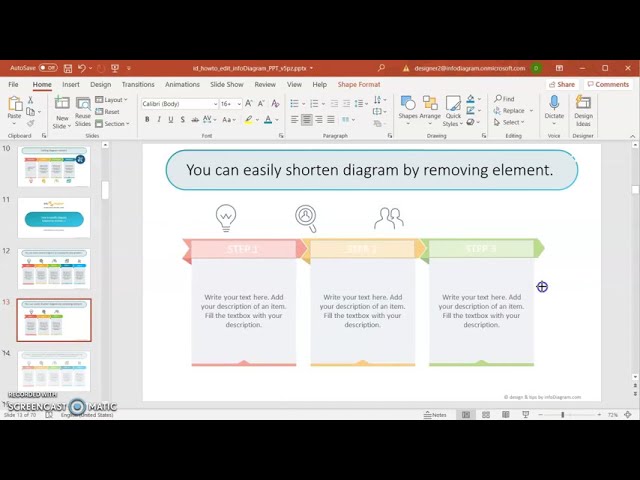 How to Replace Icons in infoDiagram PPT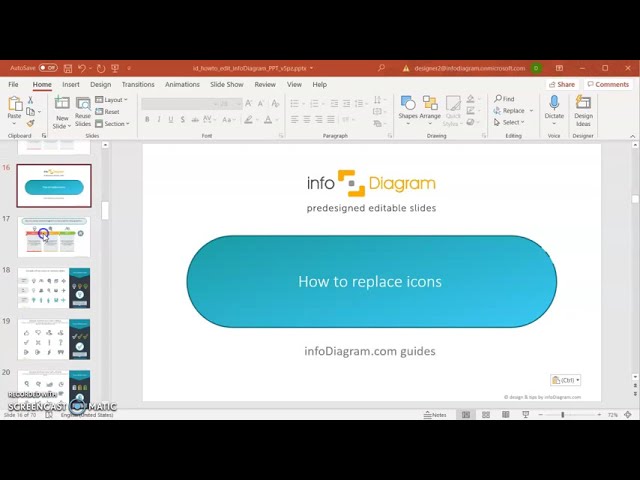 ScaleUp Company History Timeline (PPT Template)