Reviews

Usage example

Description

How To Edit
Slides
Description
Present Product Launch phases or company growth stages by rocket launch infographics and step diagram. This is as a catchy visual metaphor that will make your presentation more engaging.
To help you our show various numbers of stages, we designed several list diagrams in modern flat style with the space shuttle and universe themed images.
The content of the Rocket Launch infographics PowerPoint Template includes:
22 editable illustrations, some with cosmos and Earth globe backgrounds and iconography representing various launch phases and flight timeline
two practical examples of product pre-launch, launch and post-launch stages, company startup process phases
two graphical styles to choose from: modern eye-catching flat design or light outline rocket shapes and icons
37 vector icons in outlined and flat style, representing spacecraft, rocket engines with the space shuttle, pre-launch ignition, release and ascending flight path, Earth globe with continents, ideation, product development, monetization and growth charts
instruction how to modify those diagrams using PowerPoint editing tools
Format: fully editable vector shapes (modify colors of diagrams and icons, resize without quality loss
Rocket Launch visual concept
The metaphor of launching a rocket into the space is practical representation of any consequent stages. The launch and flight stages can present a list of items that follow each other.
When to use Rocket Launch graphics?
Usage examples:
Illustrating product launch framework used in marketing. There are three stages - product pre-launch preparations, launch stage and post-launch actitities.
The flight stages of a space shuttle are applied also as a representation of startup development from idea, to project definition, prototype, establishing a business model and founding a company at the end.
Visually present any growth steps or ordered events list
Show a timeline represented by rocket flight trajectory
Using those visual diagrams instead of text only bullets will make your slides eye-catching and remembered.
You can add subtle animations and icons representing launch stages such as uncovering steps one by one.
You can modify the diagrams, replace symbols, change a number of steps. Use the icon collection at the end of the presentation slide deck. Optionally you can also extend the collection by more PPT symbols (see Related Diagrams section).
You can edit text descriptions, colors of all illustrations and replace icons (all graphics is a vector format). Photographs are included in the template. You can easily replace them as well by pictures of your own.
Content description
Rocket Launch Diagram contains set of fully-prepared slides:
Goal introduction slide with rocket launch graphics on a space picture background with text placeholder;
Spacecraft launch tree diagram template with rocket graphics;
Space shuttle graphics with two columns list description and icons for each stage;
Six phases product launch infographics shown with space shuttle graphics on a space background;
Steps list illustrated with outline heavy space shuttle and place for a short description;
Four levels list shown with outline rocket graphics and list description with icons for each stage;
Startup process phases shown with rocket picture and list description on a dark space background;
Four phases diagram illustrated with spacecraft picture and list description with icons;
Product launch funnel shown with rocket launch graphics and description with icons;
Three and four steps vertical timeline shown with outline rocket launch graphics and text placeholders;
Eight steps horizontal timeline illustrated with rocket trajectory and description with multicolor icons in two versions: on a light and dark background;
Six steps timeline shown with rocket trajectory and description in two versions: rocket ascent and rocket descent;
Launch essentials template shown with spacecraft picture and description;
Pre-launch, launch, post-launch diagram with picture and description: on the light and dark background;
Four-, five-, six-, seven stages list with rocket launch graphics and text placeholder to each stage.
Fully editable in PowerPoint set of vector shapes fully editable by using built-in PowerPoint tools, including
changing color of all shapes filling and its outline, including icons
adding shadows
changing shape and size, rotating, flipping the object
putting shapes behind or on top of text
See editing demonstration in
our HowTo Videos
.
Authors
infoDiagram's designer
Contact: here
Slides included in this PowerPoint Presentation:
How To Edit
How to edit text & colors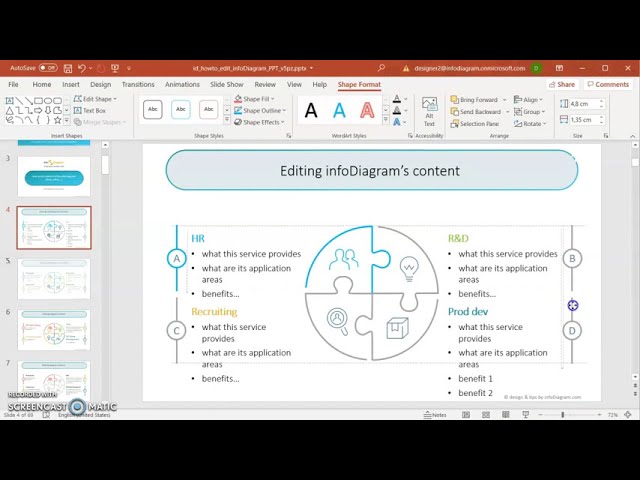 How to expand / shorten diagram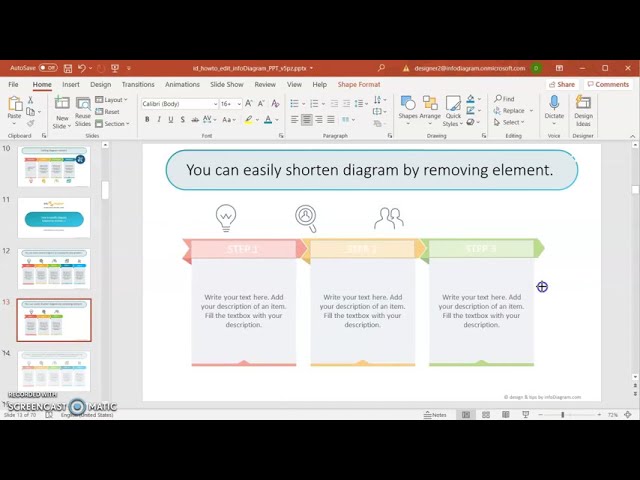 How to Replace Icons in infoDiagram PPT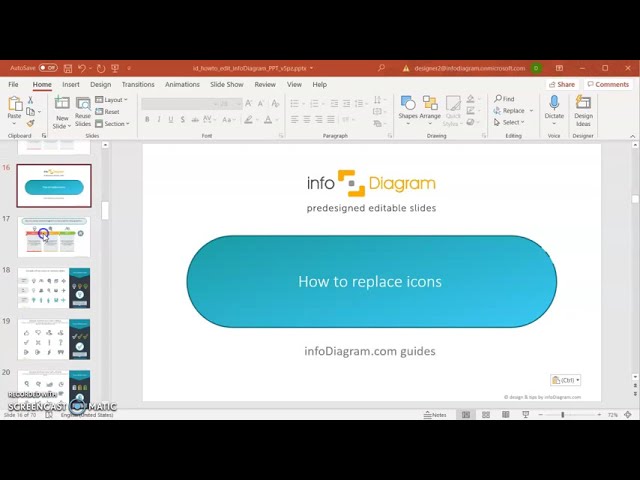 Rocket Launch Diagram (PPT Template)