Reviews

Usage example

Description

How To Edit
Slides
Description
Are you presenting a project status update? Illustrate the activities' status by using the Traffic Lights PowerPoint Template. You can show what projects have to Go and what is No-Go by colorful RAG table icons. Use red, amber, and green to show the development stages of the tasks. We have created modern and simple PowerPoint Presentation Templates that you can use to enrich your Gantt charts or project review presentations.
This PPT template includes editable charts covering:
22 charts and slide layouts to present project calendars and the position of work activities. You can simply replace traffic light colors to indicate the status of a task and modify tables and text.
67 icons in 2 styles - universal flat outline. Use them to illustrate project types, activities status, company departments, project stages, communication, strategy, or product development.
Format: fully customizable vector shapes (modify colors of charts or icons, resize without quality loss)
What are RAG status charts?
RAG acronym stands for Red, Amber, and Green traffic lights. Those symbols are used in Project Management, to indicate the progress of project activity, or Go / No-Go decisions. These symbols can be placed inside the Gantt chart to visually show the task status.
How to use RAG signs in PowerPoint?
You can create s simple traffic signals from basic PPT designs or get one from this PPT template. Such signs can be placed next to the project name or inside status timetables. You can edit vector icons to change the color of light by simple color fill updates.
Why use RAG visuals in a presentation?
Those are simple recognizable signs that can be placed next to any content. Benefits of using them include:
Colorful traffic signals indicate quickly the level of the project task.
They help to give a big picture of the project activities position. With one look you can see the progress of the project by looking at the colors of the PowerPoint slide.
Having attractive visuals will help get your presentation's attention much better than having text-heavy slides.
When having editable signs, you can quickly recolor them to update their position over time.
Where to use traffic lights?
These PowerPoint templates are used in plenty of situations, not only strictly in a project management context:
In the decision-making tree, by adding colorful signs next to decision nodes.
Illustrate text list bullets to indicate if the item is positive or negative
Show a progress tracker by placing a horizontally oriented traffic spotlight next to the item
Present various roadmaps by adding road signs with spotlights to present if open, waiting, or closed passage.
Explain company strategy milestones and show if the milestone has been reached already or is still to be done.
Status traffic lights icons are great when talking about project management and illustrating the state of activities. The PPT slides are ideal for illustrating GO/NOT GO concepts or displaying analyses and comparisons in your presentations. Besides this, with these designs, you can present annual or quarter project plans, activity timesheets, and IT project steps reviews. Change the text in boxes as per your own needs.
Status traffic lights graphics contain:
Traffic lights diagram of factors for three items
Traffic lights status diagram for three elements showed with description boxes
HR recruitment project level table with RAG status indicators
Pipe intersection infographics showed with process status lights
Project stages roadmap slide illustrated with status RAG lights
Strategy roadmap emphasizing objectives and status symbols
Traffic lights status example for three, six elements with description boxes
Three-column template showing RAG status diagram
RAG figure for four and six elements
Go / No Go project level indicators for six items template
Go / No Go project evaluation status diagram for six items
Traffic lights list of factors for two item sets on dark background
Six months task status table diagram with traffic lights
Quarter activity timesheet icons
Annual project plan timesheet
Annual IT project steps icons with a status review template
Quarter project activity timesheet chart template with months and weeks
Project status table slide with RAG indicators
RAG status slide for risk assessment matrix table
Risk factors illustration for six items with icons
In the last part of this deck, we added a set of icons you can use too, to illustrate the type of project activity or company department handling the task. You can extend this set by getting more business symbols (see Related Diagrams section).
All symbols, charts, and text colors are easy to modify (all graphics are in a vector format). So you can change them to the colors of your template or company brand.
Fully editable in PowerPoint set of vector shapes fully editable by using built-in PowerPoint tools
changing the color of the icon filling and its outline
adding shadows
changing shape and size, rotating, flipping the object
putting shapes behind or on top of text
Authors
infoDiagram's designer
Contact: here
Slides included in this PowerPoint Presentation:
How To Edit
How to edit text & colors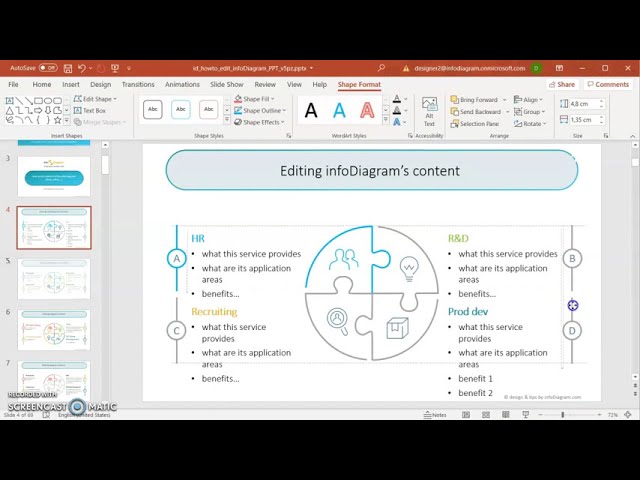 How to expand / shorten diagram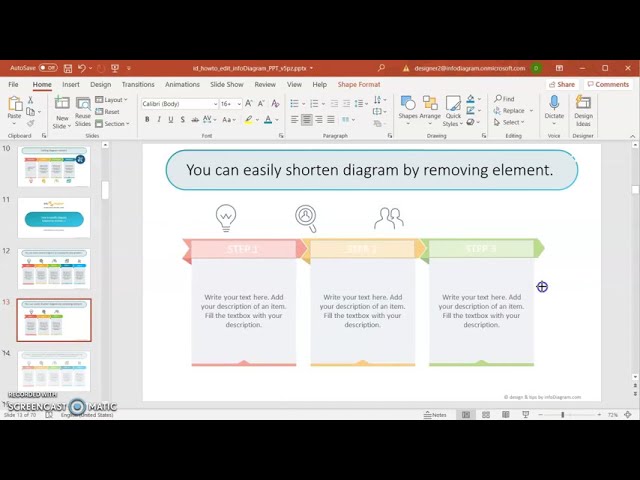 How to Replace Icons in infoDiagram PPT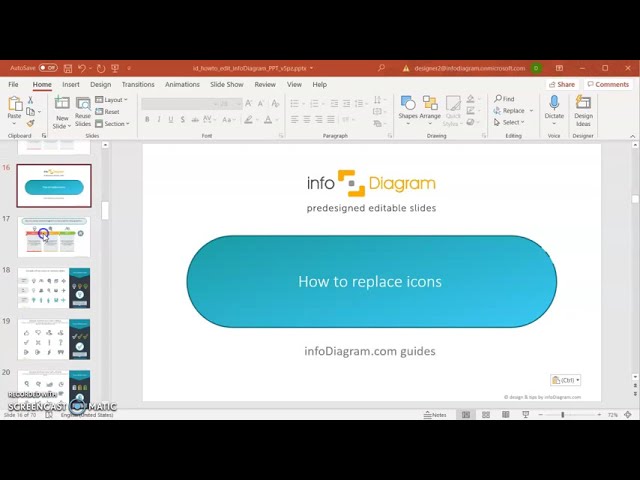 Status Traffic Light RAG Table Graphics (PPT Template)