Reviews

Usage example

Description

How To Edit
Slides
Description
Do you need to present your business idea or startup in a professional way? We've designed this elegant light pitch deck using thin-line graphics.
A suitable startup pitch deck template for startups or a company presenting a new project to an investor to get funds for its development.
The presentation covers all essential parts of a pitch talk - business challenge and proposed solution, monetization model, market estimation, financial investment request, and core team overview.
Feel free to adapt slide content to your presentation needs. This PowerPoint template contains:
39 various content slide layouts of essential pitch sections (problem presentation, solution proposal, market, business model, monetization, financial investment need, startup stages...)
outline graphical style of diagrams and icons - ensuring consistency, modern and professional look
54 vector icons to help you explain your idea visually, and illustrate product features or benefits - e.g. a symbol of a rocket, value diamond, security, automation, cost, emotions, or interactions.
instruction on how to modify those level diagrams using PowerPoint editing tools
Format: fully editable vector shapes (modify colors of diagrams and icons, resize without quality loss.
What is an investor pitch deck presentation?
A pitch deck is a series of presentation slides that you use to present your startup or product idea to a potential investor. Usually, it's compact in form, with 10-20 slides about the foundation team, product or service idea, market, growth plans, and investment needs. The best pitch decks are simple in form and include only keywords and illustrations. Unlike business plans, they don't include lengthy texts, because the pitch is intended to be delivered in a limited time (5-30 minutes).
What should a pitch deck include?
Your pitch presentation should mention 7 common things most investors ask for:
Introduction topic - give a quick overview of who are you or your company and what is your presentation goal. You can mention what is your vision and mission - why you do what you do, and what motivates you.
Problems you address and a solution you propose. Support it by quoting market statistics or some survey results.
Business Model how your company will make money on the proposed solution, what monetization method will you apply (subscription, ads-based revenues...), and what will be the pricing tiers
Market analysis and value estimation Define who is your target client, the size of your product market, and what is its financial potential. Don't forget to present also the current competitive landscape.
Plans and Investment - mention what is your product development stage and plans. Define what investment you need and how it is going to be spent. Product development, Financing, Traction...
Finish with a strong Pitch Summary - restate the idea benefits, and back it up by presenting the team - people who will develop the product. You can add a quick SWOT analysis, to present a balanced idea estimation. Don't forget to leave ways to reach you - contact information.
How do you make a good business pitch presentation?
Follow these 3 steps:
Develop a presentation structure - best on paper. Reread it, and ensure it gives the most important information you want to expose.
Put the key points on presentation slides. Use visual form instead of text, where possible - illustrate facts by infographics, including product pictures or testimonial author images. Use diagrams to list the benefits.
Rehearse pitch speech delivery several times. Alone, in front of a mirror, ask colleagues for feedback.
Situations where pitching of a business idea usually happens:
Pitch Rally organized by investor groups, and startup organizations, in various business acceleration programs
Talks with Venture Capital companies
Start-up competitions
Internal company meetings where people present new product ideas
Within education - e.g. student projects that teach how to develop and defend a business idea.
Whether you're bootstrapping or trying to find investors to help you grow your business or share your message, you are always looking for some modern and new way to reach more people. Pitch deck collection infographics would definitely be the professional way to present your startup or product idea.
Elegant Outline Pitch Deck Presentation contains the set of fully prepared slides:
Slides: company overview, problems analysis, business and market models, plans and investments needs, team, summary, contacts
Graphics describing the general information about the startup idea, as follows: main activities, future missions, and visions, facing problems slides
Customers survey: market facts infographics in numbers
Example from problem to solution bridging-the-gap design with text placeholders and pointing arrows
Benefits template slide describing a key solution or product qualities in text boxes
Product feature presentation list diagram illustrated with outline symbols
Testimonial slide: short comment in a box styled with outline icons on the dark background
Template of feedback quotes shaped with logo and text placeholders
Customers portfolio overview depicted with matrix design or logo pictures placeholders SmartArt
Case study slide highlighting client industry, challenge, and solution description parts with outline text boxes
Key revenue streams graphics pointing out monetization model overview
Business model canvas illustrated with outline graphics and descriptive boxes
Pricing table slide with text placeholders and colorful outline symbols
Market size and potential diagram emphasizing figures, facts, and sources sectors
Product market share statistics with explanation boxes
Target world map styled with colorful outline circles
Head infographics providing the definition of buyer persona - demographics, needs, behavior elements
Competitive landscape comparison and description diagram illustrated with text placeholders and outline icons
Statistics data slide describing 3-year income forecast
Product development stages diagram shaped with the increasing arrow and headline boxes
Startup investment round financing proposal slide presenting explanation data in colorful descriptive boxes
Template financial plan table design
Traction metrics chart including product sales, leads, followers, subscribers, and clients information
Startup growth stages illustrated with outline symbols
Company founders slide template and overview of key figures depicted with boxes for descriptions and photos
SWOT analysis of Startup company slide designed with colorful outline symbols
Circle diagram explaining the investment reasons to the Startup
Why Use the Elegant Outline Pitch Deck Infographics?
To catch someone's eye, you're going to need more than just a block of text. On top of that, investors and consumers alike are overwhelmed with marketing campaigns
The visual icons trigger responses and memory better than the written words. Potential investors will remember what they see more than what they read. Use this advantage for your startup presentation or investor pitch
You could highlight your targets, future plans, and past growth or tell the history of your startup
All icons and tables are easy to edit, so you can adapt colors to your brand positioning
You don't have to use any special software, just PowerPoint and your creativity
All graphics are editable, so you can modify the colors and text. We added also a general icon collection at the end of the presentation deck. Optionally you can also extend the collection by more PPT symbols (see Related Diagrams section).
Photographs are included in the template. You can easily replace them as well with pictures of your own.
Fully editable in PowerPoint set of vector shapes fully editable by using built-in PowerPoint tools, including
change the color of all shapes filling and their outline, including icons
adding shadows
changing shape and size, rotating, flipping the object
putting shapes behind or on top of text
See the editing demonstration in
our HowTo Videos
.
Authors
infoDiagram's designer
Contact: here
Slides included in this PowerPoint Presentation:
How To Edit
How to edit text & colors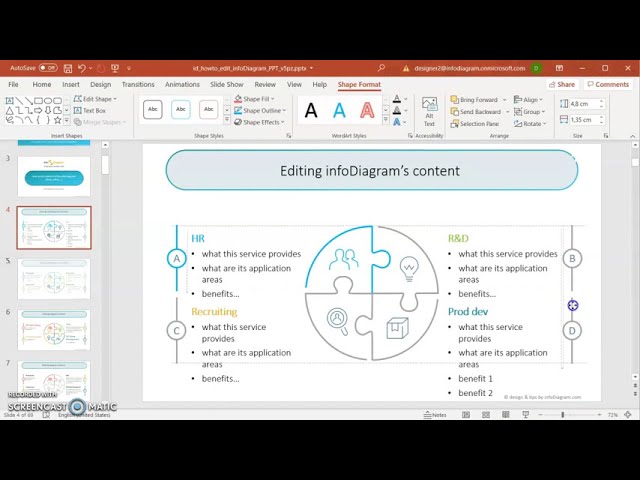 How to expand / shorten diagram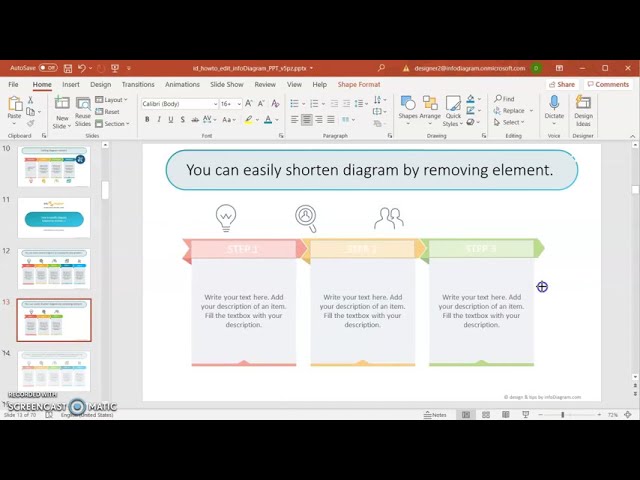 How to Replace Icons in infoDiagram PPT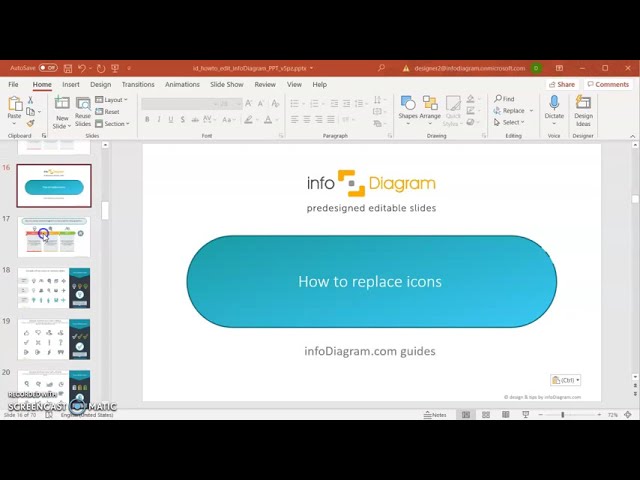 Elegant Outline Pitch Deck Presentation (PPT Template)