Reviews

Usage example

Description

How To Edit
Slides
Description
Want to add a human touch to your presentation? Our people activities & poses icons will help you to convey your business ideas in an effective and very special way. This will create a meaningful link between the metaphorical meaning of our icons and the ideas expressed in the content.
This Pictogram set of People Activities and Poses icons collection contains:
5 example diagram illustrations to show the use of stick figures in various business contexts, e.g. stages, candidate profile characters list, demographics chart etc.
Icons and slides are designed in a light outline style. You can use these graphics to create stand-alone and unique slides and limit the number of words on each slide so your audience does not get bored.
67 outline pictograms to show various business concepts e.g. Power, Strength Sport poses such as Squat, Jump Hands Up Pose, Weightlifting, Demography Age Groups, Sport, Relax and Recreation, Emotional Reactions Body Poses, Work and Education, Leadership and Planning Metaphors Icons.
Instruction on how to modify those diagrams using standard PowerPoint editing tools.
Format: fully editable vector shapes (modify colors of diagrams and icons, resize without quality loss).
What is a Stick Figure, a famous Stickman symbol?
A simple visual symbol resembling made of lines for the body, hand and legs, and head circle. Such a stickman picture represents a human body in various poses - standing, sitting, jumping. It's a universal pictogram used to illustrate emotions and activities.
People icons are found to be particularly convenient to express ideas since their physical characteristics are open for interpretation. They can be used for different purposes such as demographics characteristics, business situation descriptions, project development visualization and many more. They are conceptual elements aimed at representing a unique idea or a strong concept.
Why use graphical Stickman illustrations in a presentation?
Stick figure icons, thanks to their unique human touch, can be easily remembered and may play a vital role in your presentations. They are very powerful and, in many cases, can stand up for the text visually explaining some functions, activities, and categories in a comprehensive and dynamic way.
We provide you with the predesigned deck including people activities and poses icons together with some usage examples. All people shapes are easy to modify and can be used with light or dark backgrounds. We include detailed instructions on how to alter the content, colors, and look and feel of the slides.
Where can you use the Meeting Outline Agenda & Sections Indicators graphics?
Using our predesigned people activities and poses icons set will enhance usability and readability of your slides.
Present project launch stages with stickman poses
Create an attractive customer profile or population demographics chart
Spice up 2 factors comparison matrix table
Illustrate emotional reactions to business ideas, planned upcoming organizational changes, etc.
Visualize various stages of the project development or strategy implementation
Show competitive or cooperative environment within the company
Try using those PowerPoint illustrations to present your content visually in an elegant way.
All graphics are editable, so you can modify the colors and text. We also added a general icon collection at the end of the presentation deck. Optionally you can also extend the collection by more PPT symbols (see Related Diagrams section).
Fully editable in PowerPoint set of vector shapes fully editable by using built-in PowerPoint tools, including
change the color of all shapes filling and its outline, including icons
adding shadows
changing shape and size, rotating, flipping the object
putting shapes behind or on top of text
See editing demonstration in
our HowTo Videos
.
Authors
infoDiagram's designer
Contact: here
Slides included in this PowerPoint Presentation:
How To Edit
How to edit text & colors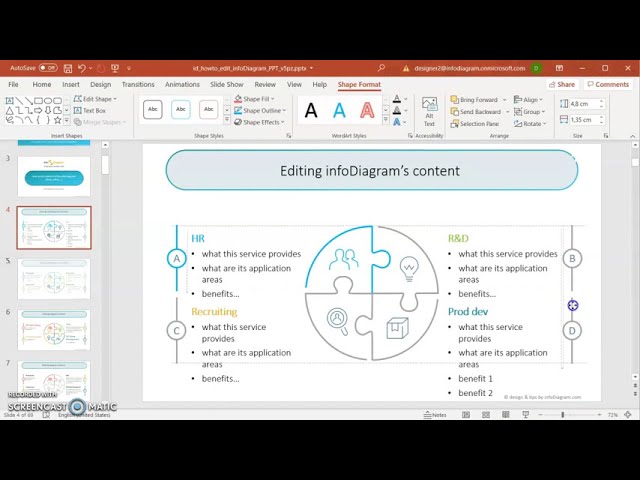 How to expand / shorten diagram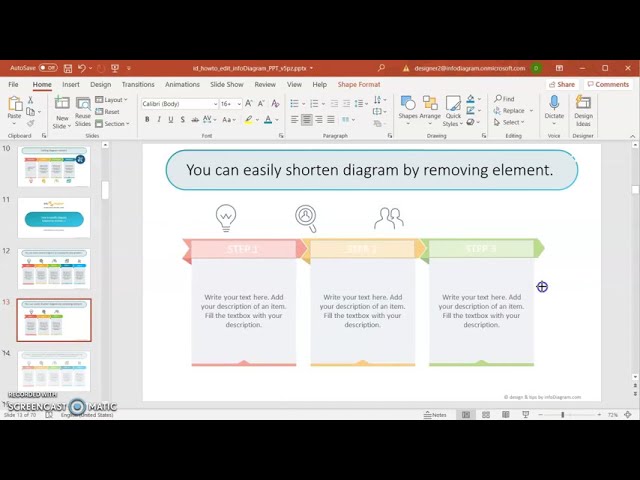 How to Replace Icons in infoDiagram PPT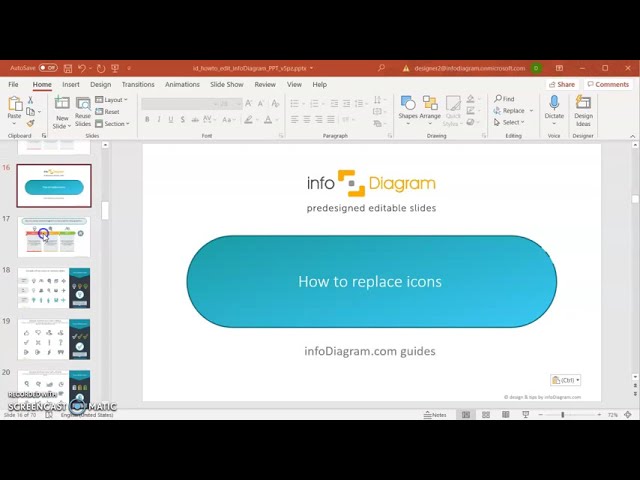 People Activities and Body Poses Stick Figures (outline PPT icons)