Reviews

Usage example

Description

How To Edit
Slides
Description
Do you want to present the bullet-point list in an interesting way? We have designed a set of creative looking paint strokes graphics you can use to change your text lists into catchy visuals.
This PowerPoint template with paint brush effect illustrations contains:
18 creative paint stroke illustrations for presenting lists, timelines, progress indicators or even data-driven chart with brush effect.
Example how you can use those painting pictures to present business plan steps, ITIL Transition process diagram or ADKAR Change Management Model
19 icons to present various concepts, for example, a destination, forecast, methodology, scheme, exchange, meeting, schedule or document
Instruction how to modify those diagrams using standard PowerPoint editing tools
Format: fully editable vector shapes (modify colors of diagrams and icons, resize without quality loss)
When to use a paintbrush graphics as your presentation visual?
You can use these illustrations when you want to replace heavy text content to some more attractive form. When you want to have a creative looking presentation. The graphic of paint rollers and paint strokes is a good way to create an artistic look in your slides. Having such graphics on a slide will attract attention to your presentation much more than monotonous text.
You can use those paint elements to represent:
Timeline of events
Listing of items with short description
Make creative looking data graph
Visualize a process by steps diagram
Present progress level by painting brush as progress bars
If you are creating a presentation to illustrate business strategy, project plan or KPI data-driven charts , you will need well-done graphics. You'll want elegant imagery which can help you get the concepts across and capture the audience. If you want high-end images but don't have time or budget for every project, have a look at Flat Paint Brush Strokes collection. Paintbrush effect will help you develop creative business slides.
Flat paint brush strokes graphics contain ready-to-use modern diagrams illustrated with symbols dedicated to the following topics:
Paint rollers list diagram for four and five colorful columns
Business strategy list for five items: meeting, strategy, schedule, operations, delivery icons
Creative KPI data-driven column chart showed with flat paint fill and brushes graphics
Horizontal progress bar indicators template
Matrix of four elements illustrated with paint brush strokes
ADKAR change management model with awareness, desire, knowledge, ability and reinforcement icons
Paint brushes enumeration list for five and six elements
Paint swoosh effect for six increasing steps diagram
Paint can effect timeline for five events
Paint buckets list for six items
Quadruple painting rollers strokes effect graphics
Synergy diagram with four paint rollers infographics
Try using those PowerPoint illustrations to present your content visually in an elegant way.
All graphics are editable, so you can modify the colors and text. We added also a general icon collection at the end of the presentation deck. Optionally you can also extend the collection by more PPT symbols (see Related Diagrams section).
Fully editable in PowerPoint set of vector shapes fully editable by using built-in PowerPoint tools, including
change the color of all shapes filling and its outline, including icons
adding shadows
changing shape and size, rotating, flipping the object
putting shapes behind or on top of text
See editing demonstration in
our HowTo Videos
.
Authors
infoDiagram's designer
Contact: here
Slides included in this PowerPoint Presentation:
How To Edit
How to edit text & colors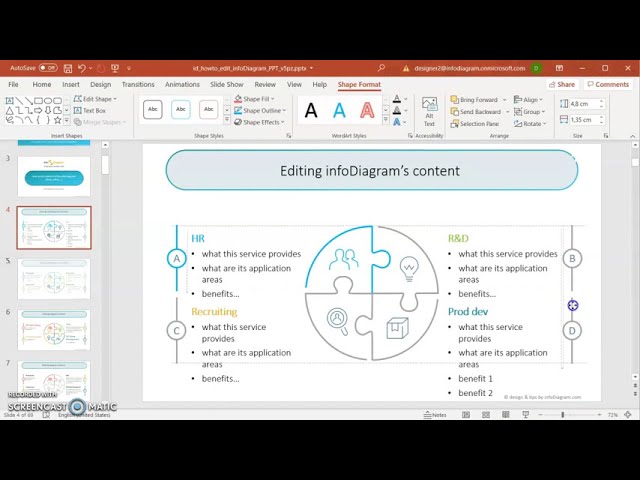 How to expand / shorten diagram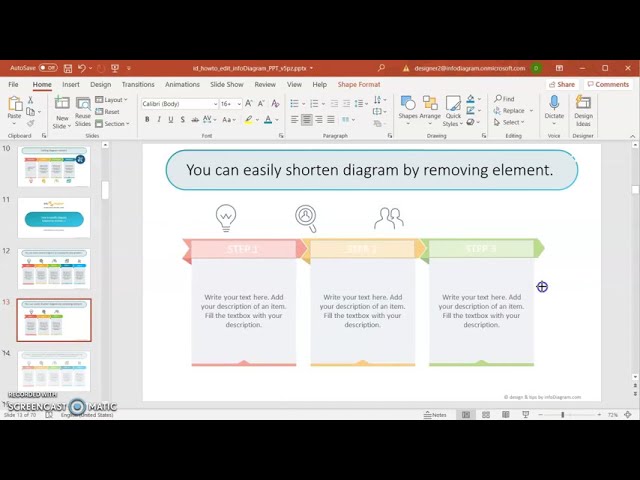 How to Replace Icons in infoDiagram PPT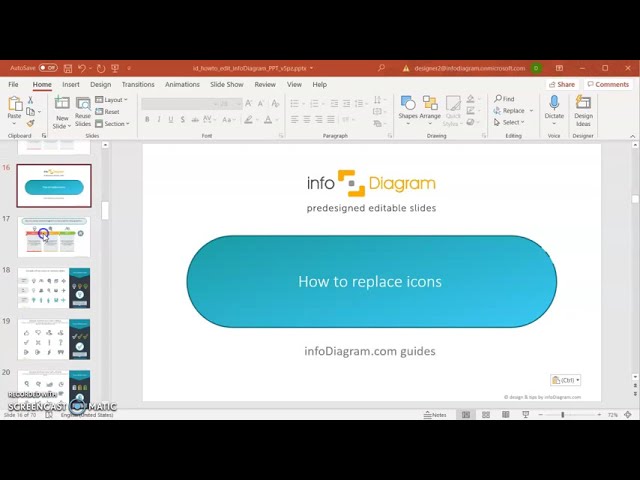 Flat Paint Brush Strokes Diagrams (PPT Template)