Reviews

Usage example

Description

How To Edit
Slides
Description
Do you need to present your omnichannel strategy? We will help you to increase the understanding of your tactics and action plans through compelling visualizations. Use our creative graphical charts and iconographic graphs, modify them to your needs and enrich your slides. Take your presentation to the next level!
This Omnichannel Retail Strategy PowerPoint Presentation contains visual slides with:
24 infographic slides to illustrate an omnichannel retailing strategy, metrics, challenges, and concepts including Definition, Three Channels of Retailing, Customers Shopping Pattern and Experience Characteristics, The 5-Step Omnichannel Retailing Strategy, Unified Look & Feel, Omni-Customer Journey, Customer Lifetime Value, and more.
This presentation template is designed in a modern trendy outline style. These graphics will help you create a clean and impressive presentation and communicate your ideas in a simple and understandable way.
59 outline symbols to show various e-commerce concepts e.g. E-commerce, Delivery, Segmentation, Rating, Resources, Priority, Strategy, Tactic, Data Collecting, and other business icons.
Instruction on how to modify those diagrams using standard PowerPoint editing tools.
Format: fully editable vector shapes (modify colors of diagrams and icons, resize without quality loss).
Authors of this Omni-channel presentation template
What is Omnichannel Retailing?
Omni-channel retail (or omnichannel commerce) is a multichannel approach to sales that focus on providing a seamless customer experience whether the client is shopping online from a mobile device, a laptop, or in a brick-and-mortar store.
Why use this visual Omni Channel Retailing PPT?
If you want to show a business model in which all existing channels become completely integrated to offer customers a seamless and personalized experience anytime, anywhere using our visualizations that will help you to present it in an eye-catching and attractive format.
You can reuse our infographics and tailor them to your needs in order to upgrade your presentation slides. The majority of our slides have a space for your text/comments, so it is very easy to extend the presented ideas. We also include detailed instruction on how to alter the content, values, colors, and look and feel of our slides.
Where can you use the Omni Channel Retailing PPT visuals?
Using infographics will help you organize the content in a good-looking way so that your audience will have full clarity of the message you want to convey.
Describe omni channel retail's model and its characteristics
List predominant benefits of channels completely integrated in order to provide a seamless customer experience
Present 5-Step omnichannel retailing strategy elements
Create an action plan for connecting your online and offline business environment
Visualize unified look and feel of all consumer touchpoints
Illustrate your omni-customer promise, e.g., value or experience expected by customers across all channels
Design your omni-customer journey, including digital and physical consumer touchpoints
Show the analytical part of your strategy and the importance of data integration from all existing channels
Describe the omnichannel retailing KPIs to be used in your organization
Present the formula of Customer Lifetime Value
Create the key success elements of the customer-centric organization
List existing challenges of omnichannel retailing, followed by the required actions to overcome them
Try using those PowerPoint illustrations to present your content visually in an elegant way.
All graphics are editable, so you can modify the colors and text. We also added a general icon collection at the end of the presentation deck. Optionally you can also extend the collection by more PPT symbols (see Related Diagrams section).
Fully editable in PowerPoint set of vector shapes fully editable by using built-in PowerPoint tools, including
change the color of all shapes filling and its outline, including icons
adding shadows
changing shape and size, rotating, flipping the object
putting shapes behind or on top of text
See editing demonstration in
our HowTo Videos
.
Slides included in this PowerPoint Presentation:
How To Edit
How to edit text & colors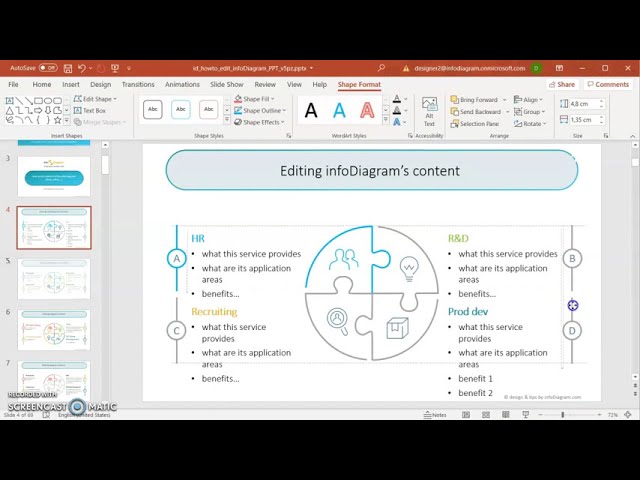 How to expand / shorten diagram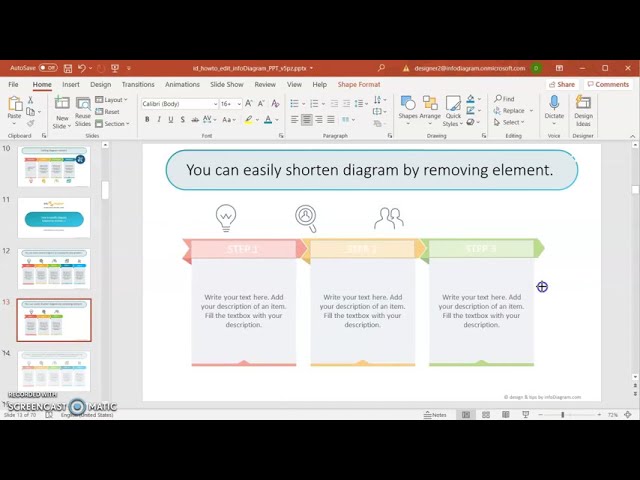 How to Replace Icons in infoDiagram PPT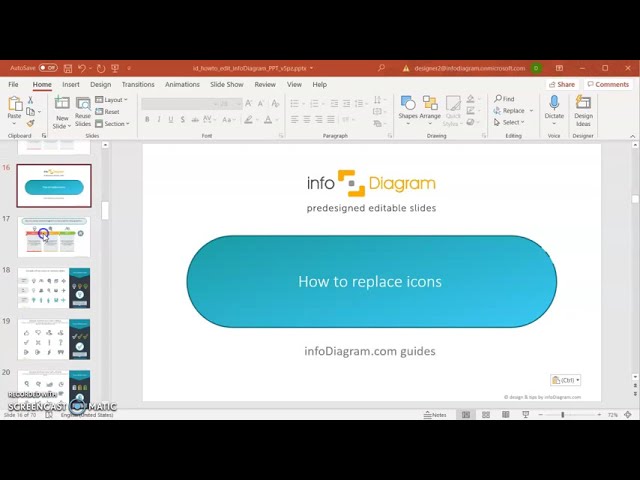 Omnichannel Retail Strategy Presentation (PPT Template)