Reviews

Usage example

Description

How To Edit
Slides
Description
Are you presenting OKR methodology, and making a performance review of your company goals? Make your Objectives and Key Results review meetings or report visuals, to keep the attention of your peers. We designed the OKR Objectives and Key Results Performance Review PowerPoint Template slide deck to help you illustrate your ambitious goals and achieved results and explain the OKR methodology of business objectives planning and management performance review.
This OKR Objectives and Key Results Performance Review deck contains:
20 diagrams to illustrate OKR concepts, goals setting, OKR tracking, and reports.
Slides are designed in a slick outline style. Use them to create appealing slides and tell your story graphically.
28 outline symbols to show various business concepts e.g.Checklist, Measure Tape, Process, Thinking, Tactic, Strategy Management Plan, Goal, Target, Growth, Profit, Searching, Analyzing, Calendar, Summary.
Instruction on how to modify those diagrams using standard PowerPoint editing tools.
Format: fully editable vector shapes (modify colors of diagrams and icons, resize without quality loss)
Where can you use the OKR Objectives and Key Results Performance Review graphics?
Using visualizations and infographics will help you find clear creative ways to show complex data and you'll be able to keep it short, informative, and at the same time impressive.
Explain what is an OKR concept and mention the definition of Objectives and SMART measurable Key Results.
Illustrate OKRs criteria explanation diagram.
Visualize various quotations on OKR methodology.
Design OKR Setting 3-step process timeline flowchart with Define, Measure, and Wrap-up Stages.
Illustrate OKR Setting with a vertical process diagram including Track, Measure, and Review Stages.
Create a single OKR objective achievement retrospective report.
Design weekly and monthly OKR performance review using the Key Results table.
Present OKR check-in quarterly review on team meetings using our objectives template.
OKR objectives and key results performance collection contains pre-designed slides:
Content of OKR report presentation
Introduction - what is OKR: definition slide
OKR criteria explanation template for objectives and key results parts
Quote slide on OKR from the book "Measure What Matters"
OKR setting three steps process timeline flowchart: define, measure, wrap up stages
Quote slide on OKR reviewing by John Dewey
OKR setting vertical process diagram
Single OKR objective achievement retrospective report template
Weekly OKR performance review template with two, three, four, five, and six key results
Monthly OKR tracking report template with business performance goals for two, three, and four key results
OKR review meeting presentation template for three, four, five, and six objectives
OKR check-in quarterly review summary with status icons
Try using those PowerPoint illustrations to present your content visually in an elegant way.
All graphics are editable, so you can modify the colors and text. We also added a general icon collection at the end of the presentation deck. Optionally you can also extend the collection by more PPT symbols (see Related Diagrams section).
Fully editable in PowerPoint set of vector shapes fully editable by using built-in PowerPoint tools, including
change the color of all shapes filling and their outline, including icons
adding shadows
changing shape and size, rotating, flipping the object
putting shapes behind or on top of text
Authors
infoDiagram's designer
Contact: here
Slides included in this PowerPoint Presentation:
How To Edit
How to edit text & colors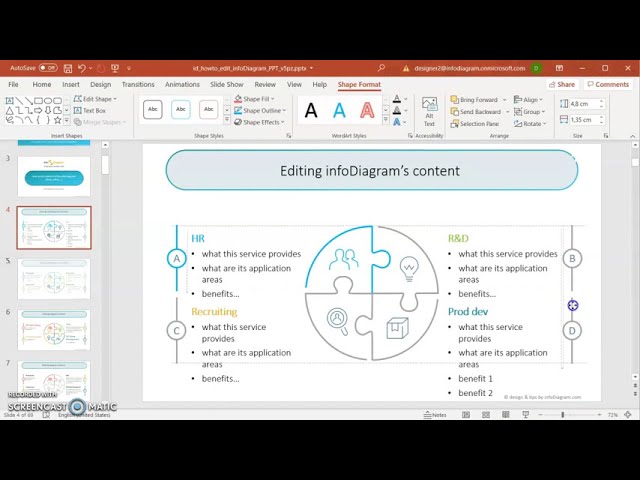 How to expand / shorten diagram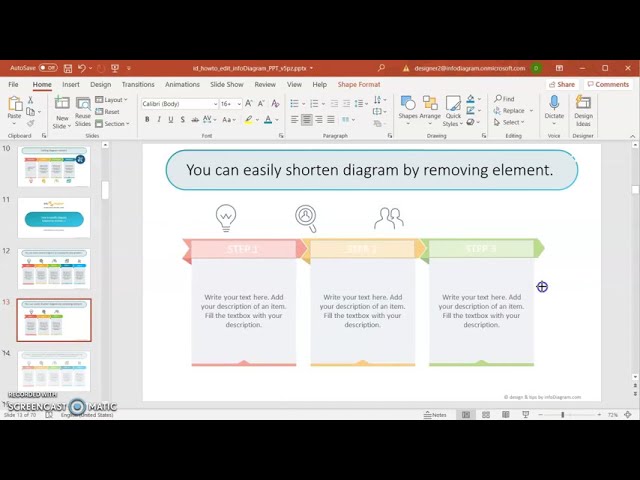 How to Replace Icons in infoDiagram PPT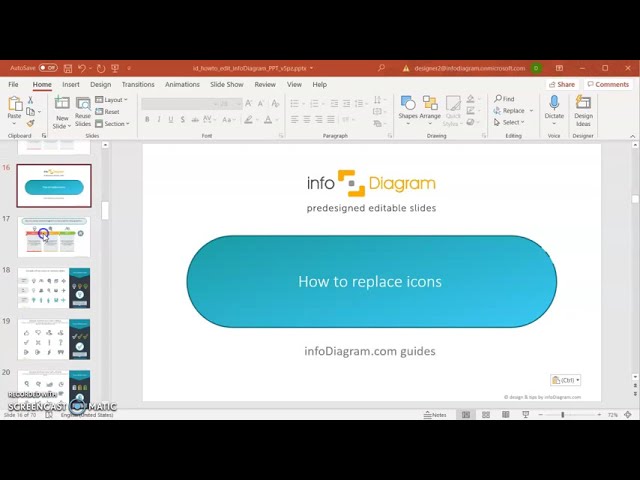 OKR Objectives and Key Results Performance Review (PPT Template)