Reviews

Usage example

Description

How To Edit
Slides
Description
Presentation Template for making marketing business plan, including market evaluation research, defining product strategy and setting projects plan. This template includes PowerPoint editable diagrams you can use to visually present your marketing strategic activities.
The template contains:
48 editable diagrams and layouts for presenting marketing strategy objectives, company vision and values, market analysis and project plans
60 business symbols in clean outlined style, to illustrate concepts such as Marketing Mix, PESTEL or SWOT analysis elements, product benefits, sales KPIs, HR, Office, IT, Data Analytics or Project Statuses
Format: fully editable vector shapes (modify colors of diagrams and icons, resize without quality loss
How do you layout a Marketing Plan and Strategy presentation?
The typical marketing strategy covers those steps:
Starting with Marketing Objectives overview. Settling company vision, mission, values - simply said the reason the company exists. Then you can present how they translate to your offer. Finish this part with setting marketing goals.
Marketing Analysis part, introducing Sales persona, Market Map and analysis e.g. by SWOT, PESTEL or Marketing Mix frameworks. You can evaluate market risks by risk matrix and evaluate competition landscape.
Products and Team - here you can dig into presenting your offer, its benefits. If your offer is based on services, then present a core team that will serve the target client.
Marketing Projects Plan - show a plan to access a new market and its prospects. Define what is your branding strategy, True Value Proposition. Present how your sales funnel will attract leads and convert them to customers. You can add marketing project timelines to show your activities over the next months or years.
Finish presentation with Results section. Estimate and present KPIs you want to reach, what revenue you expect in 1st year, in next periods. What are other measurable objectives you can set and track?
Why to use visual diagrams for marketing strategy?
Using diagrams instead of text bullet points in your presentation helps to engage your audience. For instance, illustrate marketing plan stages by symbols to create a mental association and be remembered. We added 60 business icons to the template. If not enough, extend the icon collection by getting additional PPT icon set bundles (see Related Diagrams section).
Colors of these diagram shapes and icons are fully editable (all graphics is a vector format). So you can change them to colors of your template or company brand.
Content description
Marketing Strategy Plan Presentation contains ready-to-use slides:
Marketing strategy planning template content with outline icon;
Marketing objectives section slide on a mountain background;
Company statement slide with outline icon on a dark picture background;
Company offer slide with outline text placeholder and picture background;
Mission and vision creative slide on picture background with icons and description;
Four key marketing goals illustrated with outline placeholders and target symbol;
Company core strategic pillars illustrated with chart and description to each item: vision, mission, values, goals, strategy;
Strategy development stages shown with list diagram and semicircle outline graphics;
Marketing analysis section slide on a mountain picture background;
Buyer persona profile illustrated with outline head graphics and detailed description: personal information, education, work, background, goals and needs, technology;
Target world market map with market values in outline style;
Porter's five forces with diamond icons and list description to each item: competition, new entrants, buyers, suppliers, substitutes;
SWOT analysis of the company and new market with list description and outline icons;
Hidden market factors illustrated with outline iceberg graphics and list description;
Risk matrix diagram with outline icons and list description;
PESTEL analysis illustrated with outline graphics with text description to each item: politics, economy, society, technology, environment, law;
Top five competitors characteristics illustrated with table in modern style with outline icons;
Competitive landscape market diagram illustrated with outline graphics and description: key local competitors, key substitutes, key global competitors, new entrants;
Market plan section slide on a picture background;
7P's marketing mix factors illustrated with outline icons: product, price, place, promotion, people, process, physical environment;
Value proposition slide on a dark background with text placeholder in a modern style;
Branding areas and key brand questions outline diagram with description: brand, personality, symbols, facts;
Attracting customers strategy illustrated with funnel diagram and description: market, lead, prospect, client;
Sales funnel B2B diagram illustrated with outline graphics with description: cold calls, meeting, negotiation, project, close;
Yearly activities timeline on seasonal market with outline icons;
Seven stages product implementation timeline with triangle outline graphics and place for short description to each item: idea, goals, scaling, retail, planning, production, delivery;
Product strategy section slide on a mountain background;
Product development roadmap illustrated with growth plant graphics;
Product features outline list diagram;
New product disrupting current market share colorful pie chart with values;
Market share diagram illustrated with table and multicolor bar chart with values;
Comparing product features diagram with list description;
Product pricing illustrated with multicolor comparison table and outline icons;
Key Product qualities diagram illustrated with simple outline graphics: multi level, flexible, secure;
Team section slide on a picture background with icon;
Core Team slide with pictures and competencies description of each member;
Team members list diagram with description;
Organizational matrix structure shown with outline scheme and text placeholder;
Marketing planning section slide on a mountain background;
Project planning outline table with colored columns and lines;
Product duration outline timeline with quarters and milestones view;
Project stages and duration timeline shown with flat arrow and outline clock icon;
Marketing project status table illustrated with colorful harvey balls;
Transition chart from current to desired state shown with outline scheme and description;
Results section slide on a mountain background with outline icon;
Three years plan illustrated with vertical outline timeline on a picture background;
SMART objectives shown with icons and list description for each item;
Key performance indicators shown with multicolor icons and description;
Fully editable in PowerPoint
set of vector shapes fully editable by using built-in PowerPoint tools, including
changing color of the icon filling and its outline
adding shadows
changing shape and size, rotating, flipping the object
putting shapes behind or on top of text
See editing demonstration in
our HowTo Videos
.
Authors
infoDiagram's designer
Contact: here
Slides included in this PowerPoint Presentation:
How To Edit
How to edit text & colors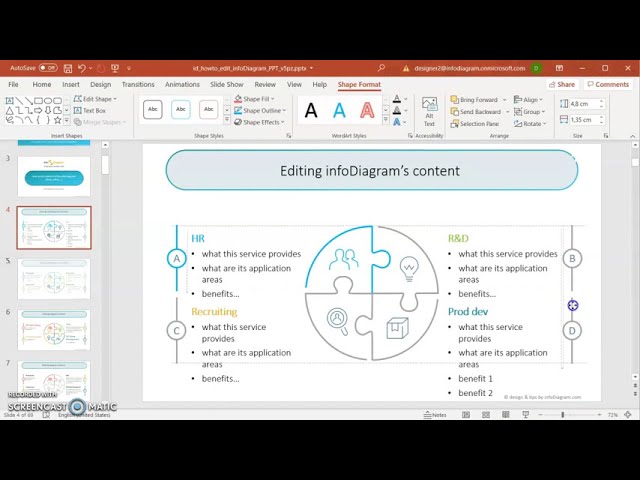 How to expand / shorten diagram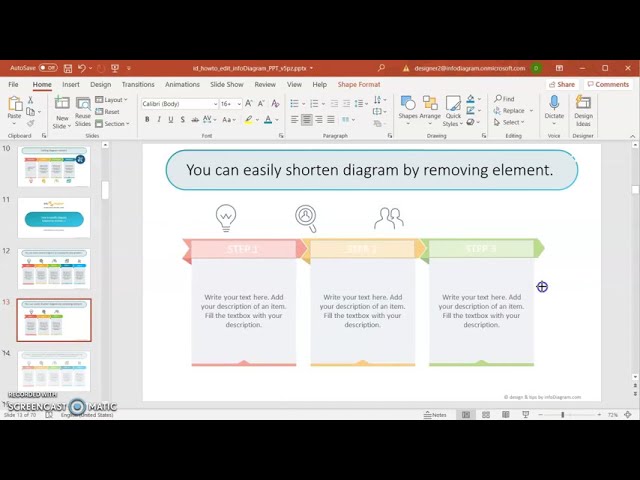 How to Replace Icons in infoDiagram PPT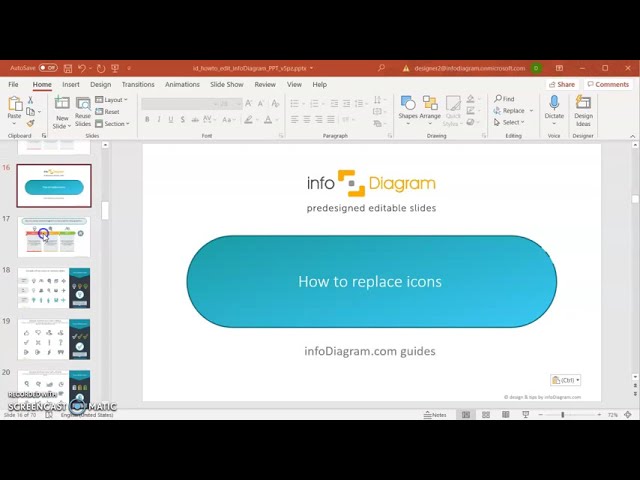 Marketing Strategy Plan Presentation (PPT Template)