Reviews

Usage example

Description

How To Edit
Slides
Description
Editable presentation graphics to present various layered structures by visual diagrams. Use those diagrams to present multi-tier architecture, application layers or market levels. Having such an illustration on a slide helps to make your presentation easy to understand.
We added this infographic deck several layered images templates that you can reuse and modify to your needs:
20 diagram shapes in various combinations (with 3 to 8 levels, as a cascade chart, sphere layers, centric levels…)
simple and modern flat graphical style, some full picture background slides for more attention grabbing opportunities
19 business icons to illustrate layer items e.g. task notes, energy, question, growth line chart, future, production, excellence diamond and more
instruction how to modify layer diagrams using PowerPoint editing tools
Format: fully editable vector shapes (modify colors of diagrams and icons, resize without quality loss
Layer diagrams as a universal visualization tool
The graphics of several planes above each other is a visualization used to represent concurrent tiers or structures that are composed of several elements building upon each other.
When to use layer diagram graphics?
Some examples where you can use those diagrams:
Illustrate software application layers from bottom up: Data, Application and top Presentation layer.
Presenting IT three-tier architecture model with client interface tier, application and database levels
Show 4 market presence levels from current market, soon-to-be stage, refusing and unexplored market stages.
Present process advancement, hierarchy, rising complexity or development
Consider using such diagrams to replace text bullets in your slides.
The deck contains several animated slides - animated pyramid diagram and also cascade layers will arrive on click. Feel free to modify those animations to explain your tiers one point at a time.
All graphics are editable, so you can modify the number of layers, add or remove one. We added also a general icon collection at the end of the presentation deck. Optionally you can also extend the collection by more PPT symbols (see Related Diagrams section).
Photographs are included in the template. You can easily replace them as well by pictures of your own.
Content description
Layers and Tiers Diagram contains ready-to-use slides:
3D cascade diagram of three data layers with description and icons for each stage: presentation layer, application layer, data layer;
3D cascaded layers diagram with short description and symbols;
Layers diagram with detailed description on a dark background and colorful icons;
Five layers illustration shown on the smart phone graphics with list description;
3D expanding layers multi-level diagram with flat icons and description;
Three-tier architecture layers panel diagram illustrated with icons: client computer, application server, database server;
Example of the basic three-tier colorful diagram with flat arrows and icons for each stage: UI presentation layer, business logic layer, data access layer, database;
Vertical overlapping layers chart on a picture background;
Four levels diagram with semi-transparent graphics and list description;
Five levels diagram with semi-transparent layers and flat icons for each grade;
Four levels multicolor pyramid with short description and icons;
Four levels sphere diagram with description and colorful icons for each item;
Four market stage levels illustrated with sphere layers diagram on a dark picture background;
Dartboard layers diagram with four colorful text fields and icons;
Globe layers diagram illustrated with centric circle graphics and description on a dark background;
Four items 3D layers list diagram with description and multicolor icons;
Five-, six-, seven-, eight-items 3D layers diagram with text placeholders and colorful flat icons.
Fully editable in PowerPoint set of vector shapes fully editable by using built-in PowerPoint tools, including
change color of all shapes filling and its outline, including icons
adding shadows
changing shape and size, rotating, flipping the object
putting shapes behind or on top of text
See editing demonstration in
our HowTo Videos
.
Authors
infoDiagram's designer
Contact: here
Slides included in this PowerPoint Presentation:
How To Edit
How to edit text & colors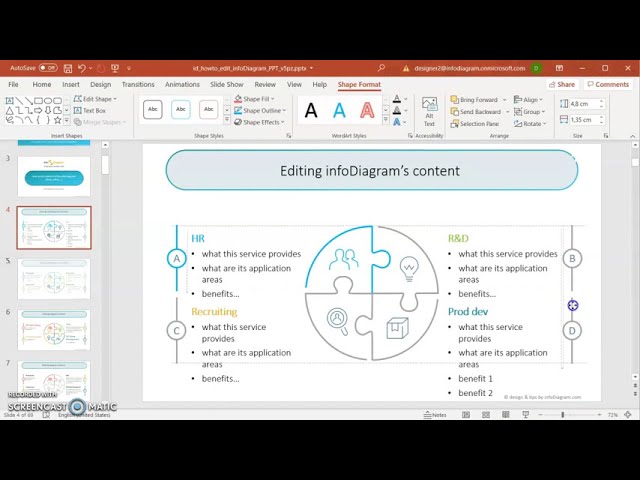 How to expand / shorten diagram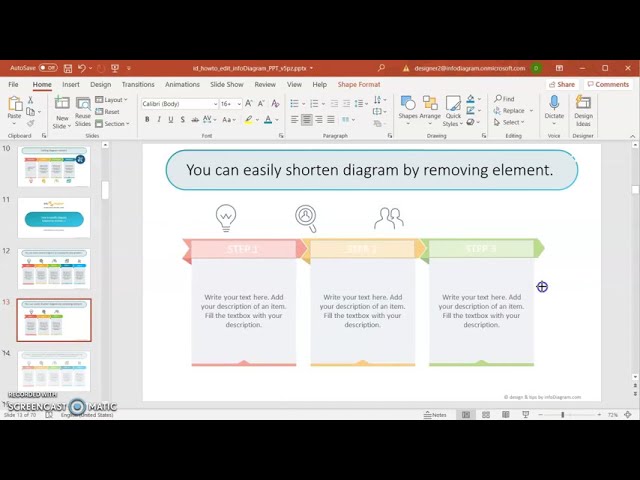 How to Replace Icons in infoDiagram PPT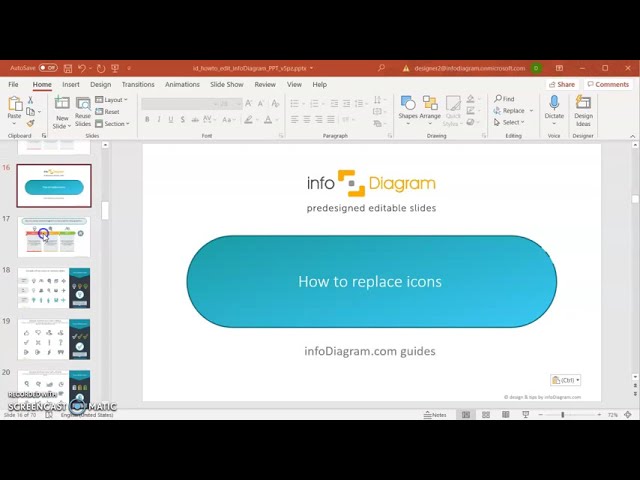 Layers & Tiers Diagram Graphics (PPT Template)