Reviews

Usage example

Description

How To Edit
Slides
Description
Key shape graphics are powerful visuals to use in your presentation. They are a universal metaphor for a solution but that's just one of their possible uses. We created a set of vector graphics that will help you showcase key facts lists, ideas and other business topics. In this set, we also included key-hole & lock graphics that will complement key graphics and expand your possible designs. Our keys graphics are easy to use and edit so you can adapt them to your needs in seconds.
This PowerPoint template contains:
27 diagrams in various settings (horizontal, vertical, matrix, table)
modern flat graphical style that looks professional, readable and eye-catching
28 vector symbols to present business concepts e.g. Thinking Head, People Relation, Networking, Value, Process Gears, Broadcast, Communicate, Loud Speaker, Personal Growth, Comeback, Revision, Price Tag, Plan, Agenda Flipchart, Self-awareness
instruction how to modify those level diagrams using PowerPoint editing tools
Format: fully editable vector shapes (modify colors of diagrams and icons, resize without quality loss
The metaphor of key infographics is a practical representation of any consequent stages. The shape of key, keyhole or keychain could be used to present a root for items that follow each other. Using those visual diagrams instead of only text bullets will make your slides eye-catching and remembered.
Key shape solution diagram contains set of fully-prepared slides:
Key diagrams with modern icons for 5 Elements
Creative work essentials list with key shape graphic on the side
6 items list shown with lock & keyhole graphics with description for each stage
Keyhole slide for 8 headers with flat icons
Key shape graphic on the center placing 4 synergic items with placeholders
4 headers with flat icons connected to key shape graphic
Leadership values shown with description boxes and flat icons on the dark background
8 elements with symbols depicted as a key central list
Keychain diagram template placing 5 items with space for description
Key list slide with symbols on the side
Alternative key enumeration graphics illustrated with flat colourful icons
Key bullet list template for 5 elements with description and icons for each stage
6 elements list template intended to show key issues on the dark background
Solution process illustrated with a key list template
6 elements horizontal timeline list showing key events graphics
Horizontal enumeration for 6 items with text placeholders
Events process stages with outlined symbols
Key timeline infographics illustrated with flat multicolor icons and description boxes
List template for 5 items shown with a key house graphics
5 steps example infographics to stress effective networking process
4 keys text placeholders with flat icons illustrating problems & solutions diagram
5 text placeholders with multicolor symbols in form of old key infographics
Old key shape graphics for 6 items on dark background
Classical key shape slide for 6 items with flat colourful icons on the side
Key flow chart placing 8 items intended to show problem-solving process
Timeline flowchart illustrated with key items description
How you can use key shape graphics:
Use key diagrams to replace long texts and avoid bullet lists
Use key shape infographics for presenting business concepts, describing events arrangements, explaining the problem and solutions models
Design popular key-shaped diagrams in PowerPoint to draw the attention of your potential customers or investors. With the help of different key signs ( keychain, keyhole) your PPT would look more structured and persuasive
You don't have to use any special software, just PowerPoint and your creativity
All icons and texts are easy to edit, so you can adapt colors to your brand positioning
Consider using those PowerPoint charts to replace text bullets in your slides.
All graphics are editable, so you can modify the colors and text. We added also a general icon collection at the end of the presentation deck. Optionally you can also extend the collection by more PPT symbols (see Related Diagrams section).
Photographs are included in the template. You can easily replace them as well by pictures of your own.
Fully editable in PowerPoint set of vector shapes fully editable by using built-in PowerPoint tools, including
change color of all shapes filling and its outline, including icons
adding shadows
changing shape and size, rotating, flipping the object
putting shapes behind or on top of text
See editing demonstration in
our HowTo Videos
.
Authors
infoDiagram's designer
Contact: here
Slides included in this PowerPoint Presentation:
How To Edit
How to edit text & colors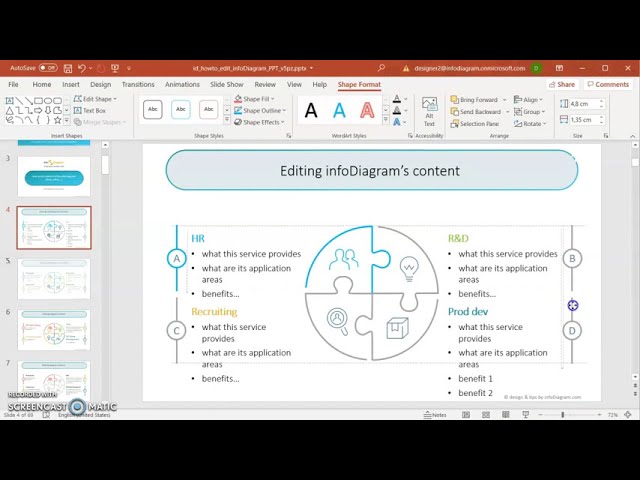 How to expand / shorten diagram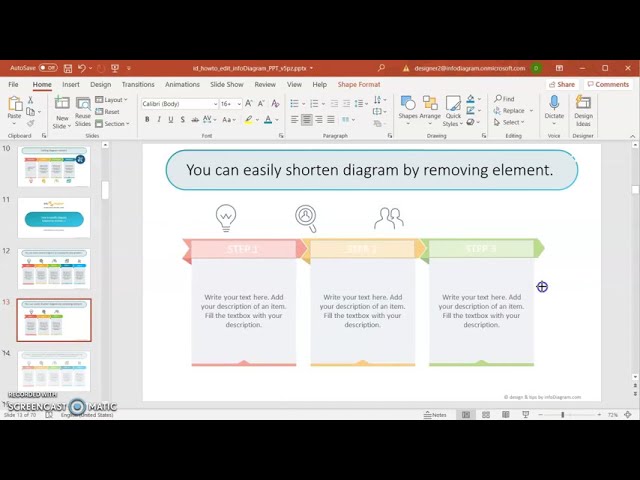 How to Replace Icons in infoDiagram PPT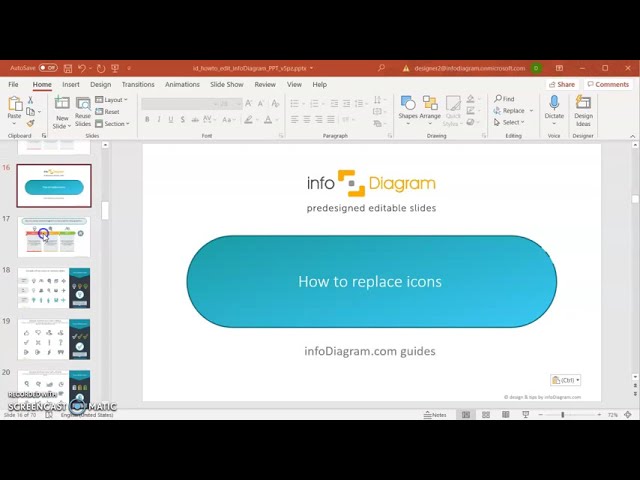 Key Shape Solution Diagrams (PPT Template)