infoDiagram >
Icons >
IT Icons: Mobile & Smart Devices, Computer & Telecom Networks (PPT Template)
Reviews

Usage example

Description

How To Edit
Slides
Description
Are you presenting Information Technology topics? Take advantage of using visuals from the presentation deck we have designed to explain computer science, networking, or the latest digital technology concepts.
This PowerPoint graphics collection includes:
19 exemplary diagrams for presenting various telecommunication networks, smart home devices or mobile devices usage
modern flat style graphics to explain complex IT information visually
96 flat icons to illustrate computer and mobile devices, computer networking topologies with Cisco icons, Data and File types, Connected Home I/O devices and general business office symbols
instruction how to modify the IT diagrams using PowerPoint editing tools
Format: fully editable vector shapes (modify colors of diagrams and icons, resize without quality loss
Visual aids for presenting IT and Digital technology
We've designed this logo collection of Information Technology devices to make it easier to explain those new technologies. Using visuals helps your audience to understand terms and structures faster. The icon set covers main areas of recent digital technology advancements:
big data and cloud file sharing
telecommunication infrastructure and computer networking symbols including common Cisco icons
digital marketing applications
mobile devices
Smart Home connected IoT devices used in households and industry
Benefits of using graphical symbols for your IT presentation
Creating visual association so your content will be remembered longer
Using one consistent style of icons creates professional look of your presentation.
Easy modification of icons e.g. changing colors to fit your brand colors, thanks to the fact that all icons are vector format. So you can change their color using standard PowerPoint shape fill tool
Having such chart graphics wil make your presentation interesting to look at without the need to be wordy.
Those IT and Telco symbols can be used in various business contexts:
Explaining computer science theories
Teaching the digital technology basics
Illustrating your reports and technical documents or publication on IT topics
Presenting your technological solutions in sales presentations.
Consider using such diagrams to replace text bullets in your slides.
Finding the right IT icons is extremely time-consuming. So, we designed you IT symbols bundle to help you out. IT icons are a resource that every company should have up their sleeve to illustrate computer and mobile devices, virtual hosts and networking, or Internet and software. Regardless of what kind of product you're designing, you're likely to need a few professional icons here and there.
Bundle of three IT icons set for visualizing IT related processes and structures:
Computer and mobile devices diagram
Computer networks slide template
Comparison of device usage data charts
Website users by devices type slide
Computer network topology template
Computer network architecture graphics
GSM architecture example diagram
File types list template slide with commentary field
Cloud file sharing of various file types diagram
Traditional file attachment and cloud file sharing graphics
Average daily time spent on the Internet slide
Content type distribution for lead generation shown with pie chart
Search results optimization diagram
Web services and smart home connectivity infographics
Web services and app connectivity illustration slide
How people spend time with their smartphone with data chart
Smart home devices overview
Smart home devices revenue showed with bar chart
Wireless connection types comparison slide
Icons set: IT and Telecom devices
Mobile devices icons: feature phone, phone with physical keyboard, smartphone, tablet, E-book, smartwatch
Computer icons: laptop, personal computer (PC), desktop computer, network drive, network storage, firewall, software installation
Virtual hosts and networking devices icons: virtual machine, virtual machine host, route, switch, hub, bridge
Database and elements of network switching subsystem icons: database, visitor location register (VLR), home location registering (HLR), authentication center (Auc), equipment identity register (EIR)
Wireless communication icons:Wi-Fi, wireless router, access point, base transceiver station (BTS), node B, distributed antenna system (DAS), communication satellite, satellite dish, satellite antenna
Server and GSM architecture icons: server, mobile switching center(MSC), base station controller(BSC), gateway mobile switching center (GMSC), public switched telephone network (PSTN)
Cloud services icons: Cloud computing, Cloud download, Cloud synchronization, Cloud sharing
Internet, software and multimedia icons: website, webpage, web app, computer software, mobile app, image, photo, video, movie, audio, music
File directory and user communication icons: folder, directory, short message, comment speech bubble, text chat, discussion, speech bubbles, voice chat, microphones, video chat, video cameras
Common file type icons: text document, file, spreadsheet file, presentation file, PDF file, form
Special data types icons: report, personal data, user profile, compressed file archive, settings, sliders, options, preferences, gear
Popular actions and data security icons: search, magnifier, E-mail, Email message, envelope, location, marker, pin, notification, alert, ringing bell, security, encryption, padlock, protection, shield
Common Internet services icons: E-commerce, shopping basket, weather forecast, news, newspaper, time management, calendar, event, task, social media, navigation, route planning, compass
Input devices icons: computer mouse, computer keyboard, touch control, touchscreen, voice, microphone, video, web camera (webcam)
Entertainment and Smart home control: music, headphones, earphones, sound system, loudspeaker, computer speakers, video game, game console, gamepad, smart speaker, smart display
Smart home devices icons: television, TV, smart TV, lightening, light bulb, thermostat, heating, ventilation, air conditioning, AC, HVAC, home appliance, coffee maker, home security, smart lock, door lock
Data connections icons: Wi-Fi, WLAN connection, Bluetooth connection, mobile data, NFC, near-field-communication, data synchronization
Content related actions icons: cancel, decline, failure, times, OK, accept, save, success, check mark, hyperlink (link), URL, chain, share, download, send, paper plane
All graphics are editable, so you can modify the colors and text. We added also a general icon collection at the end of the presentation deck. Optionally you can also extend the collection by more PPT symbols (see Related Diagrams section).
Photographs are included in the template. You can easily replace them as well by pictures of your own.
Fully editable in PowerPoint set of vector shapes fully editable by using built-in PowerPoint tools, including
change color of all shapes filling and its outline, including icons
adding shadows
changing shape and size, rotating, flipping the object
putting shapes behind or on top of text
See editing demonstration in
our HowTo Videos
.
Authors
infoDiagram's designer
Contact: here
Slides included in this PowerPoint Presentation:
How To Edit
How to edit text & colors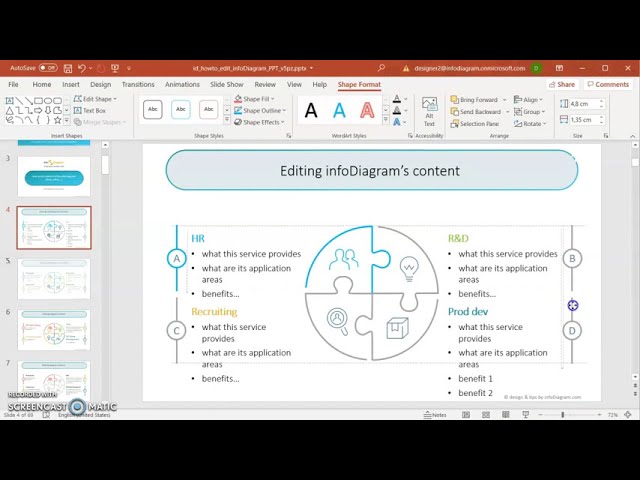 How to expand / shorten diagram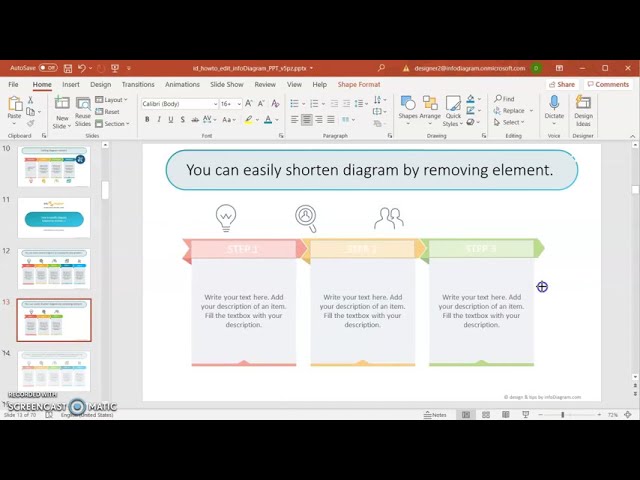 How to Replace Icons in infoDiagram PPT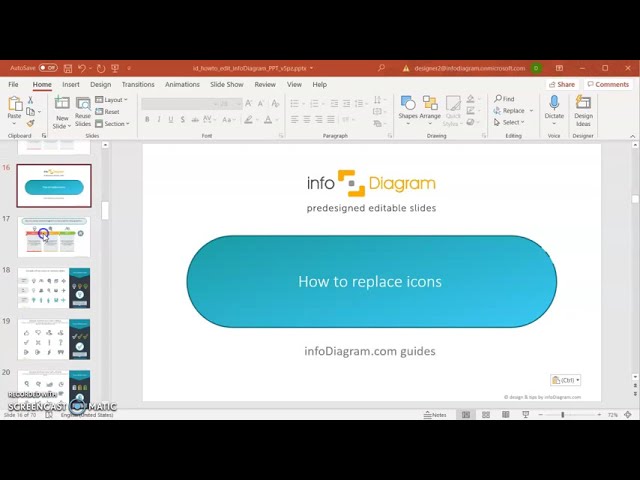 IT Icons: Mobile & Smart Devices, Computer & Telecom Networks (PPT Template)