Reviews

Usage example

Description

How To Edit
Slides
Description
PowerPoint template graphics of Group Development Stages Curve.
With this template you can illustrate various stages of team development according to Tuckman's model: Forming, Storming, Norming, Performing and Adjourning.
The Group Development Graphics include:
10 diagram charts with team dynamics curve and 4 or 5 stages
20 vector icons representing team Formation, Storming, Norming, Performing and Adjourning, group communication and meetings. The icons are in two styles, light modern outline symbols and universal flat symbols.
Format: fully editable vector shapes (modify colors of diagrams and icons, resize without quality loss
What is a group development and dynamics chart?
In 1965, a psychologist Bruce Tuckman stated that teams go through 5 stages of development: forming, storming, norming, performing and adjourning. Understanding Tuckman's model can increase your chances of reaching project goal. Group Development and Dynamics Chart collection intended to visualize why and how groups change over time.
Why use group development and dynamics chart as your presentation visuals?
Group Development diagram and dynamics chart will help team members or managers to understand the process the group of individuals is going through while becoming a mature team. It helps to avoid frustration and negative emotions while showing the way forward.
The collection will help you to present team dynamics stages in a visual form. Group development and dynamics graphics serve for illustrating team-building training, group behavior process.
How to use group development and dynamics chart in your presentation?
You can copy the group development and dynamics template and modify it to your needs. A few ideas where you can apply those illustrations:
Present group formation dynamics chart with curve diagram and vivid colors.
Show each stage of team dynamics on the separate slide for discussing it.
Illustrate the connection of stages towards the effectiveness of the team during each step.
Present team building process in a list form.
Use colorful stages illustrated with flat icons.
Content description:
Group Development and Dynamics diagram contains ready-to-use slides:
Group development chart illustrated with five-stages model: forming, storming, norming, performing, adjourning.
Group formation dynamics chart illustrated with outline icons and text placeholders.
Stages of team development illustrated with curve and vivid icon for describing each stage of team development : forming, storming, norming, performing, adjourning.
Group formation slide illustrated with five-stages diagram with text placeholders for a short description.
Team formation slide illustrated with colorful 3D blocks (version with flat and outline icons).
Tuckerman's stages of group development presented in vivid and light versions.
Four stages group development slide illustrated in two versions: vivid circles with icons and text description, outline symbols with text placeholders.
Team building process illustrated with 5 steps infographics.
Fully editable in PowerPoint set of vector shapes fully editable by using built-in PowerPoint tools, including
changing color of the icon filling and its outline
adding shadows
changing shape and size, rotating, flipping the object
putting shapes behind or on top of text
See editing demonstration in
our HowTo Videos
.
Authors
infoDiagram's designer
Contact: here
Slides included in this PowerPoint Presentation:
How To Edit
How to edit text & colors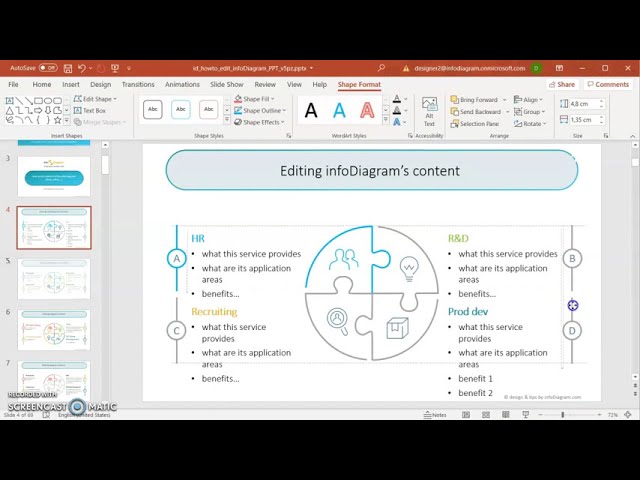 How to expand / shorten diagram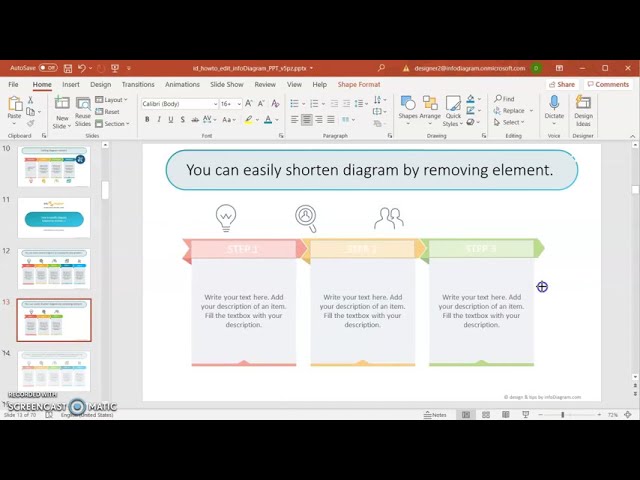 How to Replace Icons in infoDiagram PPT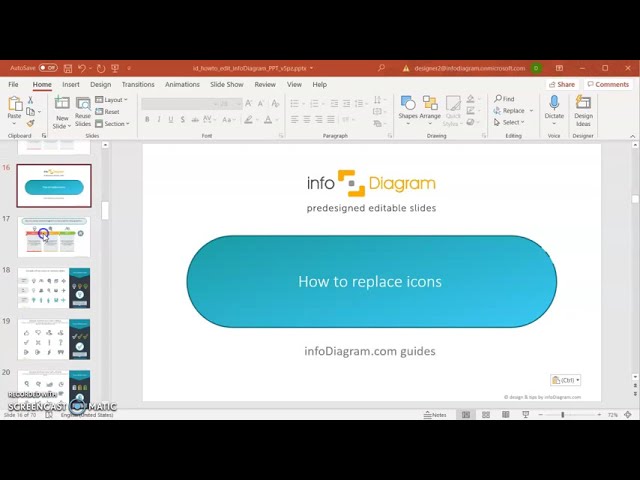 Group Development & Dynamics Chart (PPT Diagrams)