Reviews

Usage example

Description

How To Edit
Slides
Description
Editable diagram for DevOps Tool Chain presentation. These diagrams are used in software development domain.
This DevOps Loop PowerPoint Template includes:
15 loop charts of various DevOps stages with explanations and Venn diagram of 3 joint DevOps areas.
2 graphical styles - modern flat loop design and creative hand drawn loop diagram with scribble icons and handwritten font
27 vector icons representing all DevOps Tool Chain elements and related concets such as Planning, Creation, Verification, Packaging, Releasing, Configuring and Monitoring phase, as well as IT coding and development, product launch, computer desktop screen and infinity loop
Format: fully editable vector shapes (modify colors of diagrams and icons, resize without quality loss
What is a DevOps diagram good for?
DevOps is a software development methodology that combines software development(Dev) with information technology operations (Ops). The goal of DevOps is to shorten the systems development life cycle while also delivering features, fixes, and updates frequently in close alignment with business objectives. The DevOps approach is to include automation and event monitoring at all steps of the software build.
How to use DevOps Toolchain in your presentation?
Copy the DevOps template that fits you the best and modify it (resize, change colors). A few ideas where you can apply those illustrations:
Present a software development and information technology operations.
Illustrate specific DevOps initiatives: Plan, Create, Verify, Package, Release, Configure, and Monitor.
Show interconnection of DevOps methodology elements.
Manage an agile software development process.
Why to use DevOps Toolchain diagrams as your presentation visuals?
DevOps diagram will help you to show this methodology in your presentation in a creative eye-catchy way. DevOps toolchain loop helps to visualize all elements without clutter on a slide. You can use these shapes on software development review and planning meetings.
Content description
DevOps Toolchain Loop Diagram contains ready-to-use slides:
DevOps Loop in a few versions: a flat chart with outline icons, light loop with animation, a colorful template with a textbox for a summary.
DevOps slides illustrated with loop and description for explaining main items of the methodology: create, plan, release, configure, monitor, package, verify.
DevOps toolchain slide presented with two color loop.
Creative variations of DevOps Loop: scribble colorful shape with symbols, monocolor scribble loop with outline icons, outline chart with text placeholder.
DevOps methodology presented with Venn diagrams: three elements chart with text description, semi-transparent Venn chart with icons.
Fully editable in PowerPoint set of vector shapes fully editable by using built-in PowerPoint tools, including
changing color of the icon filling and its outline
adding shadows
changing shape and size, rotating, flipping the object
putting shapes behind or on top of text
See editing demonstration in
our HowTo Videos
.
Authors
infoDiagram's designer
Contact: here
Slides included in this PowerPoint Presentation:
How To Edit
How to edit text & colors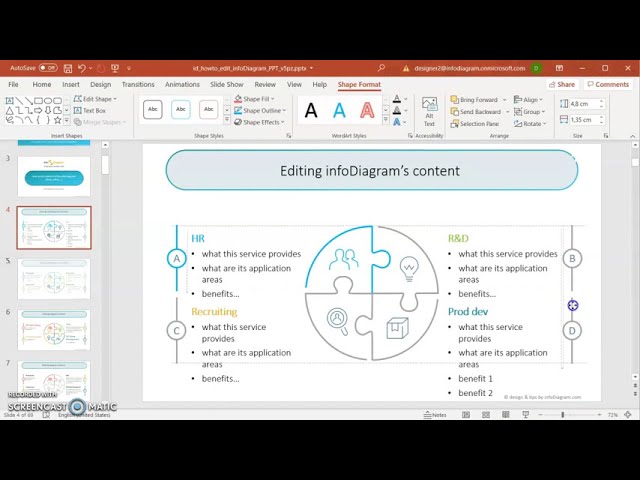 How to expand / shorten diagram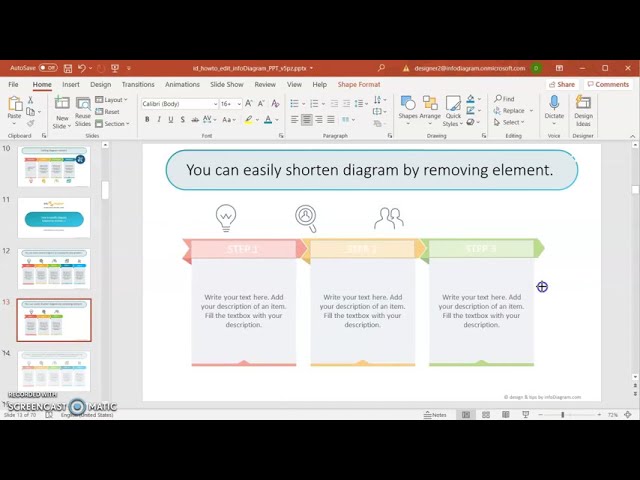 How to Replace Icons in infoDiagram PPT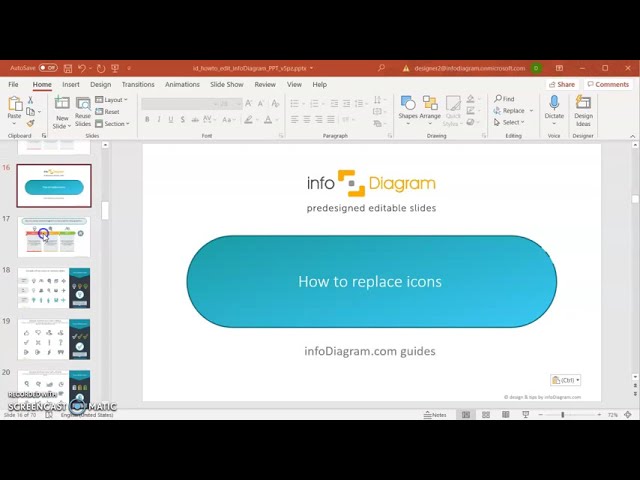 Devops Toolchain Loop Diagram Template (PPT graphics)