infoDiagram >
Data Privacy GDPR Training Template (PPT Diagrams)
Reviews

Usage example

Description

How To Edit
Slides
Description
PowerPoint template graphics of explaining Data Privacy and GDPR regulation.
With this template you can prepare visual presentation or training materials about What is GDPR, Who is affected, Who is involved and what actions should be done.
The GDPR and Data Privacy Graphics include:
15 editable diagram charts of GDPR definition, stakeholders, affected countries map, Stakeholders, Personal data and Sensitive data list, list of rights for access, rectification, erasure, portability...
template diagrams you can use to present processes and steps data controller companies should take, types of collected data. There is a GDPR subjects relations chart you can modify to fit your case. We added also template of privacy policies documents requirements - Terms, Privacy and Cookie using policy
50 outline icons representing various data protection items such as consent, rights, data transparency, monitoring and roles of data controller, data processor, supervising authority
Format: fully editable vector shapes (modify colors of diagrams and icons, resize without quality loss
Content description
Data privacy definition and goals (intended to visualize the essence of the determination and two main benefits of using this regulation)
Modern world map
Personal and private data slides (includes types of personal and sensitive data: name, address, phone, bank, email, IP address, cookies, online identifiers; biometric data, genetic data, health data)
GDPR penalties and fines (for creating a strong message that you definitely have to protect the data in order to avoid fines )
Individual user's rights slide template (points that must be shown in two ways: colorful list and visual graphics with text boxes)
Company data controller slide (helps to explain what a company should do and remember about in the context of new regulation)
Steps for an Online Business for GDPR Compliancy (procedures a company should do illustrated with a colorful list with icons and text description)
Data protection stakeholders templates (the GDPR stakeholders list, scheme for showing the relations between them illustrated with diagrams and icons)
GDPR tools and applications (colorful list template with a description for main GDPR related tools: mailing, data processor, privacy policies, cookie control banner)
GDPR terms and requirements slide (template with place for explaining GDPR terms, privacy policy, cookie files policy and consent)
Why to use GPDR graphics for explaining Data Privacy topics?
It allows to you create more engaging materials by using images to explain complex topics such as Data Protection regulations and recent European GDPR laws.
You can only modify existing diagrams, saving you time creating the presentation slides from scratch
Colors of this diagram shapes and icons are fully editable (all graphics is a vector format). So you quickly make it look consistent with your branded materials. Just add a logo, adapt some key colors.
How you can use the Data Privacy GDPR Template?
For training your employees about new data protection laws
Make quickly informational materials - one-pagers or leaflets informing your clients about impact of GDPR on them.
Create promotional materials if you offer a solutions for data privacy
Design explanation infographics to put in documents where you ask clients and leads for various marketing data processing consent.
Educating your online audience about their rights under new EU GDPR rules.
Fully editable in PowerPoint set of vector shapes fully editable by using built-in PowerPoint tools, including
changing color of the icon filling and its outline
adding shadows
changing shape and size, rotating, flipping the object
putting shapes behind or on top of text
See editing demonstration in
our HowTo Videos
.
Authors
infoDiagram's designer
Contact: here
Slides included in this PowerPoint Presentation:
How To Edit
How to edit text & colors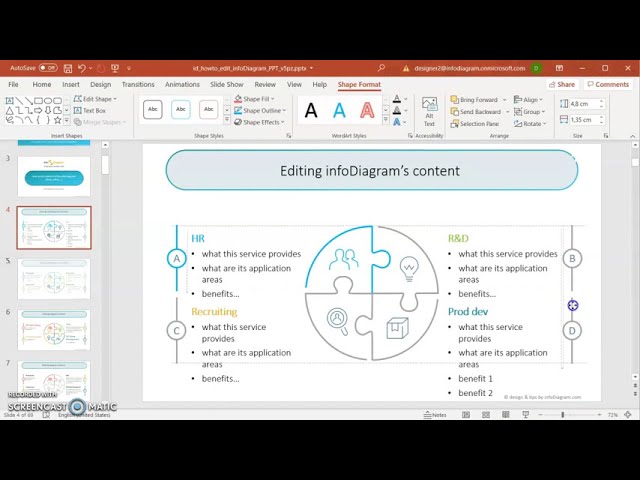 How to expand / shorten diagram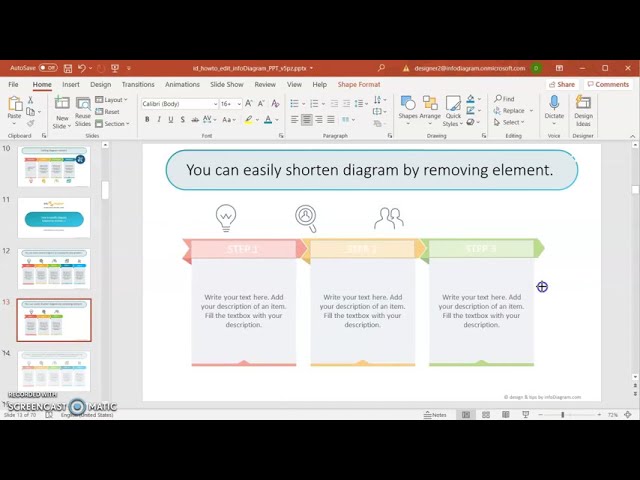 How to Replace Icons in infoDiagram PPT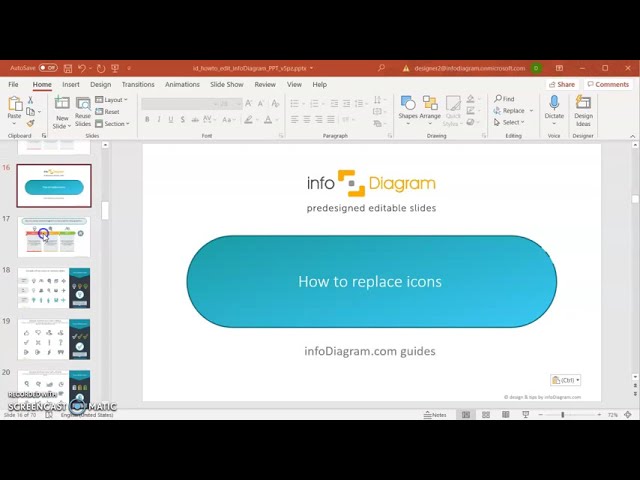 Data Privacy GDPR Training Template (PPT Diagrams)