Reviews

Usage example

Description

How To Edit
Slides
Description
Collection of circular arrow charts for presenting cyclic processes. You can use those wheel diagrams and loops illustrations to visualize closed sequences and repeating steps.
The Cycles and Wheels Diagrams template includes set of business outline and flat icons you can use to represent specific steps of the circular processes.
This PowerPoint Cycles Diagrams set includes:
38 circular diagrams of various width and style. There are cycle loops layouts from 2 to 7 segmented circles. You can choose wider chevron arrow circles or a light outlined diagram wheels. The outline circles are better for printing the slides.
30 vector icons representing business concepts such as productivity, action, observation, orientation, decision, schedule, error, firm...
predesigned example of editable cycle infographics - Economic Activity Flow Chart, OODA Loop and Dispensing Errors Casual Loop
Format: fully editable vector shapes (modify colors of diagrams and icons, resize without quality loss
What is a cycle diagram good for?
For visually presenting closed series of steps, recurring events, or progress steps. They are suitable also to present negative or positive feedback loops, causal loop diagrams, or two interlinked cycles.
Why use Cycle diagram as your presentation visuals?
Cycle diagram template useful for presenting a continuing sequence of stages, tasks, or events in a circular flow. The wheel chart will help you to show the relationship to a central idea in a cycle in a visually appealing way.
How to use Cycles diagram and Wheel charts?
Cycle diagrams and wheel charts are useful for presenting flow, analysis process, decision flow or any series of events.
If the cycle you want to present can be associated with a list, you can use clean wheel chart with a numbered list legend on the side.
If you want to catch attention, then put several colors as a chart background and illustrate them with scribble icons.
Content description:
The full list of slides presented in Cycle Diagrams and Wheel Charts template:
Example of the four-elements loop: OODA diagram (illustrating main stages of the concept: observe, orient, decide, act).
Causal loop diagram of dispensing errors, presented with two cycles that are interconnected with outline arrows, and short descriptions with icons.
Three-, four-, five-, six-, seven steps arrow circle cycle templates illustrated with symbols in the wheel and a place for the description for each step.
Outline loop with three-, four-, five-, six-, seven elements (each stage is illustrated with different colors and icons). Presented minimalistic cycles will suit you if you don't need to put many descriptions around.
Circular chevron ring chart in outline and modern flat style with text description and a big icon of diamond in the loop center.
Five elements flat arrow cycle (clean wheel chart with a numbered list legend on the side).
Economic activity circular flow diagram presented with two-level cycles for explaining complex projects.
Circular flow wheel chart illustrated with a list of the eight elements and double wheel with opposite arrows.
Information flow chart example showed with cycle diagram and shapes for explaining main information resources: internet, books, journals, broadcast media, newspapers, magazines.
Chevron 3 steps loop ( in hand-drawn style with scribble icons and sticky notes).
Fully editable in PowerPoint set of vector shapes fully editable by using built-in PowerPoint tools, including
changing color of the icon filling and its outline
adding shadows
changing shape and size, rotating, flipping the object
putting shapes behind or on top of text
See editing demonstration in
our HowTo Videos
.
Authors
infoDiagram's designer
Contact: here
Slides included in this PowerPoint Presentation:
How To Edit
How to edit text & colors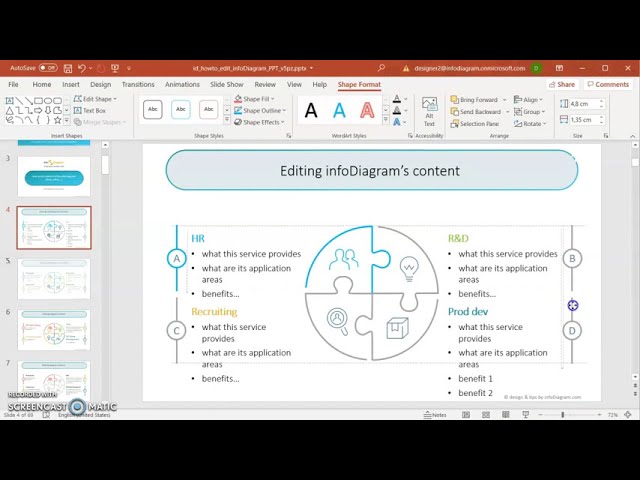 How to expand / shorten diagram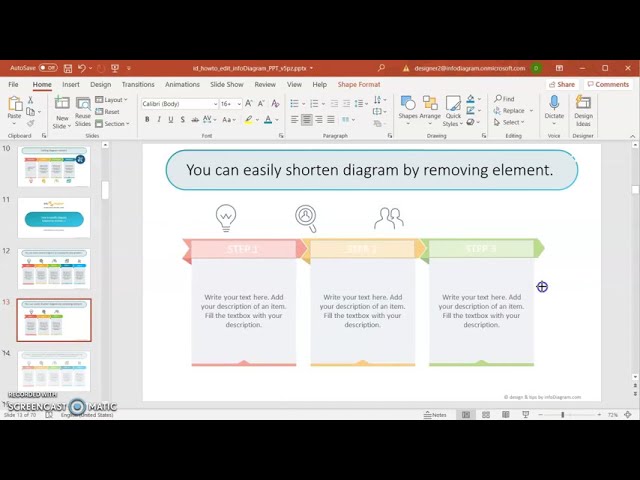 How to Replace Icons in infoDiagram PPT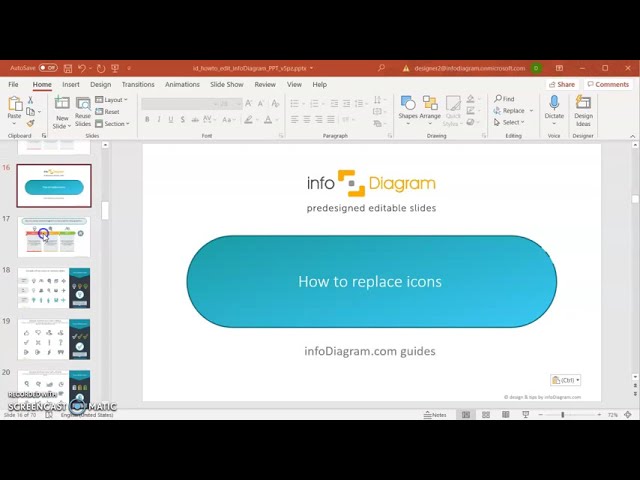 Cycle Diagrams & Wheel Charts (PPT Graphics)