Reviews

Usage example

Description

How To Edit
Slides
Description
Want to spice up your data presentations? Need to emphasize part-to-whole, illustrate proportions or visualize shares? Use our creative pie chart data visualization templates, modify numbers, enrich your slides. Take your presentation to the next level!
This Creative Pie Charts Graphics for PowerPoint contains visual slides with:
Instruction on how to modify those diagrams using standard PowerPoint editing tools.
Format: fully editable vector shapes (modify colors of diagrams and icons, resize without quality loss)
What is a Pie chart?
A Pie Chart (or its variation Doughnut Graph) is a circle shape data visualization. The circle is divided into slices to illustrate the numerical proportion of underlying data. The size of each slice of the pie is proportional to the values in the corresponding data class. Pie charts are used to present typically shares data in a visual form so that the reader may easily recognize how a group is broken down into smaller pieces.
Why use infographic pie charts?
Pie charts are widely used in business presentations to show the proportions among a large variety of categories including expenses, segments of a population, or answers to a survey. If you need to present revenue split by channel, market share, or expenses breakdown by category, a pie chart is a perfect graphic to convey your message. Using creative visuals for illustrating proportions makes the information clear in the mind of the audience.
You can reuse our pre-design, creative pie graphs, tailor them to your needs and nicely upgrade your slides. The pie charts presented here are Data-Driven Excel Charts, so it is very easy to change the presented values. We also included detailed instructions on how to alter the content, values, and look and feel of the graphs.
Try using those PowerPoint illustrations to present your content visually in an elegant way.
All graphics are editable, so you can modify the colors and text. We also added a general icon collection at the end of the presentation deck. Optionally you can also extend the collection by more PPT symbols (see Related Diagrams section).
Fully editable in PowerPoint set of vector shapes fully editable by using built-in PowerPoint tools, including
change the color of all shapes filling and its outline, including icons
adding shadows
changing shape and size, rotating, flipping the object
putting shapes behind or on top of text
See editing demonstration in
our HowTo Videos
.
Authors
Design by infoDiagram's designer.
Contact: here
Slides included in this PowerPoint Presentation:
How To Edit
How to edit text & colors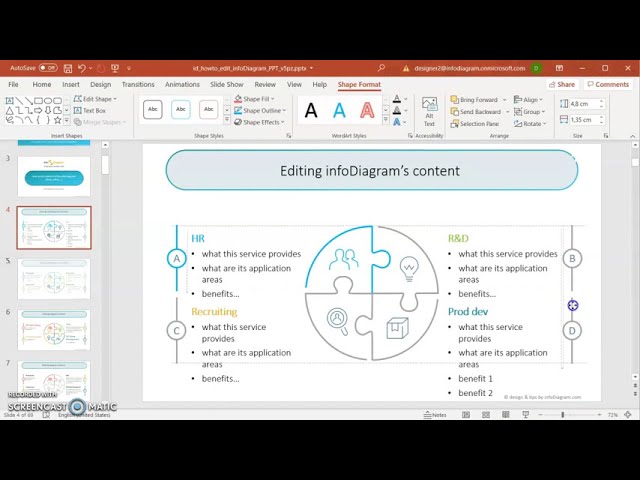 How to expand / shorten diagram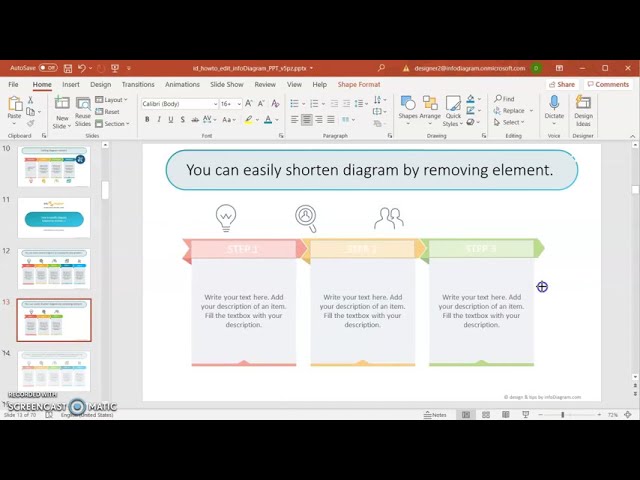 How to Replace Icons in infoDiagram PPT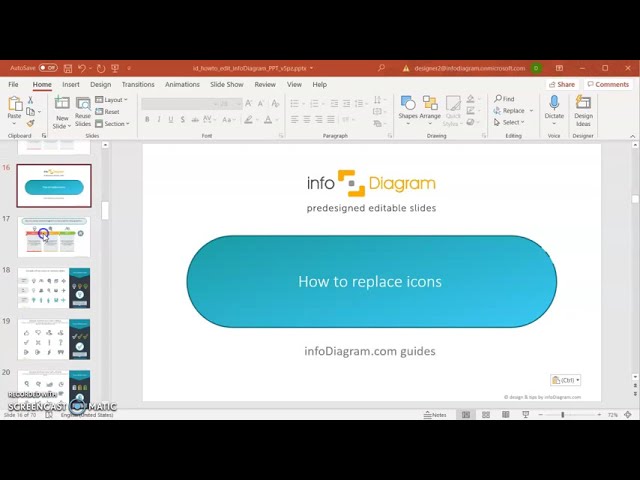 Creative Percentage Shares Pie Charts (PPT Template, data-driven)