Reviews

Usage example

Description

How To Edit
Slides
Description
Do you seek financing for your start-up? Need to tell a compelling story about your business? We have designed a modern and easy to follow presentation that helps to communicate your ideas to prospective angel or venture capital investors in a way that gets them excited about investing in your business.
This Creative Modern Pitch Deck PowerPoint presentation template contains visual slides with:
29 pre-designed diagram layouts: Investor Pitch Deck Agenda, About Us, Mission and Vision Statement, Our Team, Problem Statement, Market Facts Infographics, Bridging the Gap, Solution – Product Overview, Product Benefits and How It Works, Key Product Features, Pricing, Testimonial Slide, Market Overview, Competitive Landscape Comparison Table, SWOT Analysis, Development Plan, Marketing Strategy, Global Expansion Map, Financial Plan Table Template, Business Model Summary and more.
This presentation template is designed in a modern and at the same time creative style. You can use these graphics to create an enjoyable consistent presentation and keep the attention of your audience - investors or partners.
67 outline symbols to show various strategic and financial concepts e.g. Startup, Turnover, Money Return, Income, Hierarchy, Interaction, Market Share, Cycle and other business icons.
Instruction on how to modify those diagrams using standard PowerPoint editing tools.
Format: fully editable vector shapes (modify colors of diagrams and icons, resize without quality loss)
What is a Investor Pitch Deck Presentation?
A pitch deck, also known as a start-up or investor pitch deck, is a presentation that helps potential investors learn more about the business. It is a brief but informative story that gives an overview of your business plan, products, services and growth traction.
Why to use a Pitch Deck visual slides?
If you want to attract potential investors and get the funding for your start-up or business idea development, you need a strong, thorough, and engaging investor pitch deck. Use our visualizations to spark interest in your company, our pre-designed and modern slides will help you to convey your idea in an eye-catching and out-of-the-box format.
You can reuse our infographics and tailor them to your needs in order to upgrade your presentation slides. Majority of our slides have a space for your text / comments, so it is very easy to extend presented ideas. We also include a detailed instruction on how to alter the content, values, colors and look and feel of our slides.
Where can you use the Investor Pitch Deck graphics?
Using infographics will help you engage potential investors.
Describe your company, its competitive advantage, mission and vision statements in a concise and attractive way.
Introduce the team, that will manage the business, using photos and short descriptions.
Present customers' problems and support it by the market statistics or some research data.
Illustrate the current and desired state via catchy visualization that bridges problems with solution.
Present clear and appealing solution to the challenge that investors can easily follow.
Quote your product's users' testimonials.
Create an attractive diagram of the total available, serviceable available & obtainable market size, including its financial potential.
Show competitive landscape in comparison table with competitors' sales, market share and products portfolio.
Visualize your SWOT analysis.
Familiarize investors with 3 steps marketing strategy.
Illustrate timeline of the product development and its global expansion map.
•Show traction metrics chart illustrating the major goals you've achieved till now e.g., growth in sales, leads, followers, subscribers, clients.
Present your company's income statement projection over the next 5 years.
Design financial investment plan in a diagram format presenting the capital needed and its planned usage scheme.
Try using those PowerPoint illustrations to present your content visually in an elegant way.
All graphics are editable, so you can modify the colors and text. We also added a general icon collection at the end of the presentation deck. Optionally you can also extend the collection by more PPT symbols (see Related Diagrams section).
Fully editable in PowerPoint set of vector shapes fully editable by using built-in PowerPoint tools, including
change the color of all shapes filling and its outline, including icons
adding shadows
changing shape and size, rotating, flipping the object
putting shapes behind or on top of text
See editing demonstration in
our HowTo Videos
.
Authors
Design by infoDiagram's designer.
Contact: here
Slides included in this PowerPoint Presentation:
How To Edit
How to edit text & colors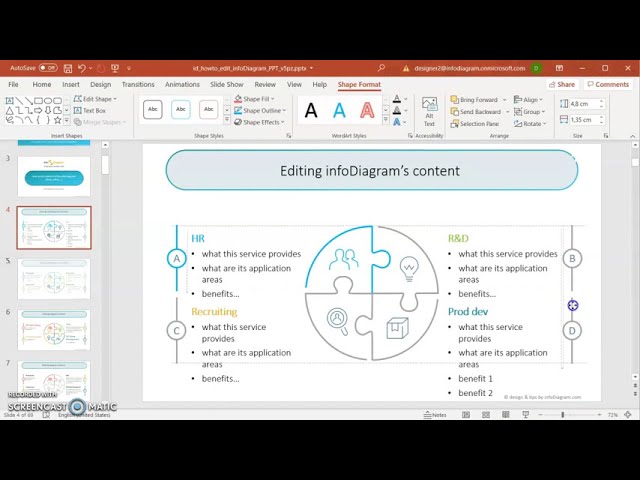 How to expand / shorten diagram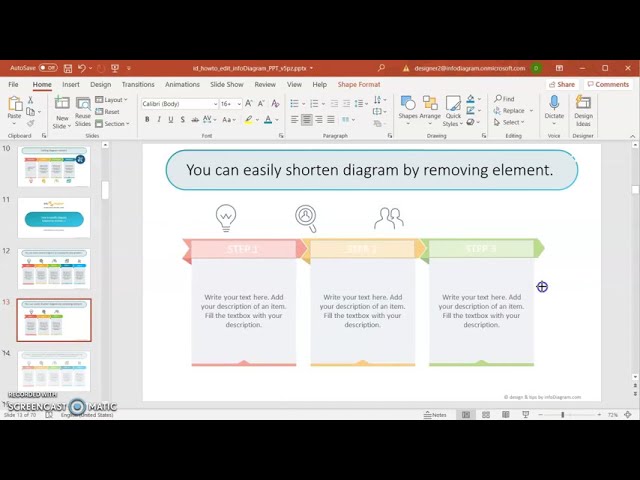 How to Replace Icons in infoDiagram PPT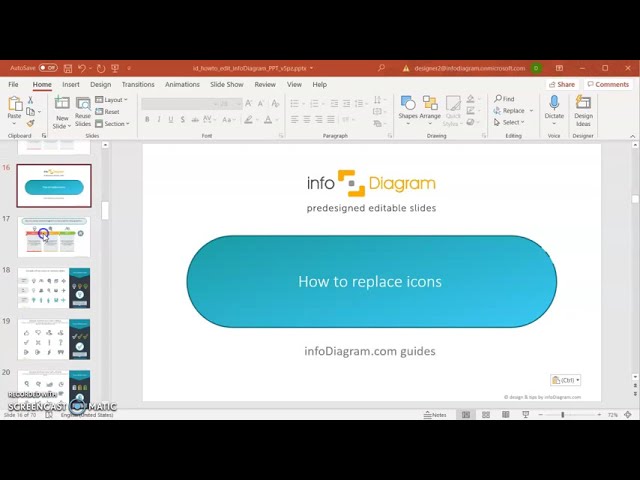 Creative Investor Pitch Deck, Organic Blob Shapes (PPT Template)