Reviews

Usage example

Description

How To Edit
Slides
Description
If you need to show your company's structure, consider using our flat organizational chart templates. You can use organizational charts for showing many aspects such as leadership structure, management structure, different departmental, divisional, or other types of organizational structures such as human resources or sales teams; how many employees or staff members are in different departments, including new employees; team members in a project team, showing the reporting structure, to see how roles and responsibilities are spread out, present to stakeholders, onboarding, interdepartmental collaborating, etc.
These creative organization chart templates help with presenting organizational structures using professional infographics. You can reuse these slides to quickly create a modern organization map in PowerPoint. The template includes flat graphics, diagrams, and editable icons for departments and personnel positions (e.g. represent project managers, employees, startups, marketing managers, sales managers, VPS).
Org Chart Template Contents
This slide deck includes a company structure organogram as well as a matrix management structure with several projects spanning multiple departments. We also added hand-drawn markers you can use to highlight the company structure areas or to point to a specific person or department in an attractive sketch style. The chart designs have two graphical styles - you can design a uniquely creative organization chart using hand-drawn scribble shapes and people icons. Or to do a more neutral structure presentation, use modern flat diagrams to show company divisions and management hierarchy. Such flat org charts fit any presentation template.
You can modify all org charts in PowerPoint, as all templates are editable. Feel free to remove or add new departments and projects. You can also adjust the chart colors to align with your logo or corporate palette.
There are 16 predesigned org charts editable in PowerPoint and set of additional graphics for HR management:
Hierarchical Organization Chart with pictures of CEO, department heads, and managers
Diagram for Organization Structure, Tree Parallelogram, Vertical, and Horizontal flow org charts
Matrix Structure Diagrams to present projects and department overlaps
Hand-drawn matrix organizational chart for creative scribbled org charts
36 icons representing areas such as project teams, managers, or key departments such as design, research and development, production, logistics, and finance. Icons are in 3 graphical styles – flat symbols, outline icons, and hand-drawn clipart. Plus, we've added a set of sketched markers you can place over a structure map to highlight a specific area
Format: fully editable vector shapes (customize colors of templates and icons, resize without image quality loss).
Benefits of creating an organizational chart in PowerPoint:
Flexible changes to reflect organizational fluctuations – replacing, adding, or removing a position or department is just a matter of quick and simple shape editing.
Clearly present the organization's decision-making, management flows, and company size and personnel structure.
Introduce a person managing a company in a personal way, adding real profile pictures or icons only.
Fully editable in PowerPoint
set of vector shapes fully editable by using built-in PowerPoint tools, including
changing the color of the icon filling and its outline
adding shadows
changing shape and size, rotating, flipping the object
putting shapes behind or on top of text
Authors
infoDiagram's designer
Contact: here
Slides included in this PowerPoint Presentation:
How To Edit
How to edit text & colors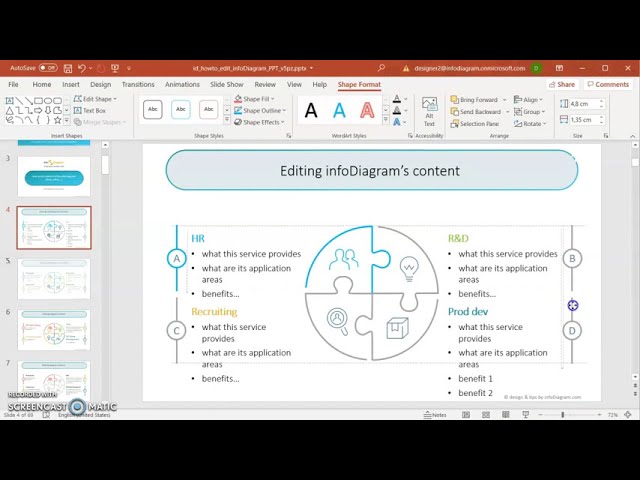 How to expand / shorten diagram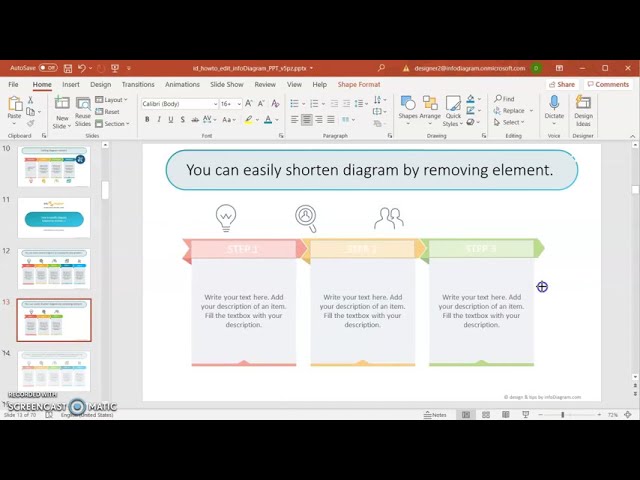 How to Replace Icons in infoDiagram PPT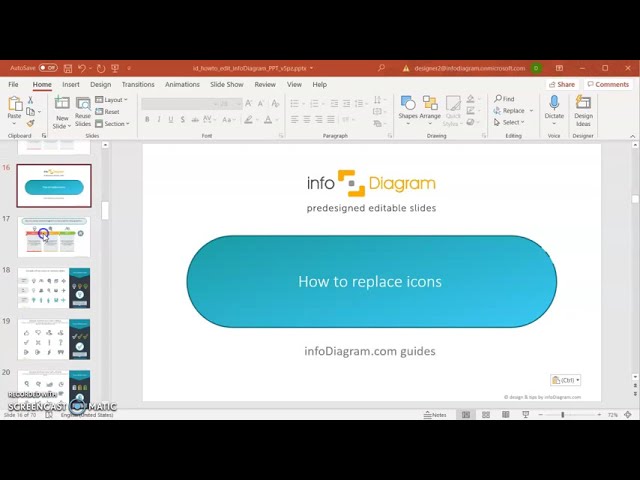 Company Organizational Structure Charts (PPT diagrams)