Reviews

Usage example

Description

How To Edit
Slides
Description
Presentation graphics for illustrating the concepts of Corporate Social Responsibility: values, models, areas and initiatives.
This PowerPoint graphics collection includes:
18 diagrams for presenting various CSR models, initiative examples, values and elements
modern professional-looking graphics to capture information concisely and simply /li>
31 flat icon collection to show CSR concepts such as Communication, Empathy, Sincerity, Gender, Change, Philanthropy, Economics, Income, Community, or Fundraising
instruction how to modify the CSR diagrams using PowerPoint editing tools
Format: fully editable vector shapes (modify colors of diagrams and icons, resize without quality loss
If you are trying to come up with a new CSR strategy for your firm or would like to take things ahead with an existing one , then our professionally designed Corporate Social Responsibility (CSR) infographics can help you. CSR's popularity for businesses, employees and customers is growing.
We created PPT slides that can help you to present various CSR models, initiative examples, values and elements to your audience in an interesting manner. It is an essential set for every philanthropist, HR professional, consultant, and almost every individual who is related to this crucial subject. Additionally, you can reach out to more people, recruit volunteers, and work for a cause while saving your time and resources.
Corporate Social Responsibility graphic contain ready-to-use modern symbols and diagrams dedicated to the following topics:
Corporate Social Responsibility (CSR) definition and quote template
Carroll's Model of Corporate Responsibility (1991) explaining philanthropic, ethical, legal, economic definitions showed in pyramid style
Five CSR areas illustrated with pyramid diagram: charity projects, carbon footprint decrease, ethical labor policy
Four CSR initiatives template depicted with pyramid diagram: philanthropic, environmental, community, fair trade
Business ethics template with categories list
CSR initiatives diagram for four elements with icons
Company ethics values example for five elements
Corporate responsibility values loop with six elements
CSR elements diagram for six items showed with descriptions boxes
Company CSR values diagram for seven elements
Corporate values categories slide: goal, renewable resources, sustainability, ethics, long-term, sincerity, local market
Corporate responsibilities square diagram for four elements
Layers diagram with exemplary CSR Items
Layered diagram of corporate responsibility areas template
Honeycomb infographics for four CSR elements
Puzzle diagram of four integrated CSR elements
The five pillars graphics of business responsibility design
Consider using such diagrams to replace text boxes in your slides.
All graphics are editable, so you can modify the colors and text. We added also a general icon collection at the end of the presentation deck. Optionally you can also extend the collection by more PPT symbols (see Related Diagrams section).
Photographs are included in the template. You can easily replace them as well by pictures of your own.
Fully editable in PowerPoint set of vector shapes fully editable by using built-in PowerPoint tools, including
change color of all shapes filling and its outline, including icons
adding shadows
changing shape and size, rotating, flipping the object
putting shapes behind or on top of text
See editing demonstration in
our HowTo Videos
.
Authors
infoDiagram's designer
Contact: here
Slides included in this PowerPoint Presentation:
How To Edit
How to edit text & colors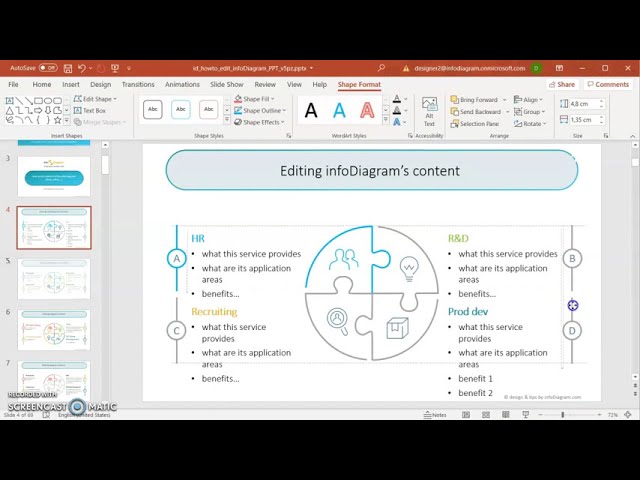 How to expand / shorten diagram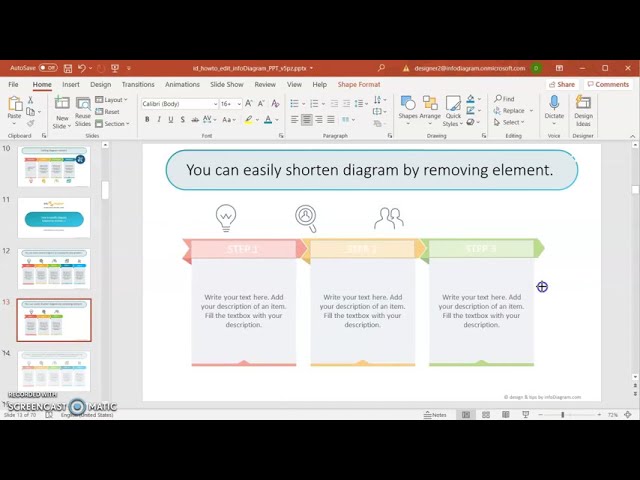 How to Replace Icons in infoDiagram PPT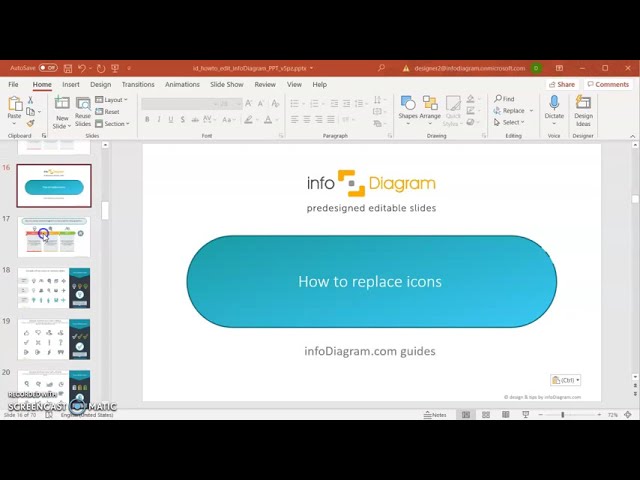 Corporate Social Responsibility Diagrams (PPT Template)