Reviews

Usage example

Description

How To Edit
Slides
Description
Do you need to present your budget proposal to the key stakeholders in your organization? Use our pre-design and easy-to-use annual budget template providing full visibility into your business's financial picture of projected expenditures and revenue sources in an eye-catching and attractive format.
This Business Budget Presentation contains template slides with:
38 data charts, dashboards, and diagrams to present financial summaries and forecasts for a corporate organization. This template includes layouts for an executive summary, revenue, expenditure, marketing budget, sensitivity analysis, and more.
The presentation is designed in a modern flat graphics style with outline symbols.
72 topic-specific icons to express financial plans visually e.g. Strategy, Risk, Organization, Operational Costs, Revenue, Tax, Profit, Capital Expenses, Utilities, and much more.
Instruction on how to modify those diagrams using standard PowerPoint editing tools.
Format: fully editable vector shapes (modify colors of diagrams and icons, resize without quality loss)
Authors of this Budget presentation template
What is a Budget?
A budget is an estimation of revenue and expenses over a specified future period of time and is utilized by governments, businesses, and individuals. A budget is basically a financial plan for a defined period, normally a year that is known to greatly enhance the success of any financial undertaking
Why use graphics for business budget presentations?
It's not enough to come up with a list of goals or ideas for your business plan. You have to map out how you'll accomplish those goals or make your ideas come to life… within a reasonable budget.
When you need to make your case to managers or executives for their approval, a budget proposal presentation is an essential tool used to communicate key financial information to both internal and external stakeholders by covering every aspect of financial affairs. An all-in-one business budget template can help keep the numbers organized, making it easy to track revenue or plan for expenses. You can reuse our graphs and charts and tailor them to your needs in order to upgrade your presentation slides. The majority of our charts are Data-Driven Excel Charts, so it is very easy to change the presented values. We also include detailed instruction on how to alter the content, values, colors, and look and feel of the charts.
You can also download slide redesign instruction using this Corporate Budget Presentation Template (PDF guide here).
Where can you use the budget PowerPoint template?
Using infographics in your budget presentation will help you organize information in a good-looking way and present your numbers and comparisons in a compelling way, easy to be understood by your audience.
Start up with an executive summary including important insights to your budget
Describe current state of business using brief summary with 6 areas impacting bottom line
Visualize your SWOT analysis
List your strategic goals, highlighting main ambitions for the next year
Use triple bottom line Euler diagram to present your sustainability targets overview
Present key assumptions for your budget so that it is crystal clear to your audience on what factors your financial projections are based
Use shortened or extended version for your budget financial summary overview
Show your net sales estimations in a 3 column format that consist of income sources overview, description, and values
Compare your budgeted revenue, in value and % deviation, with last year performance using a monthly split
Show your net sales by categories as well as split by months vs. last year and explain the key takeaways in a comments box
Illustrate your top-line key growth drivers by presenting the growth sources in an attractive stacked chart or pie chart, whatever fits better to your presentation needs
Quantify your product categories with values and shares in net revenue and describe key risks and opportunities in comment boxes
List your tactics, actions, responsible, deadlines, and expected deliverables in your revenue achievement strategy template
Present your revenue achievement milestones in a pre-design timeline scheme.
Show your budgeted eexpenditure split by CAPEX and OPEX investments
Show your operational expenses estimation in a 3-column format that consists of cost center overview, description, and values
Compare your budgeted OPEX, in value and % deviation, with last year performance using a monthly split
Present your key cost drivers such as CAPEX, PEX, and OPEX in values and revenue shares vs. LY performance
Break your operational costs down in a pie chart by cost center category or analyze them using a bar chart visualization
Show your CAPEX investment splitt by tangible and intangible assets
List your tactics, actions, responsible, deadlines, and expected deliverables in your cost control strategy template
Visualize your marketing budget allocations using 7P Marketing Mix approach
Show your marketing calendar by months in an attractive and eye-catching format
Illustrate your planned marketing expenses – ATL, TTL, BTL as % of marketing budget, OPEX, and turnover using pie and bar charts
Break your planned marketing cost into various categories corresponding to your business model
Enrich your risk determinants overview witk compelling icons
Present your risk analysis calculations with relevant comments
Design your organization structure in a typical org chart diagram and include the headcounts development expected along the new financial year
Use a pre-design HR metrics dashboard to illustrate the necessary HR-related requirements or plans for the new year
Try using those PowerPoint illustrations to present your content visually in an elegant way.
All graphics are editable, so you can modify the colors and text. We also added a general icon collection at the end of the presentation deck. Optionally you can also extend the collection by more PPT symbols (see Related Diagrams section).
Fully editable in PowerPoint or other presentation apps. Set of vector shapes that you can adjust using built-in PowerPoint tools, including
change the color of all shapes filling and its outline, including icons
adding shadows
changing shape and size, rotating, flipping the object
putting shapes behind or on top of text
Slides included in this PowerPoint Presentation:
How To Edit
How to edit text & colors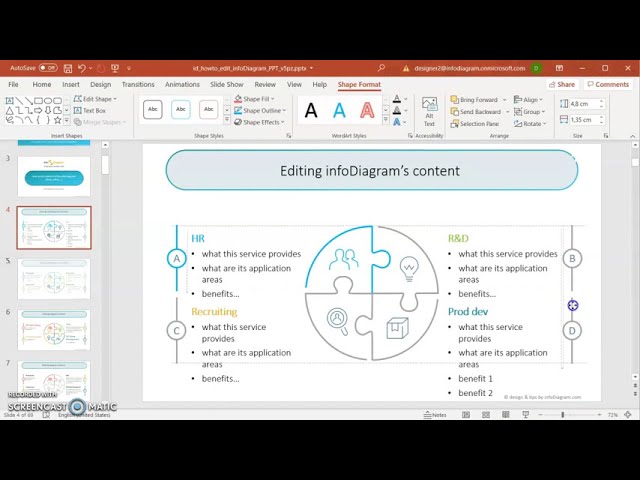 How to expand / shorten diagram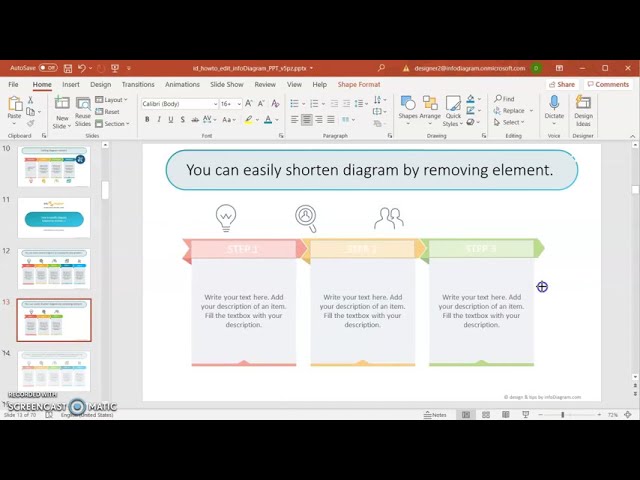 How to Replace Icons in infoDiagram PPT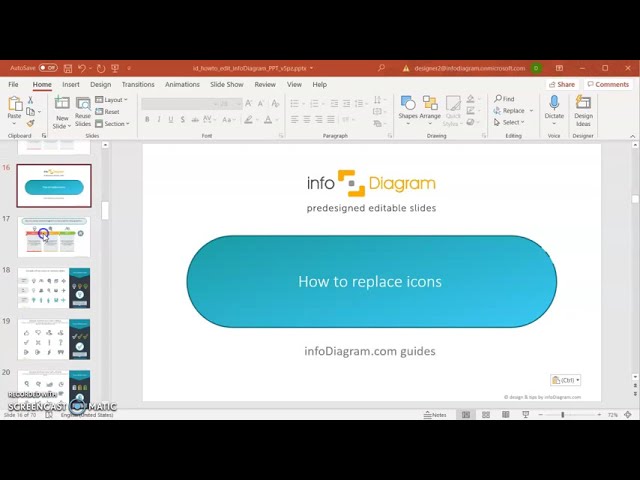 Annual Budget Financial Presentation (PowerPoint Template)