Reviews

Usage example

Description

How To Edit
Slides
Description
Financial reports with full of data and analysis are difficult to understand by non-financial audiences. Create engaging financial reports of your organization's financial performance with professional slides and templates. You can reuse our graphs and charts and tailor them to your needs in order to upgrade your presentation slides. The majority of our charts are data-driven Excel charts, so it is very easy to change the presented values. We also include detailed instructions on how to edit the content, values, colors, and look and feel of the charts. Talk about financial performance topics including income statements, balance sheets, or cash flow in an eye-catching and attractive format. Use this template with pre-designed, content-ready slides, and modify them to your needs. Leave the design elements to the professionals and enjoy saving time with your presentations.
Financial Report PowerPoint Template contains slides with financial topics and KPIs:
30 infographics slide templates to illustrate Financial Summary Overview, Balance Sheets with Assets and Liabilities, Income statement, Profit and Loss reports, Revenue and Profit snapshot, Cash Flow Statement, Financial Ratios, Key Growth Drivers, Breakdown of Operational Expenses.
83 original financial icons to express various financial concepts like P&L Income Statement, Personnel Expenses, COGS, Gross Margin, OPEX, Operational Costs, Net Revenue, EBITDA, EBT, Balance Sheet Assets, Financial Ratios, and more.
Instructions to customize the diagrams using standard PowerPoint editing tools.
To ensure a professional look, the presentation is designed in an elegant outline graphics style.
Format: Fully editable vector shapes and fonts. (You can recolor infographics, diagrams, and icons. It is also possible to resize elements without quality loss).
Authors of this Financial Report and Performance Indicators presentation template
What is a Financial Report Template or a Financial Statement Template?
A financial report (also known as a financial statement or finance report) is a management tool used to communicate key financial information to both internal and external stakeholders by covering every aspect of financial affairs with the help of specific KPIs. Financial statements are often audited by government agencies, accountants, firms, etc. to ensure accuracy and for tax, financing, or investing purposes. Financial statements include profit & loss accounts, balance sheets, and cash flow statements. Relevant indicators are usually inspected during annual financial reports to understand the financial position of the company or investigate financial KPI values like the net income. In this context, the financial report template is an easy-to-edit presentation template for your weekly financial reports, monthly reports, or annual reports to present core financial activities.
Why use this visual way to present financial performance metrics and indicators?
Financial reports full of data and analysis are typically difficult to be digested by non-financial audiences. If you want to disclose your quarterly or annual numbers in a simple and understandable way to your key stakeholders use our templates that will help you to present them in an eye-catching and attractive format.
You can reuse our graphs and charts and tailor them to your needs in order to upgrade your presentation slides. The majority of our charts are Data-Driven Excel Charts, so it is very easy to change the presented values. We also include detailed instruction on how to alter the content, values, colors, and look and feel of the charts.
The template is easy to edit. So, after you buy this template, you can immediately download and change the data according to your needs. You can edit your presentation using Microsoft PowerPoint, Google Slides, or other presentation software. Copy and paste the contents using shortcuts or dragging the PowerPoint template to adapt it to your presentation topic. The slides and visuals are professionally designed and the content is very easy to customize. If you have creative ideas and want a unique look, play around with the elements and make the design your own with a personal touch!
Where to Use The Financial Report Visuals?
Using infographics in your presentation will help you organize information in a clear way. Your numbers and comparisons will be compelling, and easy to understand. The PPT template comes with a multitude of use cases. You can use this financial report template as an income statement template, a simple balance sheet template, an annual financial report template, or as a guideline for financial health to brief your team.
Elegantly present your analysis assumptions on the same page.
Design a financial summary overview with easy-to-track key metrics.
Create revenue and profit snapshots using the gauge, line, and column charts.
Illustrate sales distribution by months, categories, and markets.
Describe your revenue key growth drivers.
Show your net sales split by quarters. Explain the key takeaways in a comment box.
Present your profit and loss statement including quarterly revenue, COGS, GM, OPEX, EBITDA, EBIT, and PBT data.
List key factors influencing your gross margin by each quarter.
Visualize the breakdown of your operational expenses influencing key observations.
Show the OPEX share in your net sales spicing up the column chart by matching icons.
Describe your main profit drivers - factors impacting your bottom line.
Present your balance sheet including assets, liabilities, and equity details.
Compare your assets, liabilities, and equity versus last year indicating the most important changes.
Design clean cash flow statements.
Analyze your cash flow with cash inflows and outflows from operating, investing, and financing activities.
Visualize cash flow margin, showing cash from operations as sales percentage.
Present your financial metrics and indicators including growth, profitability, liquidity, solvency, and capital market ratios.
Use our financial icons dictionary to show any other required financial performance metrics.
Try using those PowerPoint illustrations to present your content visually in an elegant way.
All graphics are editable, so you can modify the colors and text. We also added a general icon collection at the end of the presentation deck. Optionally you can also extend the collection by more PPT symbols (see Related Diagrams section).
Fully editable in PowerPoint set of vector shapes fully editable by using built-in PowerPoint tools, including
change the color of all shapes filling and its outline, including icons
adding shadows
changing shape and size, rotating, flipping the object
putting shapes behind or on top of text
Check out our Quick Guide to fully utilize your Financial Report Template.
Slides included in this PowerPoint Presentation:
How To Edit
How to edit text & colors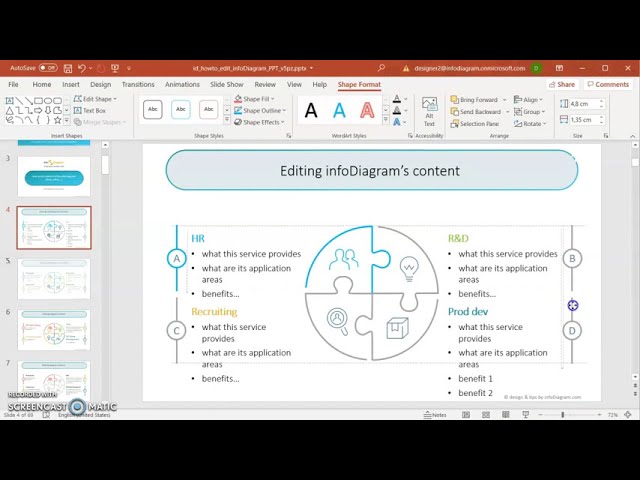 How to expand / shorten diagram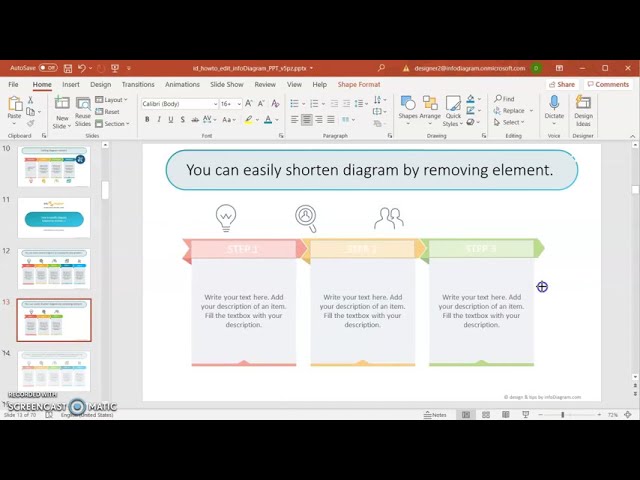 How to Replace Icons in infoDiagram PPT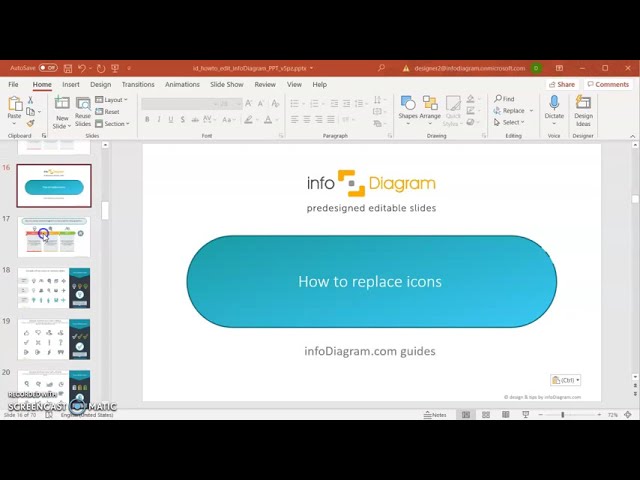 Financial Report and Performance Indicators Presentation (PPT Template)