Reviews

Usage example

Description

How To Edit
Slides
Description
Modern PPT graphics template for presenting Corporate DNA metaphor illustrated by double helix diagram. This DNA structure chart can be used to show list of company culture values, list of key traits your organization has or as a unconventional timeline.
The content of company DNA slide deck includes:
12 various DNA shape chart and examples of business DNA illustrations, organizational culture traits and values.
two diagram styles: colorful flat design infographics of double helix shape and light outline DNA structure diagrams
12 business clip-art symbols of basic company culture values, HR team, company vision and strategy plan, customer partnership, communication icon, measures, goals, reward and IT cloud pictograms
instruction how to modify these double helix diagrams using PowerPoint editing tools
Format: fully editable vector shapes (modify colors of diagrams and icons, resize without quality loss
What is a Company DNA diagram?
A graphical chart resembling the shape of a double helix, a symbol of the human DNA structure that defines the characteristics of a person. This metaphor is used to illustrate an organizational culture of a corporation or smaller company, its underlying values and principles.
How to use those DNA diagrams in your presentation?
Illustrate list of key organization values.
Compare two or more related items on a slide
Visualize an organization culture principles in form of corporate DNA
Use double helix as a timeline
Why to use DNA diagrams as your presentation visuals?
The shape of the double helix is well-known, eye-catchy and not a trivial illustration. So you can express a certain level of sophistication by using this kind of graphics in your slides.
You can add explanations or illustrate specific items by icons. At the end of the slide deck, we added a set of icons you can use or you can extend it by getting wider PPT icon set (see Related Diagrams section).
Colors of these diagram shapes and icons are editable (all graphics is a vector format). So you can change them to colors of your template or company brand.
Content description
Company DNA Helix Diagrams contains ready-to-use slides:
Organizational culture slide example (illustrating company vision, values, purpose, strategy and culture). DNA chart with outline icons presented in a few versions: on a dark and light background.
Company DNA elements chart intended to illustrate organization culture, talent, capabilities and customers.
Vertical DNA diagram with four elements and place for a description to each of them.
Comparison slide presented with DNA graphics and text placeholders on two sides: on light and photo background.
Year timeline template: illustrated with colorful double helix chart with outline symbols to symbolize yearly goals or milestones.
DNA structure slide with four column template with icons and place for description below each part of the helix.
DNA horizontal chart with four elements list and outline icons.
Vertical DNA drawing: three steps chart​ with text placeholders to each stage.
DNA comparison graphics: positive and negative sides of the process presented with vertical helix chart on picture background.
Fully editable in PowerPoint set of vector shapes fully editable by using built-in PowerPoint tools, including
changing color of the icon filling and its outline
adding shadows
changing shape and size, rotating, flipping the object
putting shapes behind or on top of text
See editing demonstration in
our HowTo Videos
.
Authors
infoDiagram's designer
Contact: here
Slides included in this PowerPoint Presentation:
How To Edit
How to edit text & colors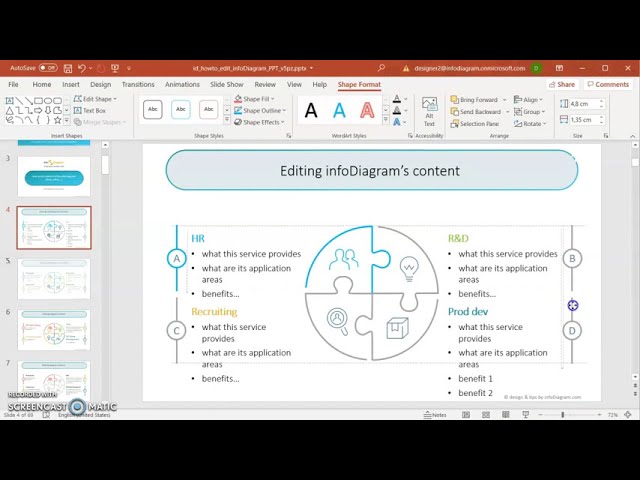 How to expand / shorten diagram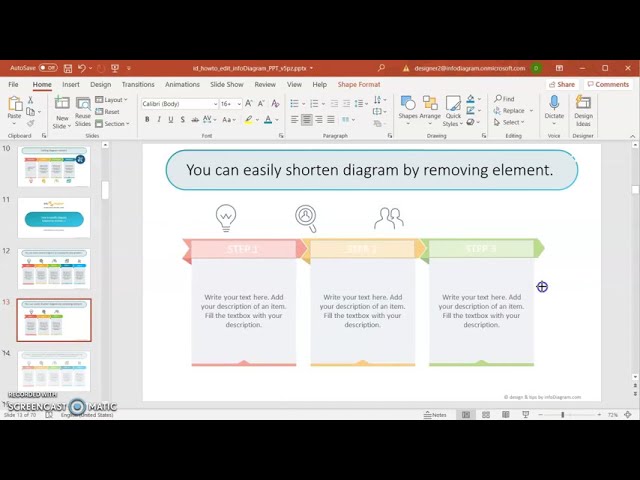 How to Replace Icons in infoDiagram PPT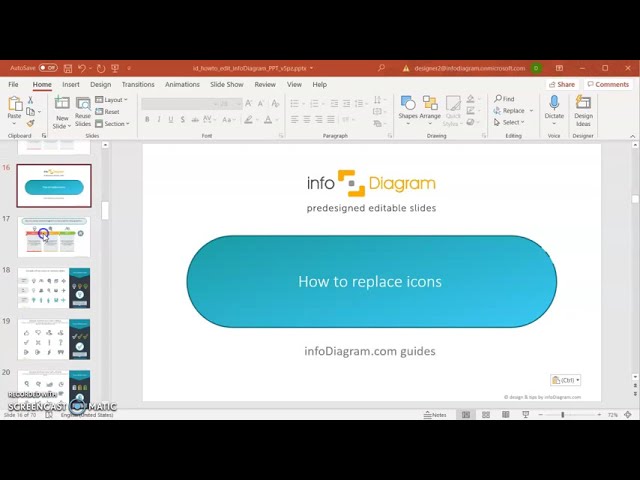 Company DNA Helix Diagrams (PPT Template)