Reviews

Usage example

Description

How To Edit
Slides
Description
Want to move Excel charts to the next level, make them visually attractive? Enrich your bar charts with the additional graphics we have prepared. Or reuse our data charts, modify numbers and make creative graphs using PowerPoint. We have designed a template with data-driven column and bar charts graphics, covering:
14 bar chart slide layouts with various versions of column plots, pillar graphs, and classical horizontal bar charts, too. Those are all pre-designed editable MS Office Excel charts with additional graphics of data categories legend and text boxes for text explanations.
27 vector icons to illustrate data categories: Money, Male, Female Person, Volume, Package, Customer satisfaction emotions symbols, and some Digital Marketing logos.
13 hand-drawn markers you can use to highlight or underline key data in a chart.
Format: fully editable vector shapes (modify colors of diagrams and icons, resize without quality loss).
Even the most shocking statistics can look dry or dense when written down in text. That's why many educators turn to graphs. Bar and column graphics are a simple and effective way to show the statistical data. There are many different types of graphs, but bar and column charts hold several advantages over other types.While the Column charts could be used to facilitate all comparison-based analysis, it is better to use the Bar charts when your data labels are long or you have too many data sets to display.
Bar and Column Chart Data-driven Graphics contain ready-to-use slides:
Four products KPI comparison stylized Excel bar chart with arrow triangles
Products market share comparison chart
Key data highlights simple column chart diagram with explanation box
Double two categories comparison column chart showing population and stock information
Satisfaction analysis slide intended to represent user happiness scale
Template comparing four data sets illustrated with outline column charts
Monthly financial analysis graph
Two product categories analysis on dark background
Yearly financial performance presentation data driven chart depicted with trendline and hand drawn marker
Three product sales shaped with comparison bar chart
Five product sales comparison chart with thin line title and icons graphics
Top five product portfolio performance bar
Template gender-based comparison bar chart
Digital marketing infographic chart examples comparing content marketing, social media, mobile, SEO
Why Use Bar and Column Chart Data-driven Infographics?
Bar and column graphs have been in widespread use everywhere from textbooks to newspapers, most audiences understand how to read a bar graph and can grasp the information the graph conveys
With the help of bar and column graphics it is easier to represent data that shows changes over time, which helps people visualize trends
Each bar or column represents one value. When the bars are stacked next to one another, the viewer could easily compare the different values, at a glance
All bars and columns easy to edit, so you can adapt colors to you brand positioning
You don't have to use any special software, just PowerPoint and your creativity
Fully editable in PowerPoint set of vector shapes fully editable by using built-in PowerPoint tools, including
changing color of the icon filling and its outline
adding shadows
changing shape and size, rotating, flipping the object
putting shapes behind or on top of text
See editing demonstration in
our HowTo Videos
.
Authors
infoDiagram's designer
Contact: here
Slides included in this PowerPoint Presentation:
How To Edit
How to edit text & colors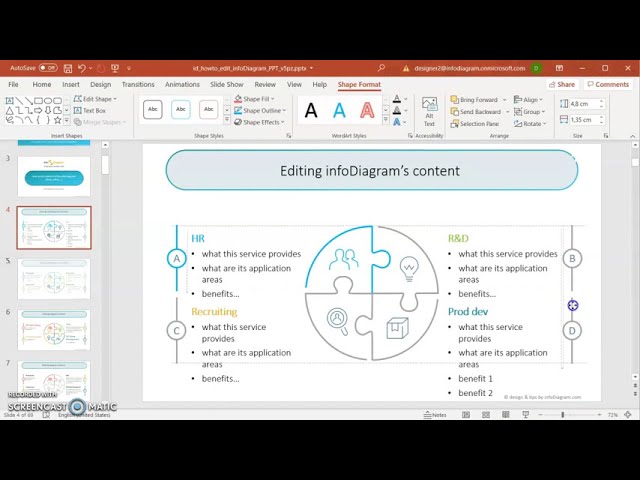 How to expand / shorten diagram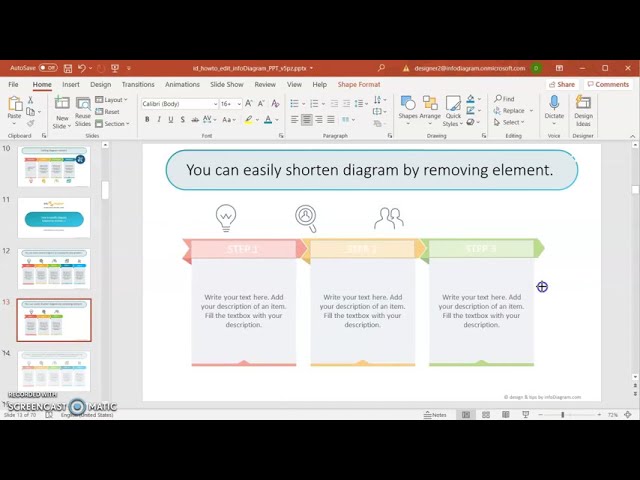 How to Replace Icons in infoDiagram PPT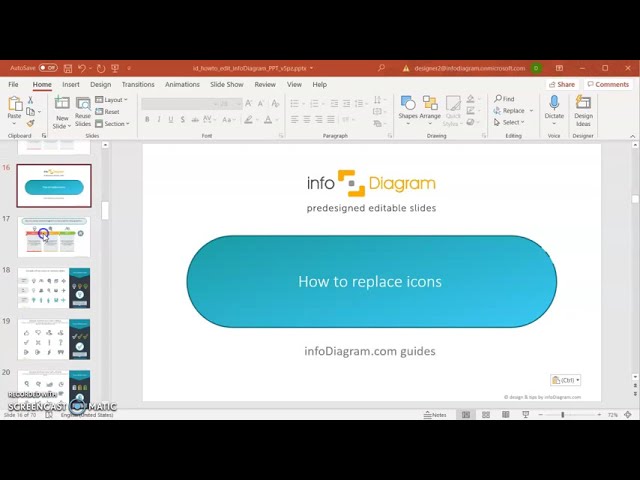 Bar and Column Chart Data-driven Graphics (PPT Template)